How to unroot Samsung Galaxy Note II? Lot of people confuses about rooting and install custom ROM. To me, rooting and custom ROM are 2 different things. Rooting only grant you root access while installs custom ROM is not called rooting. It change your current firmware with something else totally. Just take unroot Samsung Galaxy Note 2 as example. It is a task to remove root access from Galaxy Note 2. And not restore to stock firmware. So don't be confused by these two…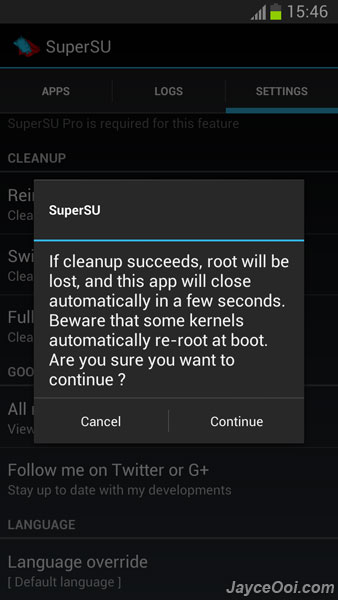 How to unroot Samsung Galaxy Note 2?
Most of Galaxy Note 2 out there is rooted with SuperSU (some might with Superuser). Just go to SuperSU Settings. Then select Full unroot ~ cleanup for permanent unroot. That's it.
However, this method will only remove root access from your phone. The warranty is still void since you already rooted it before. How to recover your SGN2 warranty? Please refer to this guide to do so ~ How to restore stock firmware on Samsung Galaxy Note 2? (Video)