Can't find certain Gameloft games like Asphalt 6: Adrenaline HD, Let's Golf! 3 HD, Modern Combat 3: Fallen Nation in Android Market on Amazon Kindle Fire? No matter how hard you search in Android Market, they just don't want to show up. Here is a trick to make them show up. Thanks to enkode in XDA. Basically, you need to modify build.prop file. Fake your Kindle Fire to be Samsung Galaxy Tab GT-P1000 which has similar hardware like same PowerVR SGX540 GPU and screen resolution. I tested on CM7 ROM Kindle Fire. And it really works. Not sure it can work on Android Market on stock Amazon software. Try it out and let me know then. Note – root access is required.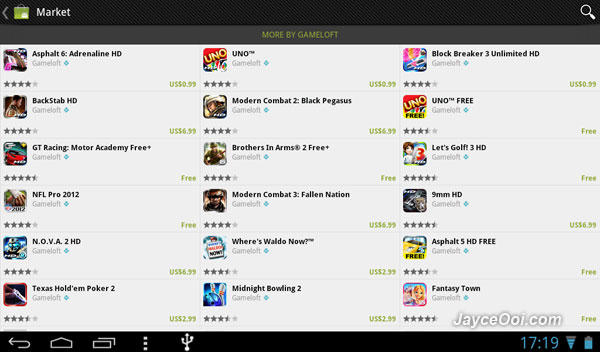 How to enable more Android Market Apps and Games on Kindle Fire?
2 Things that you need to do. Modify build.prop in system folder with ES File Explorer or Root Explorer like below. Do make a backup of build.prop file first. And clear data of Market (Settings – Applications – Manage applications – All tab). Then reboot your Kindle Fire. That's all.
[quote_box_center]ro.product.model=GT-P1000
ro.product.brand=Samsung
ro.product.device=GT-P1000
ro.product.manufacturer=samsung
ro.build.description=GT-P1000-user 2.3.3 GINGERBREAD DXJPI release-keys
ro.build.fingerprint=samsung/GT-P1000/GT-P1000:2.3.3/GINGERBREAD/DXJPI:user/release-keys[/quote_box_center]