Introduction
Hey guys, check out the latest 2.4G wireless keyboard from Alcatroz. Yup, AirPad 1 is the star today. It is a wireless keyboard with built-in touchpad that suitable for PC, laptop, TV box, smart TV and so on. Loaded with slim and low-profiles square keys. These membrane keys are soft and has silent keystrokes that give unique typing experience. Sound great? Let's have a closer look on it…
Special Thanks
This review is possible thanks to below companies. Be sure to check them out…
Alcatroz for this Alcatroz AirPad 1 Keyboard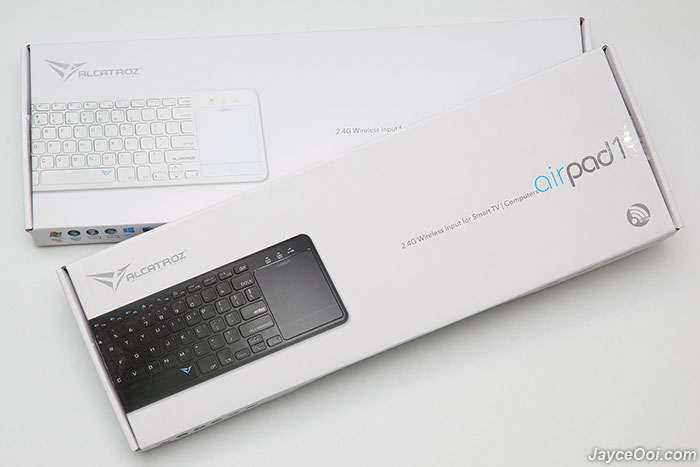 Package Content & Design
There are Alcatroz AirPad 1 wireless keyboard, USB receiver, 2 AAA batteries and user manual in the package. That's all.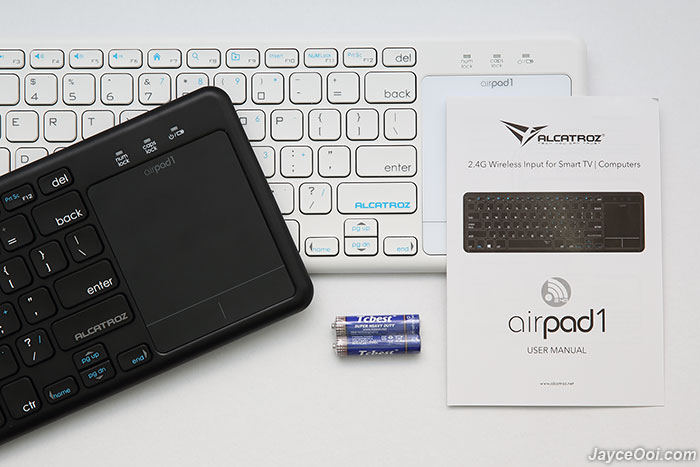 AirPad 1 has decent build quality thanks to solid plastic housing. Full-size keyboard layout without numpad and insert, home & etc keys. But comes with touchpad in return. As you can see, there are 2 versions of AirPad 1 – black and white. Pick the one that suit you most. By the way, all the keys are UV coated to ensures longer durability when compare to the conventional silkscreened keypads.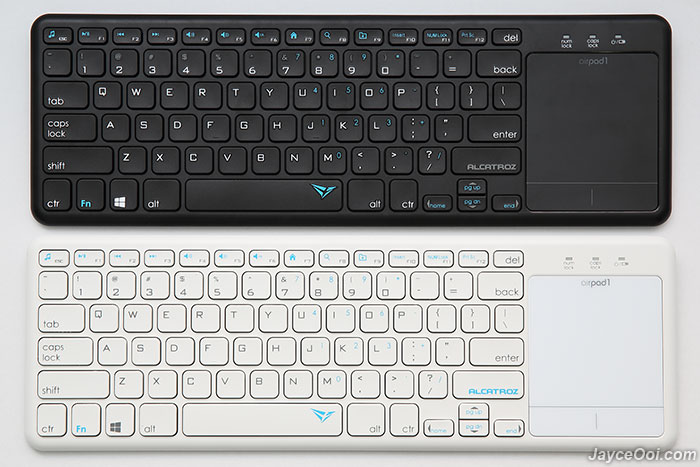 At the bottom, you can find the battery cover and 4 anti-skid pads. Don't be fooled by their tiny size, they are very strong to hold and provide stability. Yup, you need quite some force to move the keyboard itself.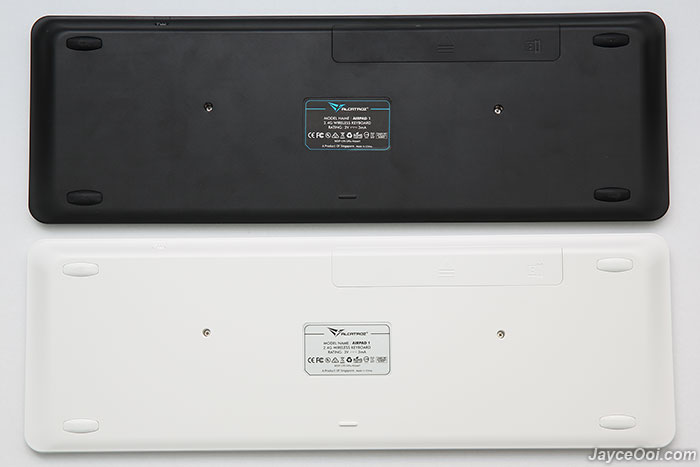 The on/off switch is located at top right corner. For your information, keyboard will enter sleep mode when left idle for more than 10 minutes. A power saving feature…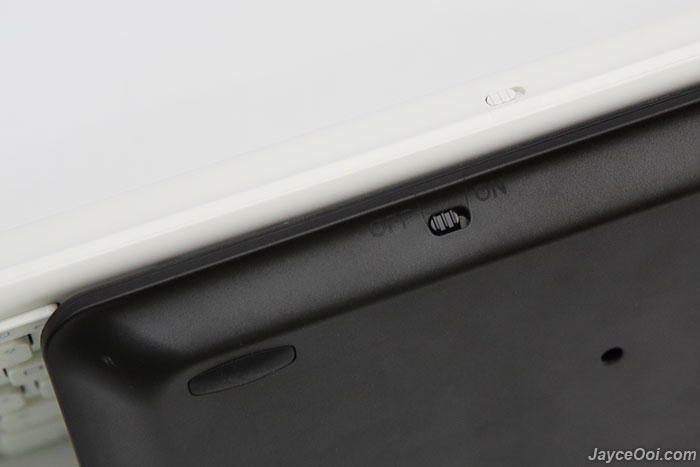 Yeah, there is a slot to keep the nano USB receiver. No worry about missing receiver here.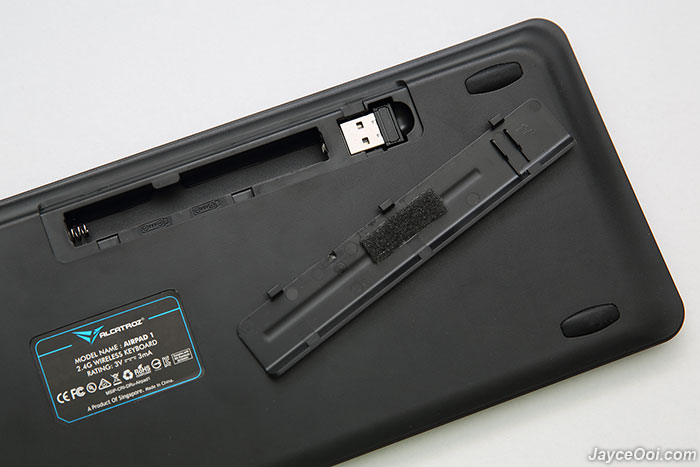 There is no height adjustment for AirPad 1. The typing experience is like typing on laptop's keyboard. Great to type on your lap when connected to smart TV / TV box in the living room.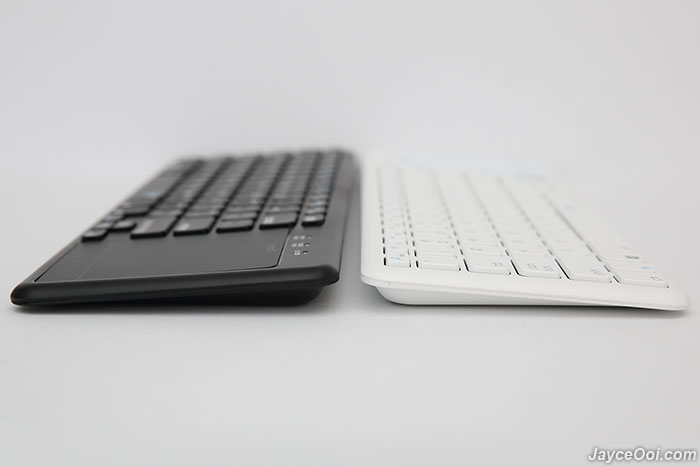 Performance Result
No driver is needed in order to use Alcatroz AirPad 1 wireless keyboard. Just plug and play will do. Its 2.4G wireless coverage is great. Pass the 10m test without obstacles easily. Rest assure that you can type / navigate comfortably on your big soft sofa with your TV on the other end. And there is virtually no delay on keyboard input at all. Yes, it responds just as quickly as a wired keyboard. Same apply to touchpad response – fast. Worry about missing numpad and home, end buttons? You can activate numpad with num lock function (Fn+F11). Press it again to disable. And great to have the frequent use delete key as physical one instead of function key.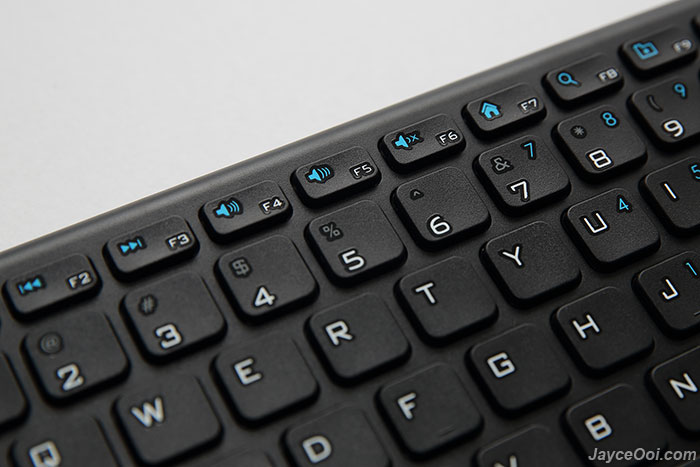 Yes, there are multimedia function shortcut keys. Workable on both Windows and Android devices. A must have feature for a daily music listener like me. Just look at those blue highlighted keys, that's all the function keys you can use. How is the battery life? So far I still did not finish using up the bundled battery after use it for few days casually. And no worry because the low battery LED indicator will start flashing when battery is low. Prepare a new one then will do.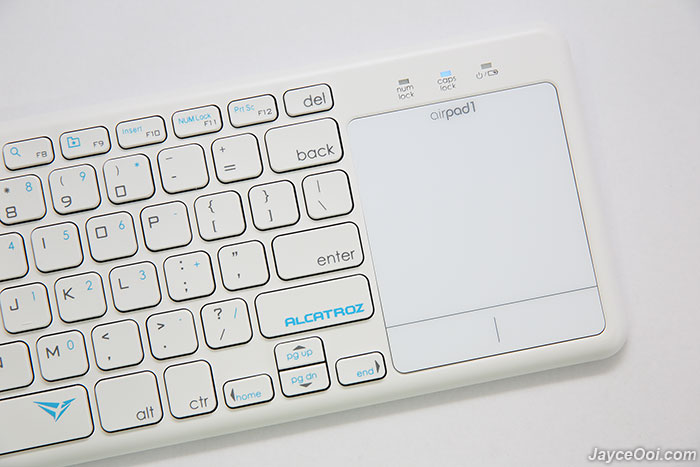 Typing experience is good for a membrane keyboard. Short travel distance thanks to low profiles keycaps. Soft and silent too. As for touchpad, it is working great as well. Smooth and accurate pointer movement is what you will get. Finger gestures can be used too. Example, scroll webpage up and down with 2 fingers. Zoom in / out is supported too. 3 fingers slide down to show desktop. By the way, there are physical left and right mouse keys at bottom of the touchpad which is supposed to ease your life. But it's not because they are part of the touchpad too. Cursor move when I try to click on them. Err… Just ignore them and use back touchpad to click – much easier.
Advantages
Full-size keyboard layout with touchpad
Numpad & multimedia function keys
Wide wireless coverage
Slim profile & light in weight
2 years warranty
Limitations
Cursor moves when I clicked on touchpad's button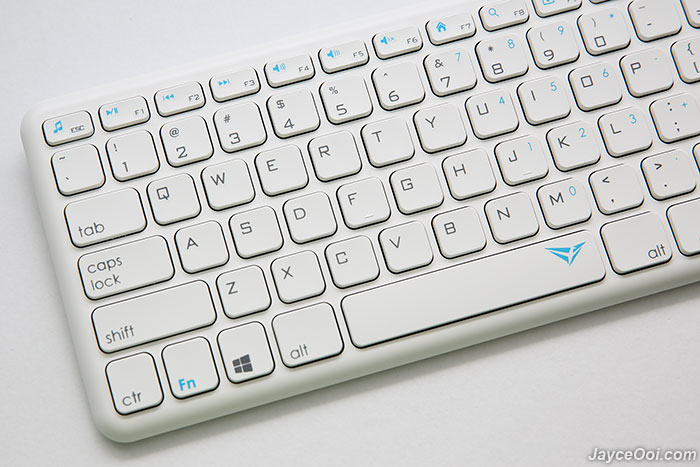 Conclusion
Looking for a wireless keyboard with touchpad? Be sure to check Alcatroz AirPad 1 out. It is a lightweight yet sturdy wireless keyboard that suitable for smart TV and PC. Work perfectly on Android devices too. Interested? Get yours at Shopee now.