Introduction
Looking for a wireless keyboard for your tablet? Check out Alcatroz Trilium BTR 1 ultra-slim universal Bluetooth Keyboard for Android, Windows and iOS. It is loaded with silent keypads thanks to quality and reliable soft touch membrane keys. Furthermore, it supports Multi-Pairing function which let you switch between devices easily. Interested? Read on then…
Special Thanks
This review is possible thanks to below companies. Be sure to check them out…
Alcatroz for this Alcatroz Trilium BTR 1 Bluetooth Keyboard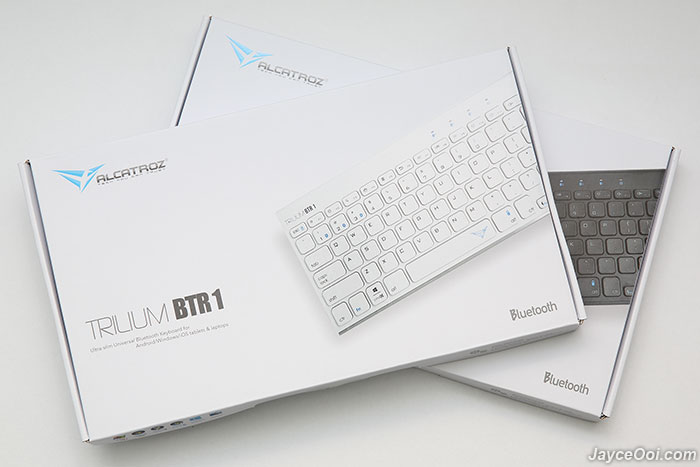 Package Content & Design
Alcatroz Trilium BTR 1 comes well protected. Once taken out, you can find USB charging cable and user manual. There are 2 colours to choose – black and white. The charging cable that bundled along matches the colour of the Bluetooth keyboard by the way.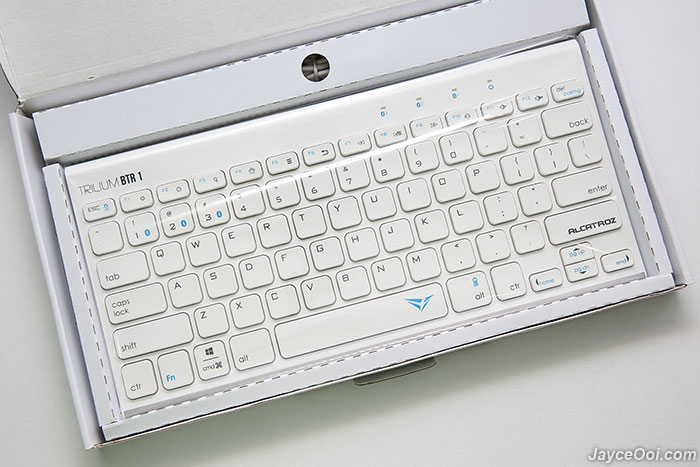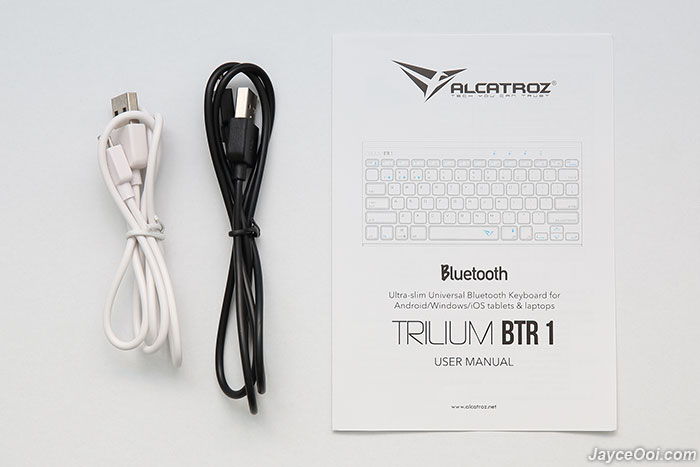 Build quality of Trilium BTR 1 is top notch. All thanks to sturdy ABS plastic on top and solid stainless steel as base. Compact in size but you still get full-size keyboard layout without numpad and insert, home & etc keys. Surely easy to carry around along with tablet. For your information, all the keys are UV coated to ensures longer durability when compare to the conventional silkscreened keypads.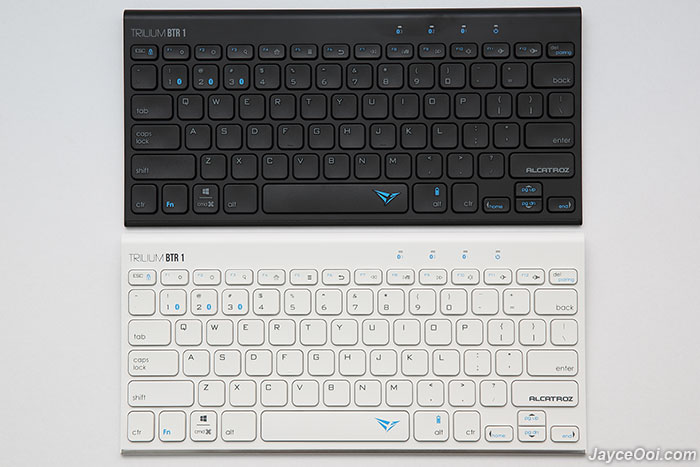 The bases are different for both models. Black version has plain surface while the white one has line textured design. Slightly glossy as well. Build quality is the same though. And there are 4 very strong anti-skid pads. Yes, you need to apply some force to move the keyboard. No worry about keyboard slipping around anymore…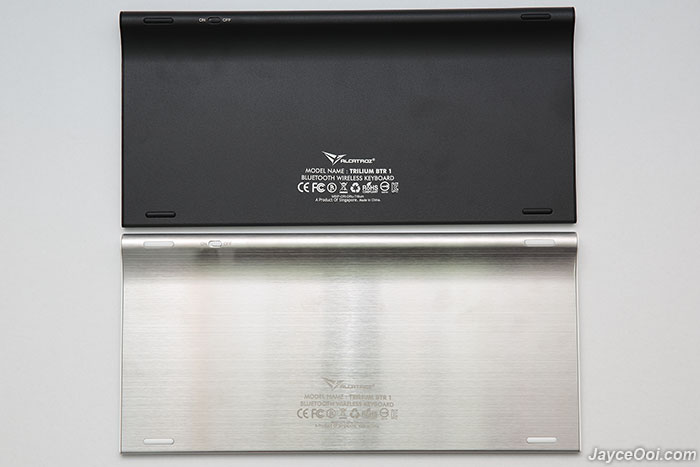 The on/off switch is located at top right corner (bottom part). As a Bluetooth keyboard, Trilium BTR 1 will enter sleep mode when left idle for few minutes as part of power saving feature.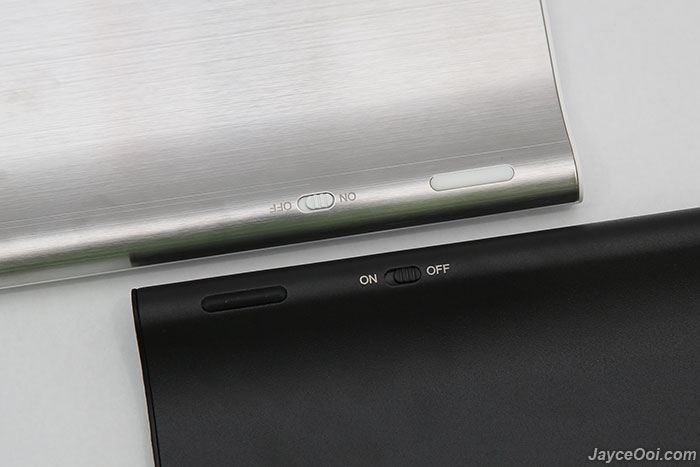 No height adjustment for ultra-slim keyboard here. You get the same typing experience as typing on laptop's keyboard. Do check out those low profile keycaps too. And the micro USB charging port with LED light indicator. Red for charging and green when fully charged.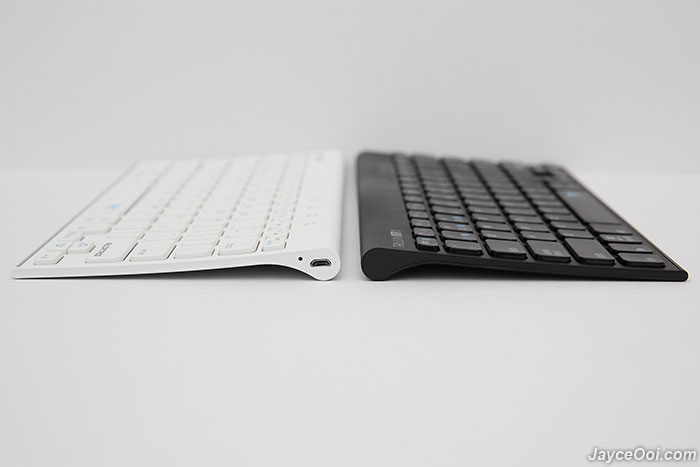 Performance Result
Alcatroz Trilium BTR 1 passes the Bluetooth range test with flying colours. Pass the 10m test without obstacles with ease. As long as you are in the same room with your devices, you are well connected. Furthermore, the response is just as quickly as a wired keyboard. Perfect for typing and even on gaming too. Don't forget the Multi-Pairing function which let you switch between devices easily. Yes, you can switches between 3 devices without having manual pairing process again. Example, profile 1 for Windows PC, 2 for Android smartphone and 3 for iOS tablet. Very convenient as you can use it to reply SMS on smartphone then switch back for office work on tablet/PC then. There are blue LED light indicator that show you which profile you at now. But sadly no caps lock indicator there.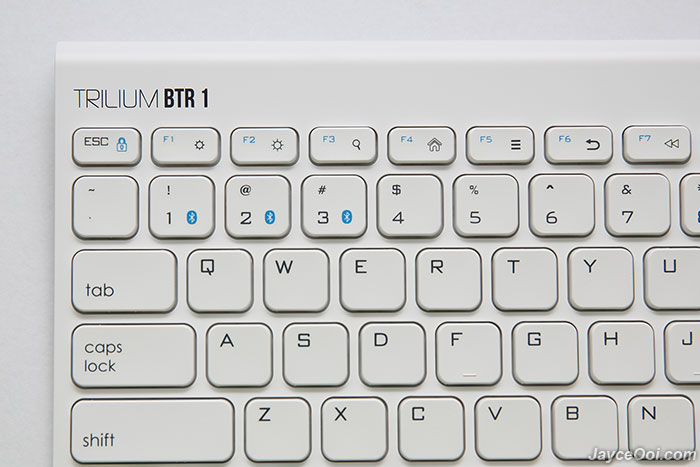 Things to take note… You need to use Fn key to access F1 to F12. By default, all these keys are assigned to shortcut and multimedia function keys. Personally, I prefer this way because I use them much often than F1 – F12 keys. Control music playback and volume much faster then. How is the battery life? So far I still did not finish using up the first charged battery after use it for few days casually. Based on specs, it can last up to 90 days on standby. And 90 hours on continues usage with its 280 mAh battery. Take less than 4 hours to fully charged by the way.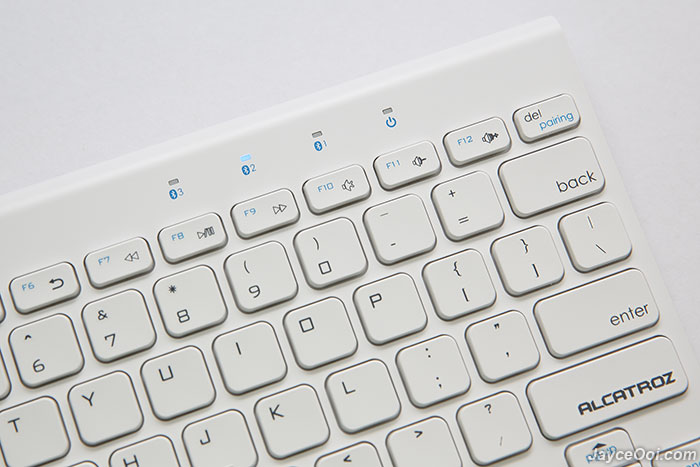 Typing experience is great for a membrane keyboard. Metal base helps to improve this as I get better tactile feedback. Short travel distance thanks to low profiles keycaps. Soft and silent as well. You can type fast with its low profile keycaps once get used to it. Overall, its's great to have Alcatroz Trilium BTR 1 to work on multiple devices simultaneously.
Advantages
Multi-pairing up to 3 devices
Useful shortcut & multimedia function keys
Superior Bluetooth range
Excellent build quality
Ultra-slim & portable
2 years warranty
Limitations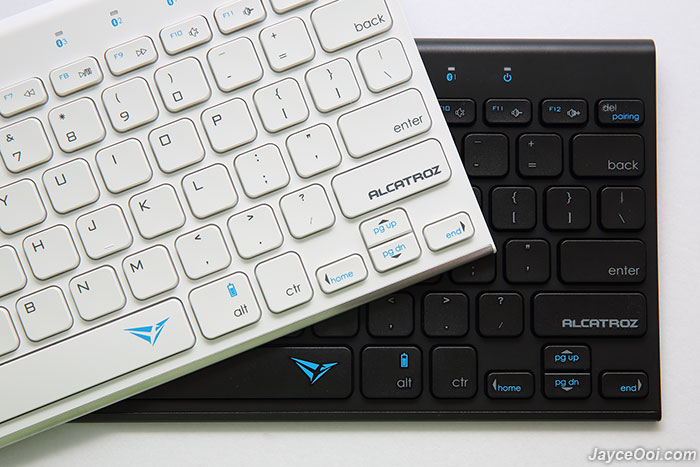 Conclusion
Alcatroz Trilium BTR 1 is a great universal Bluetooth keyboard no doubt. Work perfectly on all platforms like Windows, Android and iOS. Super convenient to use on multiple devices thanks to Multi-Pairing function. Worry free with 2 years warranty. Interested? Do visit Alcatroz Website for more information.