Introduction
Hey guys, check out my latest gaming keyboard. It is aLLreLi K9500U keyboard which has LED backlit keys and 6 special keys for gaming. It also has 6 multimedia function keys and special Windows lock key. By the way, the LED light is controllable to give you a cool visual effect. Interested? Read on to find out more…
Features
3 grade backlight switch, red backlight to build a cool visual effect
Unique sword style, outstanding game elements and additional red adornment more beautiful
Customized key function, 5 mode settings, meet different needs
Special Windows lock key, convenient and useful
High key cap, comfortable touch feel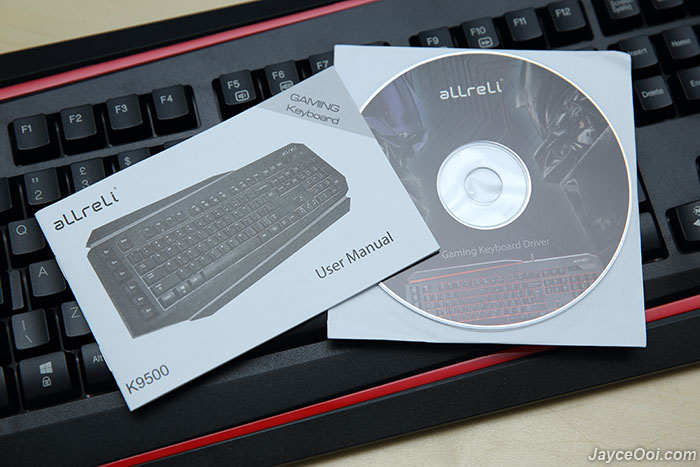 Package Content & Design
There are aLLreLi K9500U keyboard, CD driver and user manual in the package. Its build quality is decent. It has full-size layout with number pad and quite heavy to provide stability. By the way, it has UK layout instead of US one. Do take note on that. The keycaps are high in profile. Num, caps and Windows key lock LED status indicator lights are located on top right corner. Customizable G1 to G6 keys are located on the left. And loaded with multimedia function keys as well. Red LED backlit apply to all keys background except gaming ones. And do take note that it does not illuminate the keys. At back, you can find 2 anti-skid pads at the lower part and another 2 on the keyboard legs. Do check out below photo for more details of the keyboard layout.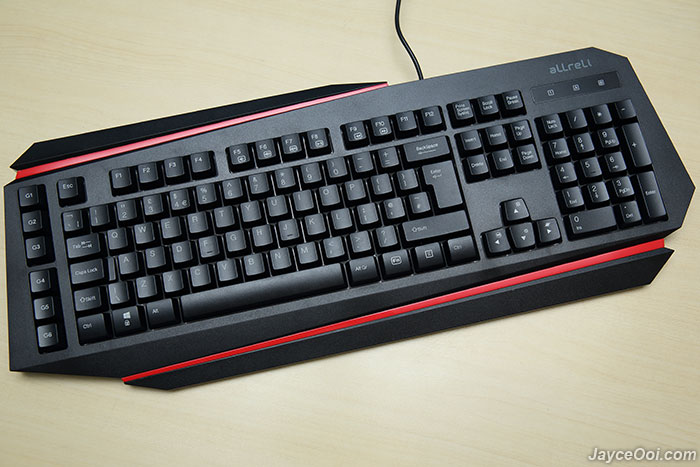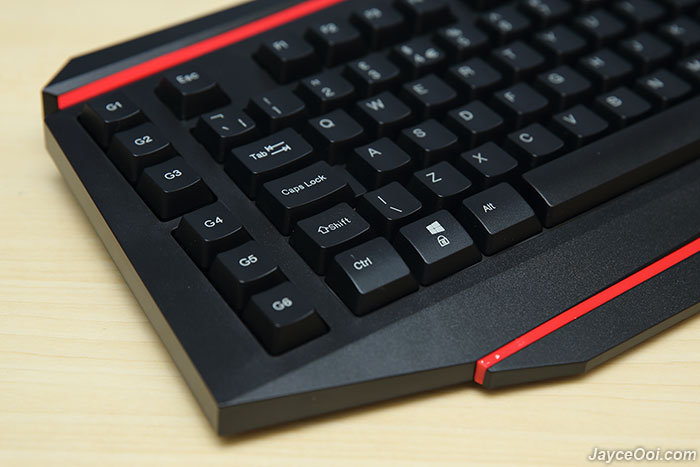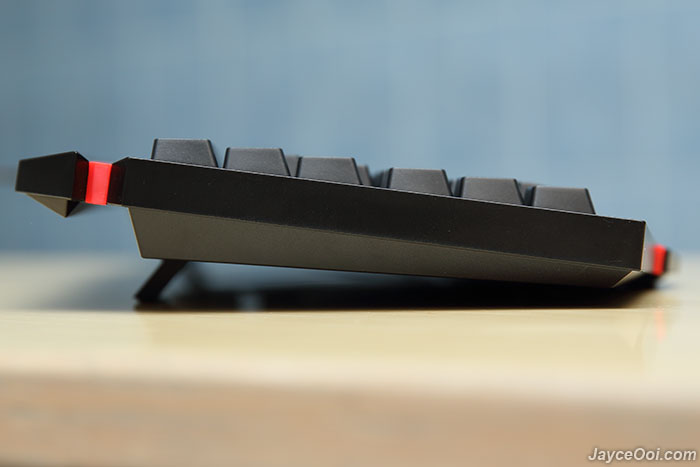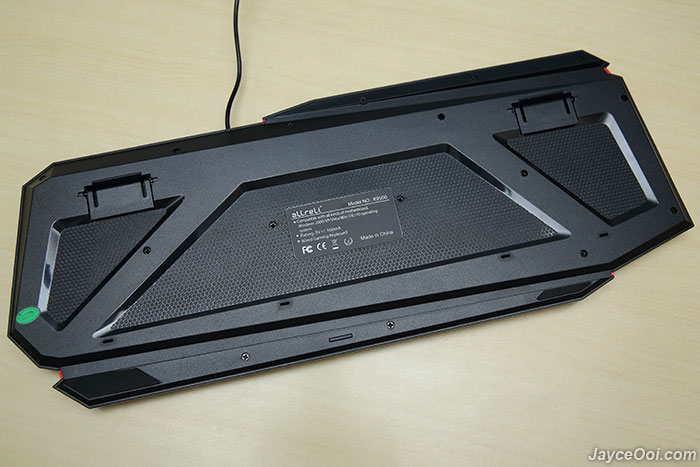 Performance Result
You can start to use aLLreLi K9500U LED Backlit Gaming Keyboard after plugged in. Windows will install generic driver for it. You need to install K9500U driver on the CD (or download from aLLreLi website) in order to customize the keys. I can maintain to type the same way as I do usually even though it is an UK layout keyboard. Of course, some of the symbols are located at different places. Do take note on that. It is comfortable to type on it and the sword shape alike stuff can act as arm rest as well. And the multimedia function keys are another plus to add. And don't forget that it has Windows key lock function which will help you to prevent pressing it while playing games.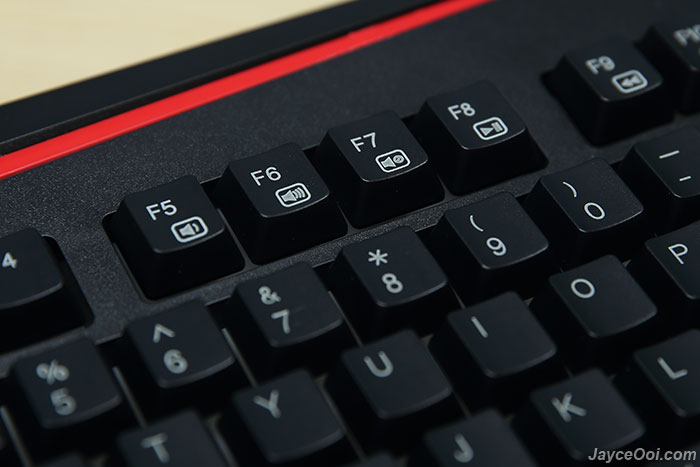 The LED light is controllable. Yes, you can turn the light on to breathing mode that will go bright and dim as if the keyboard is breathing or solid on – dim and bright or off. Basically, the LED light is there for cool effect only. The keys are not illuminated. And they are practically not usable in dark environment as the LED light is making you harder to see the keys. No an issue during daylight though.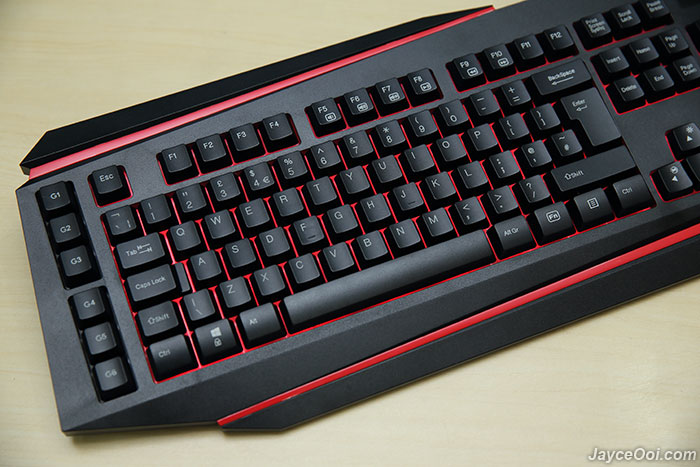 Yes, every single key is programmable. You can adjust 'a' as 'd' or even as mouse left click. And there are 5 profiles for you to customize the game keyboard for five of your favorite games. Eliminating the need to setup macros every time when you switch from game to game.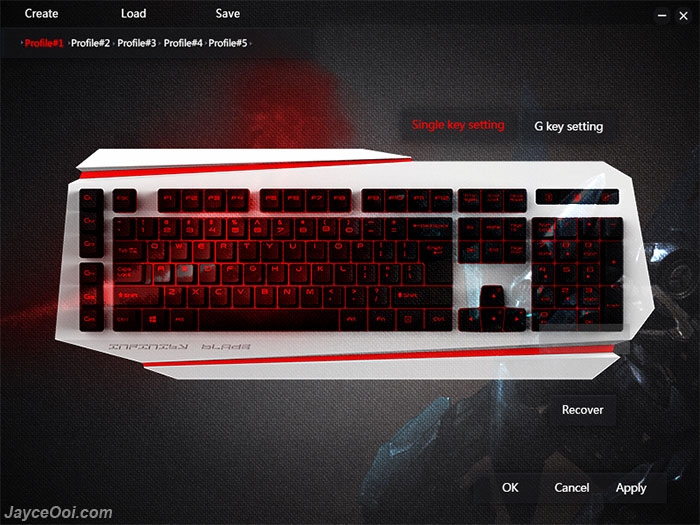 The 6 Gaming keys have even more function. Assign a macro is a norm to it. You can assign multimedia functions as well. And launch daily use applications like Email, My Computer and calculator with it too. There are more like functions of the mouse, basic windows command (cut, copy, paste…), shortcuts like switch window, show desktop, and even launch an assigned program. Lot of things can be done with these keys.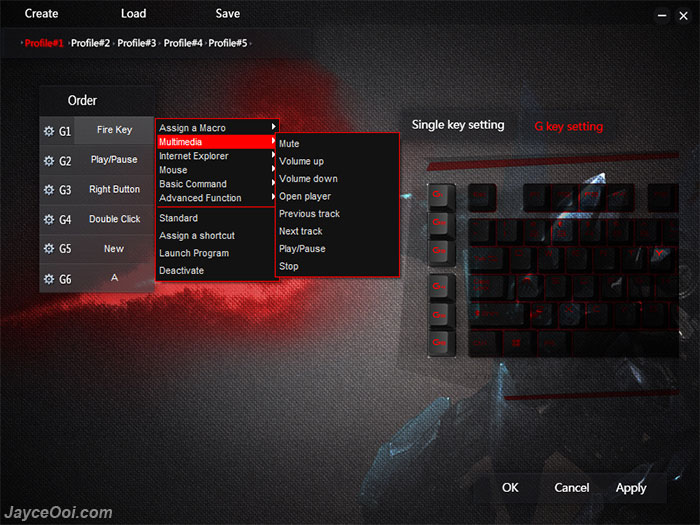 Advantages
Ultra customizable keys
5 distinct user profiles
Windows key lock
Adjustable LED light
6 multimedia function keys
18 months warranty
Limitations
LED light is there show off only
Can't use at dark environment
Conclusion
Buy aLLreLi K9500U keyboard for its customizable keys. Ignore the light which it's there for show. It is still a solid gaming keyboard for its price. Do take note that it is a UK layout keyboard. More information can be found at aLLreLi Website. And grab your here.
Note – there is promotion on going now. Use this code to get 30% discount – E5RIWHX3. Offers up to 18 March 2016.