Introduction
Hey, check out another aLLreLi car charger that I have here. It is almost like the previous one that I reviewed. It does not have pivot head but having more charging output at 4.8A total for both USB ports. As usual, it can be used to detect your vehicle battery voltage. And comes with magnetic car mount holder too. Alright, let's find out its performance now…
Features
Smart protection
Intelligent voltage alarm
Changing current display
Dual USB charging
Charge multiple devices
Package Content & Design
There are aLLreLi LED dual USB car charger, magnetic car mount holder and user manual in the package. As usual, the mount comes with accessories like 2 round metallic plates, 1 rectangle metallic disk and additional 3M VHB mount adhesives. By the way, do refer to my aLLreLi Magnetic Car Mount Holder Review to find out more about it. Yup, not going to cover it again here. The car charger is made by PC / ABS which is plastic for common word. No worry, its quality is good and tough. As for design, you can find 2 USB ports and LED screen in front. That's it.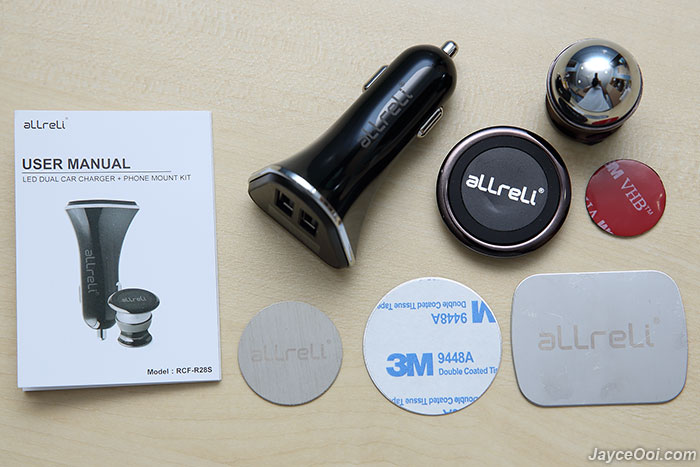 Specifications
Dimensions: 40 x 40 x 70mm
Output: DC 5V, 4.8A (Max)
Input: DC 12 – 24V
Performance Result
Based on the user manual, an alert light will come on when the car battery voltage drops below 12V or in between 18V to 24V. Yup, this is one of the features that I like – battery voltage monitor. As you can see from below photo, my car battery is providing 14.3V right now. Battery life is still okay as normal. So I am not getting alert light here. Besides, aLLreLi charger also has over voltage, overheating and overcurrent protection as part of its safety technology.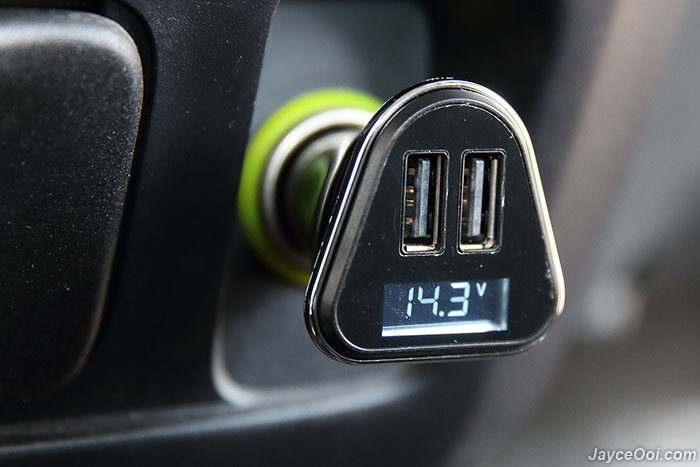 Maximum charging rate is what I get from aLLreLi car charger. Yup, Onda V820w tablet is getting around 1.9A rate as you can see from the photo below. Yup, the LED screen displays total current output when charging. You can know how much current does your device is getting there. 3.5A output when I added Galaxy S4 on top of Onda tablet. No doubt that the charger is providing maximum charging speed here.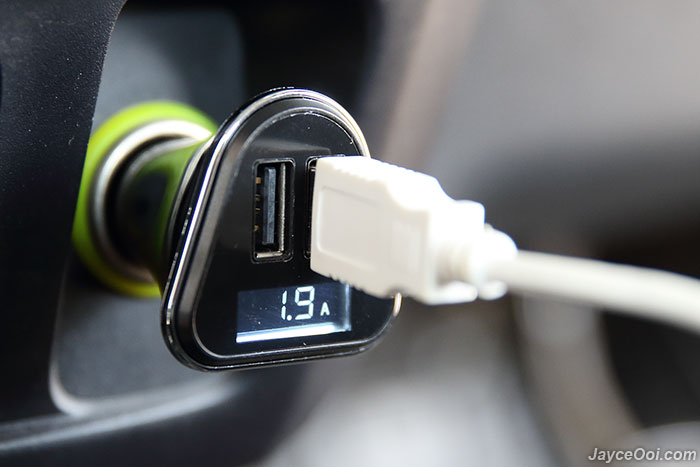 Advantages
Fast charging
Car battery voltage monitor
Over voltage, overheating & overcurrent protection
Decent build quality
Limitations
Stylish car mount with limited usage
Conclusion
aLLreLi 4.8A LED Dual USB Car Charger is a great and fast charger. Loaded with lot of safety protections and battery voltage monitor is included too. However, it is limited by the mount holder. More information can be found at aLLreLi Website. And get yours here.