Introduction
True Wireless Stereo (TWS) to pair another one to have real stereo sound. Yes, the latest version of AudioBox BBX 800 portable trolley speaker has TWS ability. Improved total system power at 34W now. Comes with IR remote control and wireless microphone for karaoke. In addition, it is loaded with 7 colour lighting effects too. And the usual Bluetooth, FM radio, built-in player through USB / microSD and the useful trolley of course. How does it perform? Let's find out together…
Special Thanks
This review is possible thanks to below companies. Be sure to check them out…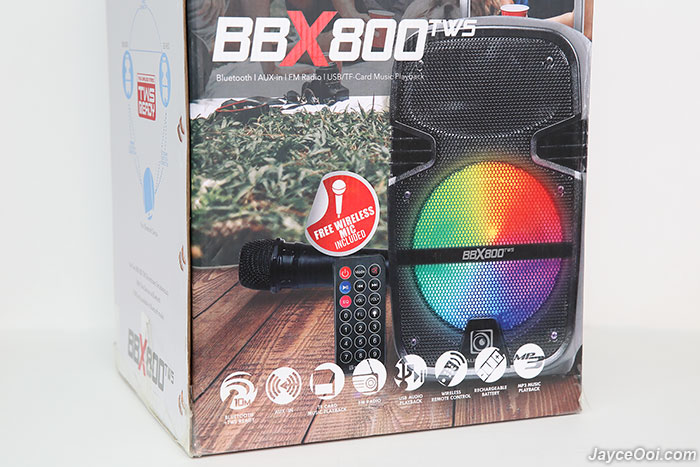 Package Content & Design
AudioBox BBX 800 TWS comes in a big package. It is a big portable speaker. And have some weight too so there is retractable trolley handle for you and me. Besides speaker, there are free wireless microphone, AUX cable, micro USB cable, IR remote control and user manual. As usual, the wireless microphone needs 2 AA size batteries.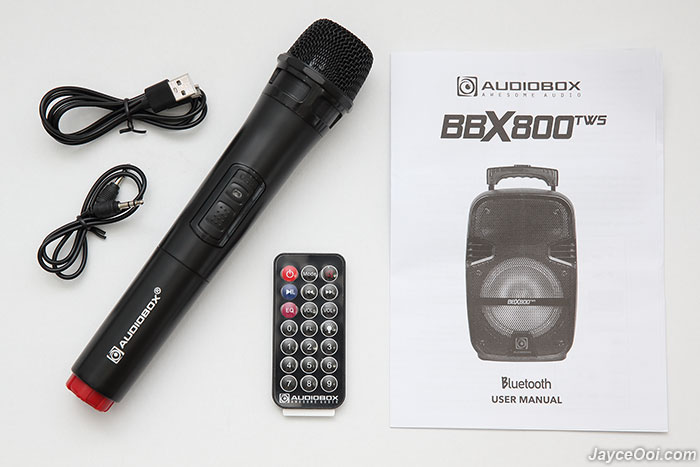 Build quality is excellent all thanks to solid and sturdy ABS plastic chassis. The main 8″ speaker driver is covered with metal grill in front. 7 colours pulsating LED is located on the main driver too. Besides the trolley handle, there is another fixed one to carry BBX 800.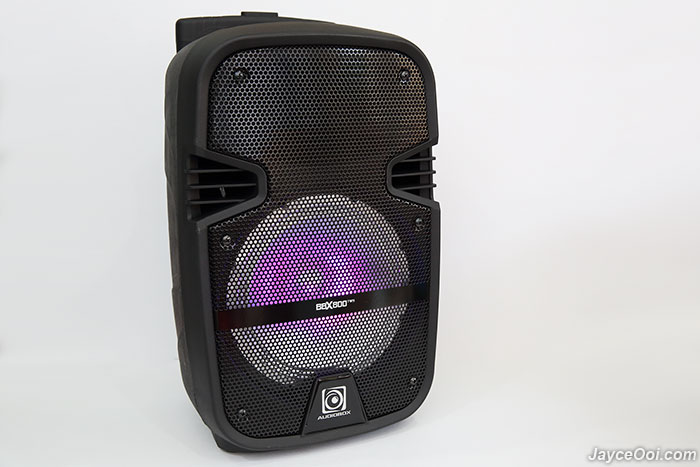 Check out this sturdy 2 steps retractable trolley handle…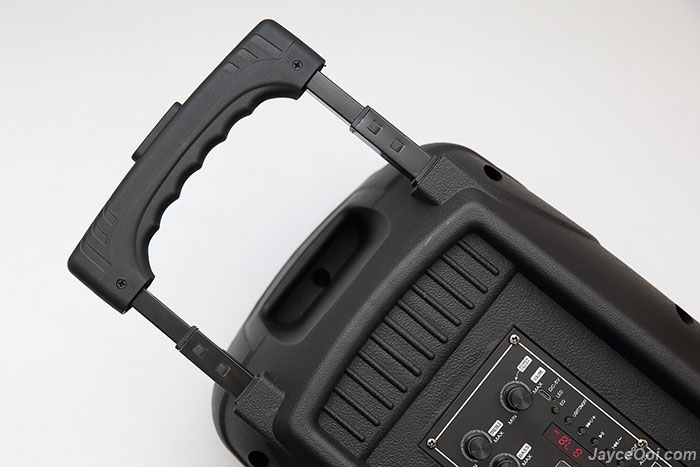 There is a pole mount to place BBX 800 at higher place. And the wheels for troll it around here and there.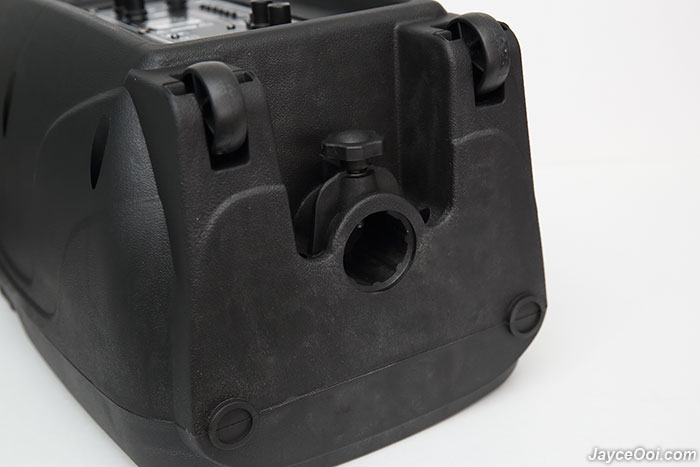 All the inputs and controls are located at back of the speaker. Yup, there is LED display, microphone input, volume and echo control. Master volume control (also act as power on/off switch) with bass and treble too. AUX input, USB and micro SD slot for direct media playback. As usual, do refer to all the photos for details…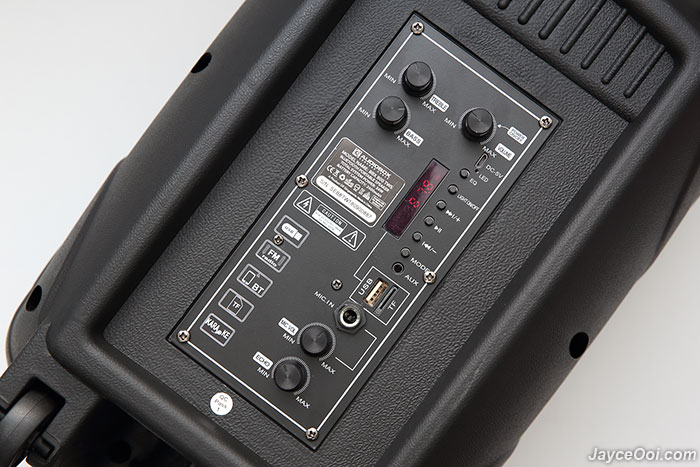 Performance Result
AudioBox BBX 800 TWS is a powerful outdoor speaker thanks to 34W output power. More than enough to blast at large living room or tuition center. Even at outdoor party. Yes, you can change sound signature according to your taste and preferences. All thanks to treble and bass volume control. Overall, it has bright treble with clear and crisp sound. Bass is very little present there. Max bass volume with min treble volume control can't even help much. In short, it's a bright sound signature speaker that gives you clear vocal.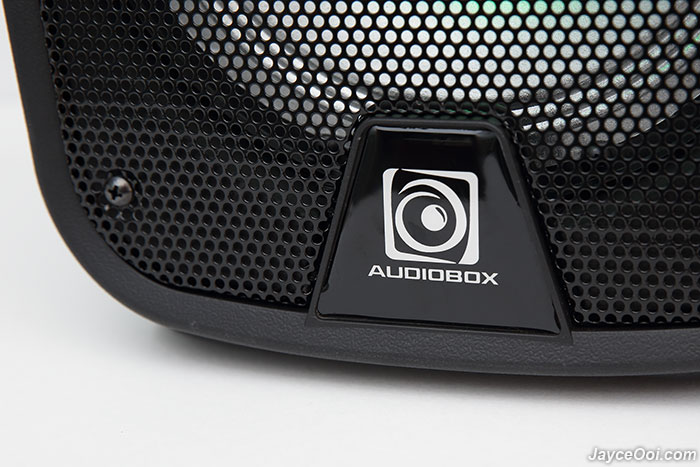 Wireless microphone range is as great as Bluetooth connection. Yes, no issue to link it up to 8m+ with obstacles. Range is great no doubt. However, audio and video sync is lag a little bit. Not so suitable for movie and games. Working great on karaoke, speech and music playback though. For FM reception, it is great. Clear and strong reception is what I get. Of course, it is depended on your area as well. Finally, built-in player works as expected.
Around 10 hours non-stop music playback it what I get. As usual, tests were done on average room sound level with LED lights turned on. And it takes less than 5 hours to fully charge. Colourful LED lights are great for party. You can turn it off with remote control if you don't like it too. Oh, before I forget. The free wireless microphone is average at best. You need to put close to your mouth in order to get clear voice output.
Advantages
Clear sound quality
Wide wireless mic & Bluetooth range
Bluetooth, FM radio & MP3 player (USB & SD)
Decent build quality
Portable with trolley
Pole mount support
Limitations
Lack of bass
Average microphone
Can't remember last used audio source
Conclusion
Powerful portable trolley speaker with clear sound that great for speech. Period. Yes, that's AudioBox BBX 800 TWS. Be sure to check out AudioBox Website for details. Get yours at Lazada.