Introduction
Meet the big brother of AudioBox BBX T1000. A much larger barrel speaker with multi-colour LED effects. And loaded with even more features like Bluetooth, FM radio, built-in WMA/MP3 player (microSD & USB), AUX and mic input. Yes, there is a free microphone included too. You can sing karaoke with it. Does it sound good? Let's find out together…
Special Thanks
This review is possible thanks to below companies. Be sure to check them out…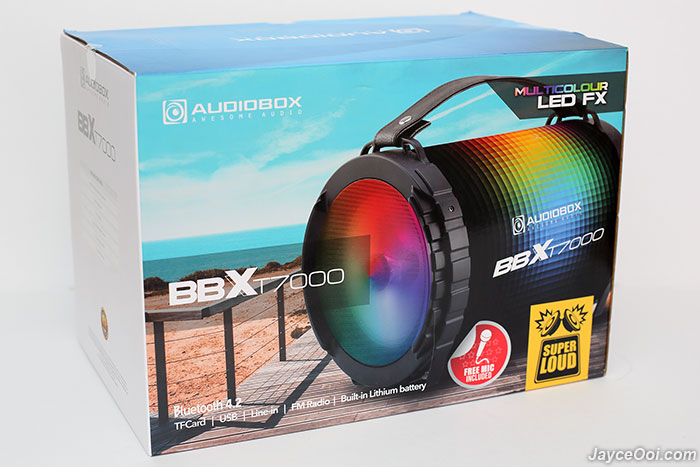 Package Content & Design
There are AudioBox BBX T7000, 3.5mm audio cable, micro USB cable for charging, wired microphone and user manual in the package. As usual, do go through the guide to get started.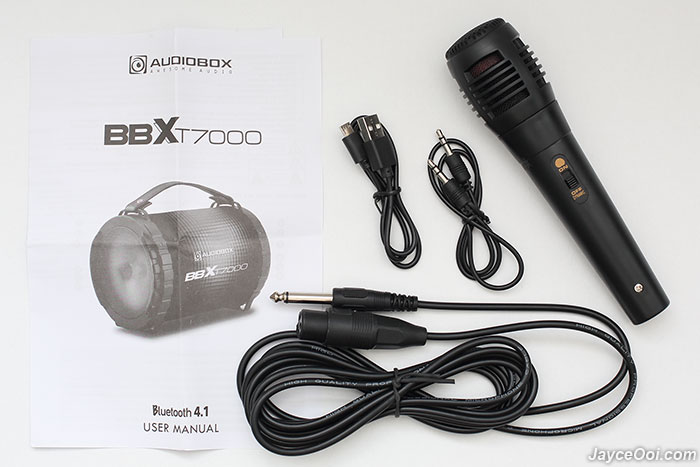 AudioBox BBX T7000 is a large barrel shape speaker. Therefore, there is a PU strap on top to ease carry around. Build quality is decent with sturdy plastic as housing. And comes with colourful design – spectra and camo.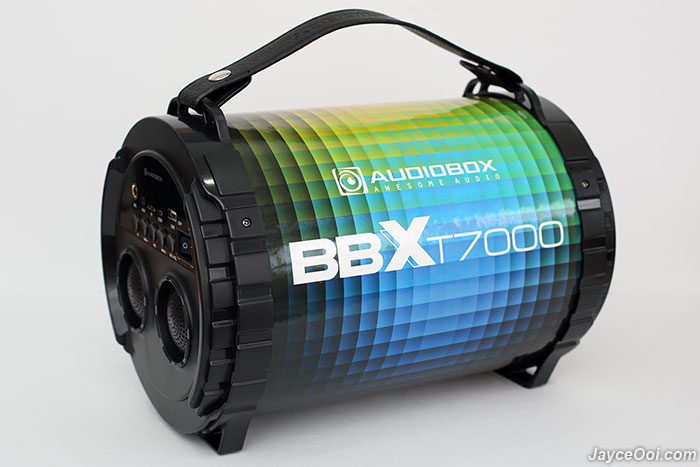 As usual, there is speaker driver on one side. But this round comes with attractive multi-colour LED effects. Yes, it does have multiple colours at the same time.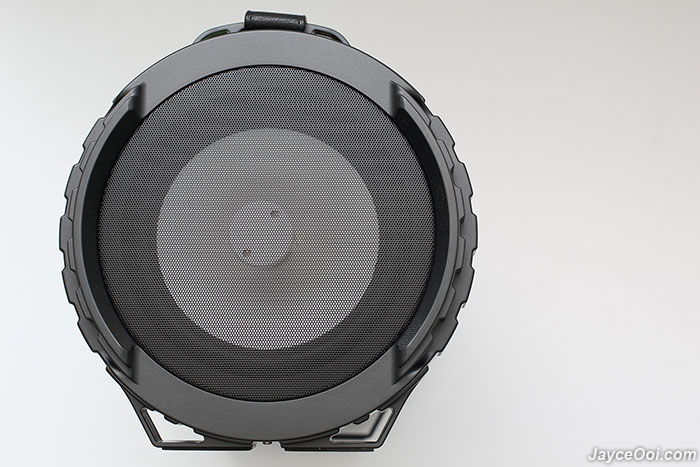 And all the buttons and inputs on the other side. There is a small LED display that is very useful to know which audio mode you are in.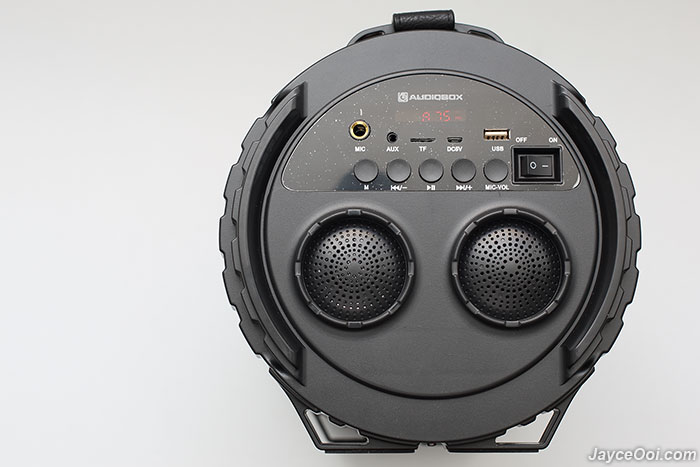 At bottom, there are 4 anti-skid pads to provide grip to the speaker.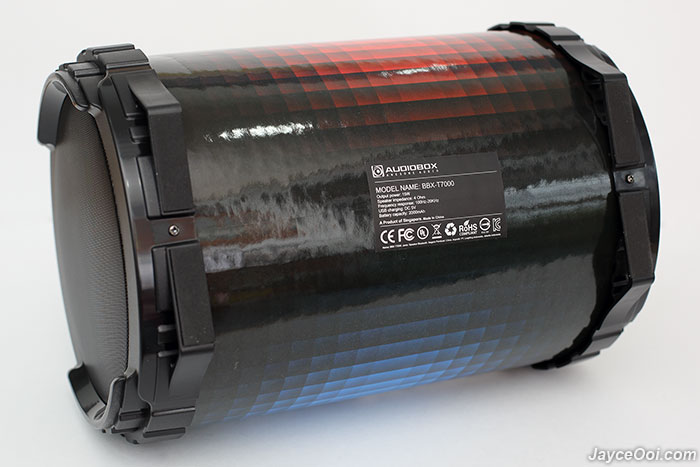 AudioBox wording PU strap. And check out the colourful spectrum design.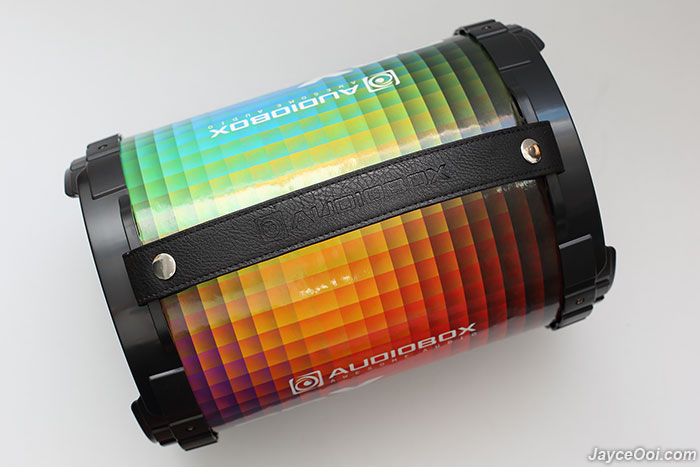 Performance Result
AudioBox BBX T7000 passed the Bluetooth range test with flying colours. Yes, it easily exceeds the standard 10m Bluetooth range in straight sight line with no obstacle. And up to 8m with obstacles like walls. In addition, it has virtually no lag between video and audio. That's great to use it for movie and games on your mobile devices too. Lastly, 3.5mm AUX line-in port is there for devices without Bluetooth connectivity.
7 hours and a half of non-stop music playback is what I get from its 2000mAh lithium battery. As usual, tests were done with average room sound level. And battery life will be shorter when play louder at maximum level. For self-charging, it takes around 4.5 hours to fully charge.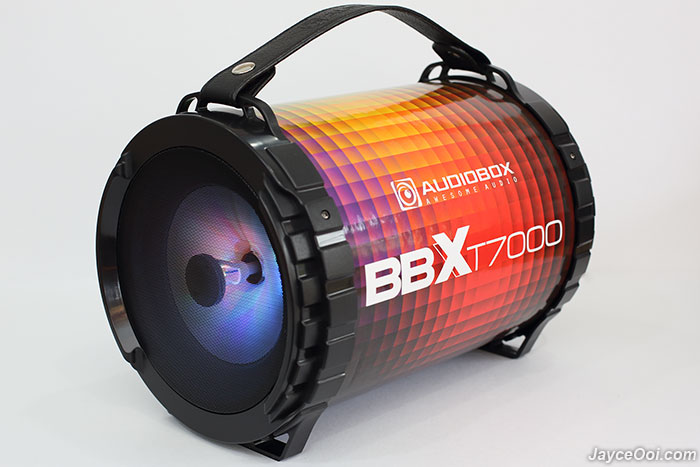 BBX T7000 will start to play MP3/WMA song once plugged in USB flash drive or micro SD card. Breakpoint memory feature is supported as well where it will continue to playback the last song and at the place that left off after power off or media was ejected. That's great. As for FM radio, its signal reception is better than smaller brother. But still not perfect but thankfully it can be improved by plug in audio cable to AUX-in port as external antenna.
Colourful LED effects are great for karaoke. However, the included free microphone does not perform so well. You need to put mic very close to your mouth in order to get clear vocal. Anyway, just invest a better one in the future will do.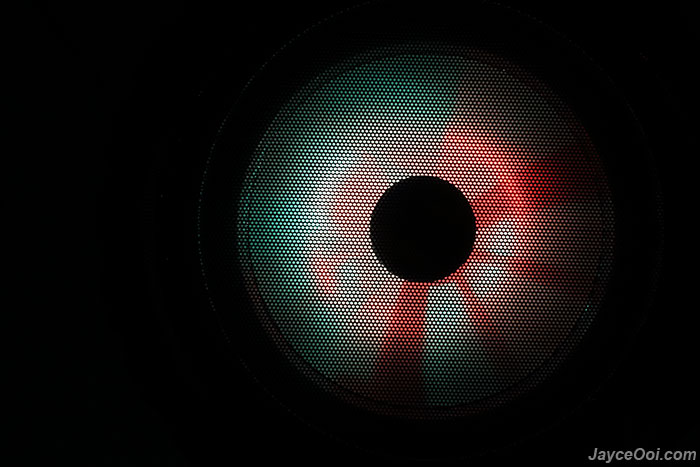 Super loud sound! Yes, AudioBox BBX T7000 will annoy your neighbors if play too loud outdoor. All thanks to 15W RMS total output with barrel shape design speaker. And it sounds great for its price too. Clear and crisp treble with amazing bass. Fuller sound compare to those smaller speakers for sure. More than enough power blast in large living and small party outdoor.
Advantages
Clear sound with amazing bass
Outstanding Bluetooth range
Built-in MP3 player (USB & microSD)
Decent build quality
Portable with colourful LED effects
Limitations
Poor microphone performance
Conclusion
A colourful LED effects with nice sound portable Bluetooth barrel speaker for outdoor. Loaded with lot of features. And turn into karaoke mode with included microphone. Don't forget it's super loud too. More information can be found at AudioBox Website. Get yours at Lazada.