Introduction
Hey guys, check out my latest wireless mini sound bar. Yup, it is Avantree Torpedo which equipped with DSP (Digital signal processing) technology that supports multi-sound effect – 3D surround, dynamic bass and balance audio. Besides, it is loaded with new Bluetooth 4.1 and two powerful 5W speakers. Perfect companion for tablet to watch movies and play games, right? Let's find out…
Features
DSP (Digital signal processing) technology supports multi-sound effects – 3D Surround Stereo Sound / Super Bass / Balance Audio
Two powerful 5W speakers and dual-channel deliver surprisingly superb and full-range sound
This speaker is the best companion of Tablet for watching movies and playing games in 3D surround mode. A tablet / mobile Desk Display Stand is included for free gift.
Bluetooth 4.1 speaker for wireless music or other audio streaming and an additional audio line input for use with non-Bluetooth sound sources
Slim portable appearance, durable design
Compatible with all Bluetooth enabled media players, mobile phones and laptops
Package Content & Design
Avantree Torpedo comes with a well-protected package. And it's shrink wrapped. Yes, for both box and the speaker inside. After took out Torpedo, you can find USB charging cable, 3.5mm audio cable, tablet / mobile desk display stand, user manual and warranty information. They even include a reset pin for you if anything wrong happened to Torpedo. Nice one. And I did not use it after weeks of playing and hopefully won't need to use it at all.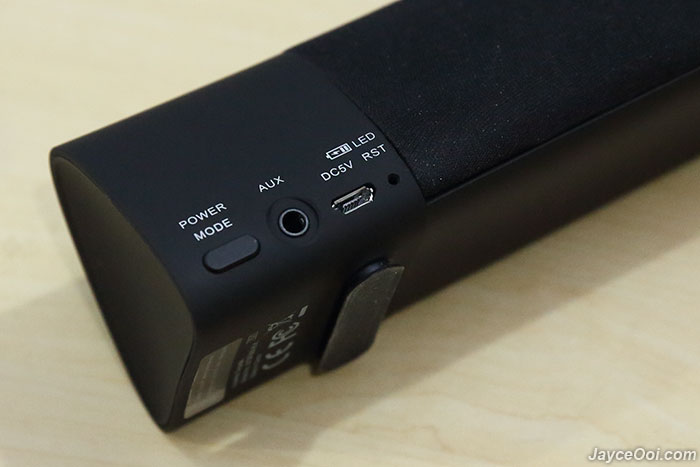 Avantree Torpedo is coated with matte soft touch rubber material. It is nice to hold and does not attract fingerprint at all. And its build quality is top notch. Both of the 5W drivers are hidden behind smooth quality fabric cover. There is a LED light indicator at the right of the speaker (blue for 3D surround, green for super bass & red for balance audio). At back, there are power / mode button, aux-in port, USB charging port and reset hole which is also a charging indicator with red light. Below the speaker, there are 2 anti-skid pads with suction cup alike ability. Yup, they will hold the speaker steadily even on the loudest volume and bass. By the way, there are no volume, play/pause & previous/next track control on Torpedo. You need to control them at music sources.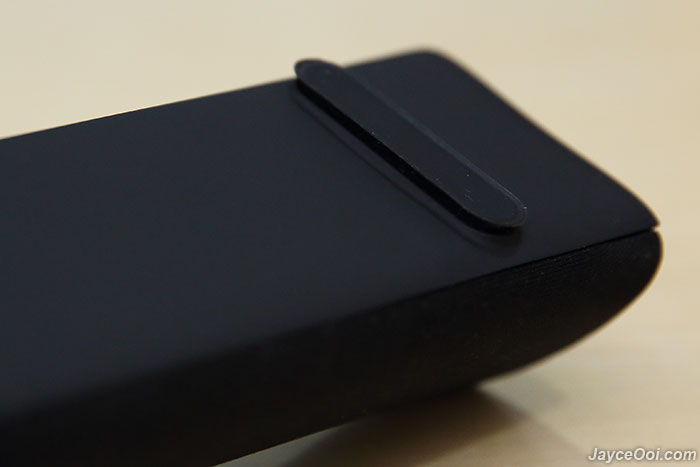 Specifications
Bluetooth version: 4.1
Support profiles: A2DP V1.2, AVRCP V1.4
Battery: Built-in 2200mAh @ 3.7 V rechargeable lithium battery
Working time: up to 6 hours
Operational range: 10 meters
Output power: 5 W×2 THD<0.5%
Charger voltage: DC5V
Charge time: About 3 hours
Frequency response: 50 Hz~20 KHz
Signal-to-noise ratio: >85 dB
Product weight: 470 g
Dimensions: 270 mm x 58 mm x 50 mm
Performance Result
Excellent Bluetooth coverage! Avantree Torpedo easily exceeds the standard 10m Bluetooth range in straight sight line. And manages to get connected and playback music up to 8m with obstacles like wall. This is the second Bluetooth device that I have tested can reach up so far. Yes, music still can play at all rooms with door closed up stair while Galaxy S4 as the player located at center ground floor. Great job, Avantree. And pairing is very simple. It will automatically go into pairing mode after powered on. All my smartphones, tablets, notebook and PC are able to connect to it flawlessly. As for devices without Bluetooth, 3.5mm AUX line-in port is always there for you.
Avantree Torpedo built-in 2200mAh battery manages to play non-stop music for 12 hours. Yup, that's based on average room sound level with balance audio mode. As usual, battery life is shorter if you play louder. But should be enough for your daily normal usage. You can always plug in USB cable to charge when power is low. And it took around 4 and a half hours to fully charge. In addition, it has auto power off function for energy saving.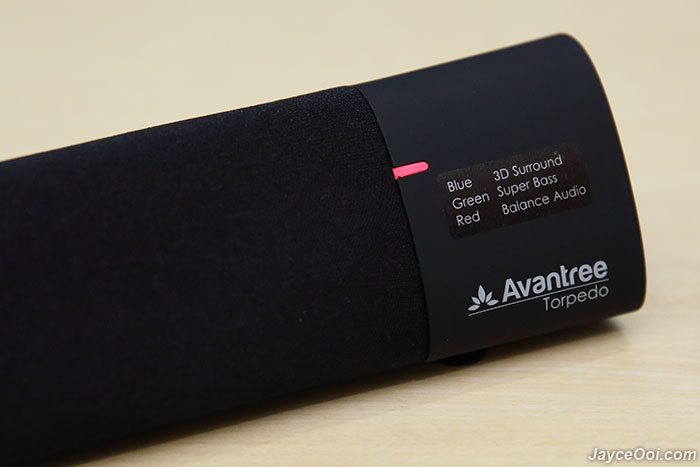 Out of 3 DSP settings – super bass mode is my favourite. For me, balance audio mode is lacking of bass that it should but it is good when you want to listen to gentle, quiet audio with lesser bass. 3D surround stereo sound does its job well. A nice mode for movie and games as you can feel the virtual 3D effect. The display stand does come in handy here. Overall, Avantree Torpedo sound quality is good for its size. The high and mid are crisp. And it has amazing bass too (on super bass mode of course). Sound great with Lotoo PAW 5000 DAP. Most of time, music are being playback wonderfully without distortion even at maximum volume level. It can go really loud and surely no problem to blast a small party.
Any complaints? No volume, play/pause and previous/next track controls do not bother me much as I can always do that from my music player. However, the low battery warning beep does. It keeps 'beep beep beep beep' for every 30 seconds when battery is lower than 3.6V. Yes, that's 4 beep sounds. What make it worst – it will mute your music for a while during beeping. A single beep sound will do just fine and no need to mute the source, right?
Advantages
DSP with 3D Surround Stereo Sound
Crisp high & mid with amazing bass
Excellent Bluetooth coverage
Long battery life
Sturdy build quality
Lightweight & portable
Stylish design
Limitations
No volume, play/pause & previous/next track control
Annoying low battery beep sound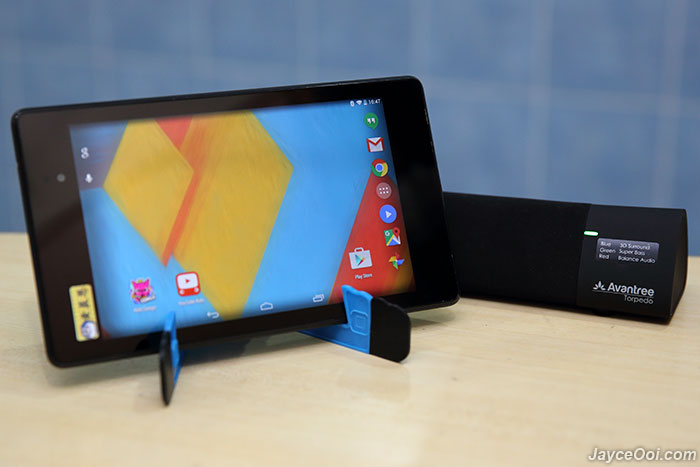 Conclusion
Looking for a speaker for your tablet? Give Avantree Torpedo a try. It has DSP with 3D surround. The high and mid are crisp. Super bass mode will give you amazing bass. More information can be found at Avantree Website. And get yours there.