Introduction
Hey guys, check out the very first Bluetooth earphones from Brainwavz – BLU-100. It is a stylish wireless earphones powered by Bluetooth 4.0 and aptX technology which provide highest quality Bluetooth audio streaming. In addition, you can use it to receive phone call with built-in microphone. And its 3 button remote works with iOS, Android, Windows phones and PC. Comply foam tips and ear clips come along too. Alright, let's check it out in details…
Specifications
Drivers – Dynamic 8mm
Rated Impedance – 30Ω closed Dynamic
Frequency Range – 20Hz ~ 20kHz
Sensitivity – 110 dB @ 1 mW
Bluetooth – 4.0
Codec – aptX
Max Distance – 10m (30ft)
Battery – 60mAh
Playtime/Standby – 4hrs/100hrs
Charge Time – 2hrs(USB)
Noise Cancellation – CVC echo/noise
Voice Prompt – Yes
Profiles – HFP HSP A2DP
Pairing – Dual Pairing
In-Line – Remote/Mic
Warranty – 1 Year
Package Content & Design
In the package, there are BLU-100, 3 pairs of silicone ear tips, Comply Foam Tips S-400 Series, ear clips, hard case, USB cable, cable strap holder and user manual & warranty card. Brainwavz BLU-100 is a light weight Bluetooth in-ear headphones with decent build quality. The controls are located near the right channel earphone. USB port for charging is on the right too. A white indication light is located at top of the remote and mic is behind the 3 buttons. Overall, BLU-100 is comfortable for long hour wearing thanks to selection of 3 pairs of silicone ear tips in addition of Comply Foam Tips. And the ear clips help to keep it secure for sports and gym work. Finally, the useful hard case is there for you to keep BLU-100 and all accessories to carry around.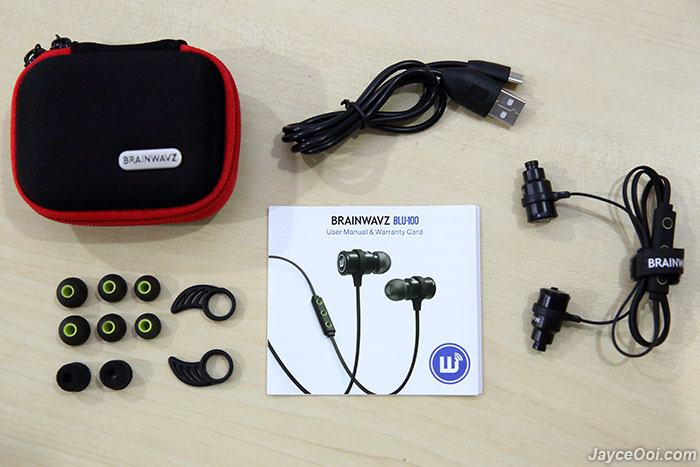 Performance Result
Pairing is very simple. All my Bluetooth devices are able to pair with BLU-100 flawlessly. And you can pair it with 2 devices like smartphone and tablet at the same time too. Yup, the 3 button remote work great on Windows, Android and iOS too. Hmm… The Bluetooth coverage is on the average side. It manages to perform well up to 10m in straight line without any obstacle. However, only up to 5-6m with obstacles.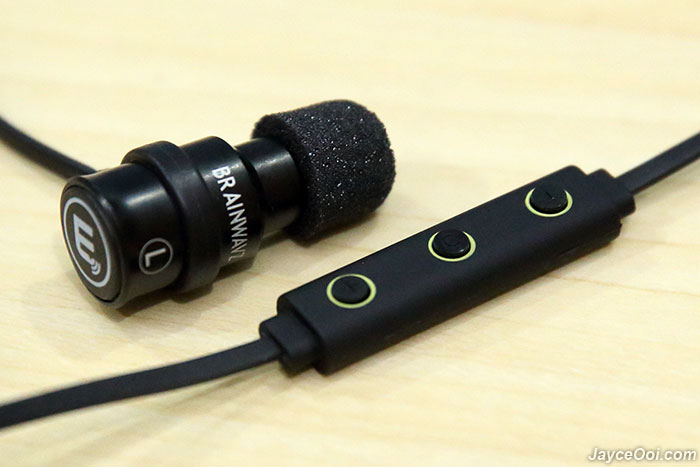 4 hours of non-stop music playback is what I get from BLU-100 just like stated at specifications with its micro 60mAh battery. Not bad for a tiny battery as it can get you to watch 2 movies, make several long phone calls and even play several hours of non-stop mobile games. No worry, it can be fully charged around 1 hour to get it to rock again. By the way, battery life status can be showed on iOS devices (iPhone, iPad & iPod). A nice feature to know when to charge it.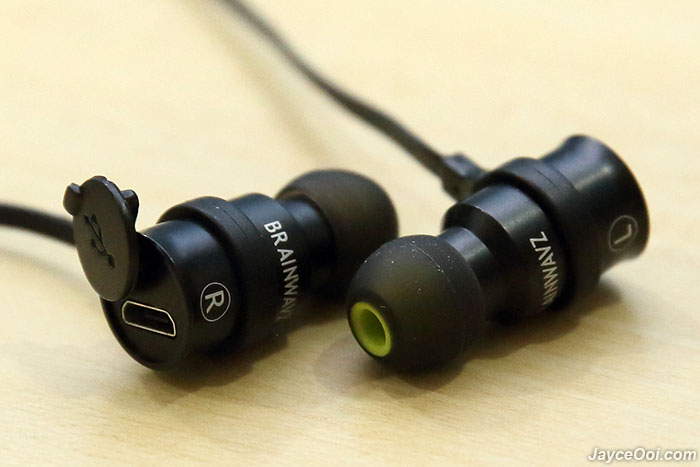 Phone call quality is great. I can hear other's voice loud and clear. And the other way round too. All is possible thanks to CVC echo and noise cancellation. The dual pairing is very useful here as you can listen music from laptop and answer call from phone. Both are connected at the same time.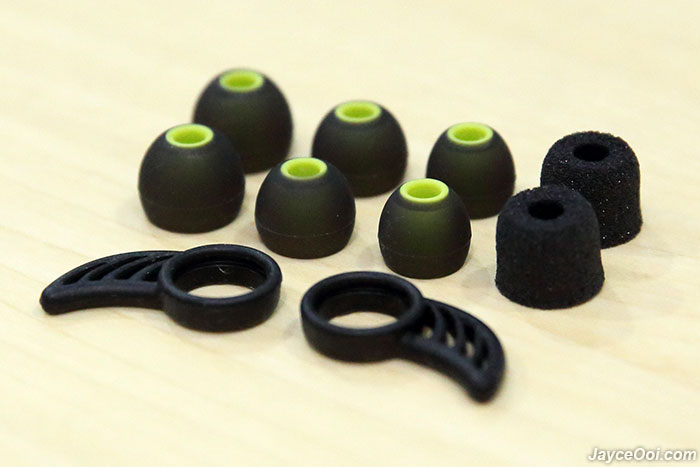 Brainwavz BLU-100 has nice sound quality. Thanks to aptX codec, you can have better sound quality with the highest quality wireless audio streaming. Enjoy stunning full-range sound with clarity and rich bass. It makes daily activities like watching movie, playing games and listening YouTube MV pleasant. And do take note that it emphasize bass a little bit and mostly in the mid-bass. Therefore, it have warm and slightly bassy sound signature. Just looser the fit to if you want more neutral sound. All in all, the sound quality is good at this price point.
Advantages
Good sound & build quality
Comfortable for long hour wear
aptX technology support
Connecting 2 devices at the same time
Fast charging
Great accessories
Built-in mic for phone call
Limitations
Bluetooth coverage needs improvement
Battery life could be better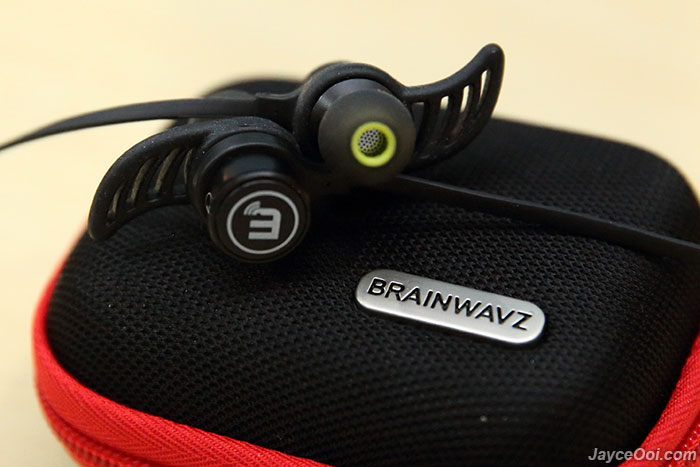 Conclusion
Brainwavz BLU-100 Bluetooth Earphones pack in everything for your daily need from music listening to answer phone call. Suitable for active lifestyle too. Enjoy quality sound for long hour comfortably. You can't go wrong with all the features included. Still need more information? Visit Brainwavz website to find out. Or buy yours here.