What is Windows.old folder in Windows 10? Can I delete Windows.old then? Well, these are the questions that you might ask after installed free Microsoft Windows 10 Pro. Windows.old folder was created when you upgraded to Windows 10 from previous Windows 7 or 8.1. Some files used by your previous version of Windows will be left in the Windows.old folder. These files will be automatically removed after a month of upgrading or you can use Disk Cleanup to remove them yourself now. You won't find this folder on clean Windows installation. In short, you can remove Windows.old folder safely. But lose the chance to revert back to previous version.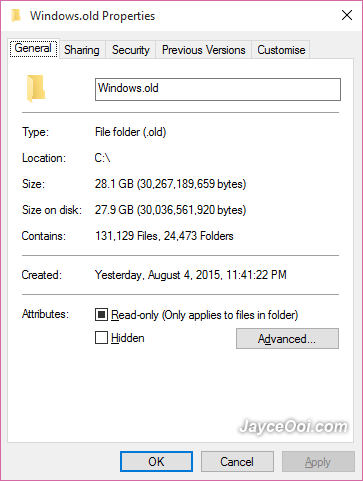 How to delete Windows.old folder to free up disk space?
If disk space is not a concern for you, just leave Windows.old folder alone. It will be deleted after 1 month automatically. But if you really need more storage (on laptop or tablet), here is the way to remove it and free up the space. Search for 'Disk Clean-up'. Then select the drive that you installed Windows 10. After that, click on Clean up system files. Select Windows drive again. Tick on Previous Windows installation(s) check box and any other check boxes for the files you want to delete. Click OK then Delete files. That's all.
I got around 30GB disk space free up after delete Windows.old folder in Windows 10. Wow… Consider a lot since I have only 120GB in total.