Introduction
"Don't disturb me… It's so relaxing and enjoyable" Yes, that's what my latest Bluetooth speaker from Divoom does. Unlike normal speaker, AuraBulb is a smart music lamp. It is Bluetooth speaker, a lamp, a speakerphone and an alarm clock. Yup, the lamp is loaded with full range RGB LED for the best colour effects and millions colours to choose from. How does it perform? Let's find out…
Features
Fine-tuned sound for relaxation. Divoom professionally tuned 2″ 5-Watts speaker with the passive radiator
Free proprietary mobile application for both iOS and Android systems, supports latest iOS 7 and Android 4.3 and up
Full range RGB LED for the best color effects, millions colors to choose from. Fun for both children and adults, great for any indoor and outdoor party
Greatly improve the sleep quality with the intelligent timer clock with both sceneries and sound
Built-in Speakerphone for easy hands-free calling
Package Content & Design
In the package, there are Divoom AuraBulb itself, silicon cover, USB cable, 3.5mm audio cable and user manual. AuraBulb is a stylish and cool speaker lamp. You can use it with or without the bulb shape silicon cover. And it changes the visual effect totally. Personally, I love the 'naked' look of it as it is cooler that way. And enjoy it in bulb mode as it is much more relaxing then. There are 12 LED lights in AuraBulb. The rubberised control buttons like on/off, volume up/down, next/previous, play/pause/hands free/stop alarm and lighting effect changing buttons are located in front. LED indicator light is there too. Aux in and micro USB charging port at the back. There is a passive radiator on top too. Finally, anti-skid rubber at the bottom. By the way, the build quality is top notch as you can expect from Divoom. And there are 2 colours to choose – black and white.
Specifications
Dimensions: 120L x 120W x 147H mm
Weight: 350g
Driver size: 2″ full range + 2″ passive
Output power: 5 W
Signal to noise ratio: ≥75dB
Battery Capacity: 1200mAh
Battery Voltage: 3.7 V
Battery Charge Time: 2-3hours
Wireless Range: Up to 10 meters
Bluetooth compliant: Bluetooth v4.0 SMART
Frequency Response: 60-20000Hz
Play Time: Up to 6 hours
Warranty: 1 Year
Performance Result
Divoom AuraBulb is equipped with Bluetooth v4.0 SMART Chipset and its coverage is great. It can perform more than 10m Bluetooth range in straight line with no obstacle. And up to 7m with obstacles like wall and others. All my Bluetooth devices are able to pair and work flawlessly. Music will continue playing even I walk to another room. Nice one… As for Non-Bluetooth device, Aux in port is there for you.
How long can AuraBulb last with its 1200mAh battery? 3 hours and a half is what I can get while playing music at average room sound level with rainbow mode LED light turned on. No worry, it is more than enough to get you fall into sleep / rest. You can also plug in power cable when battery is running out. Of course, you can turn off LED lights as well to get longer playtime. But that's not the lamp for, right? Besides, the charging is fast as it took 2 hours only to fully charge.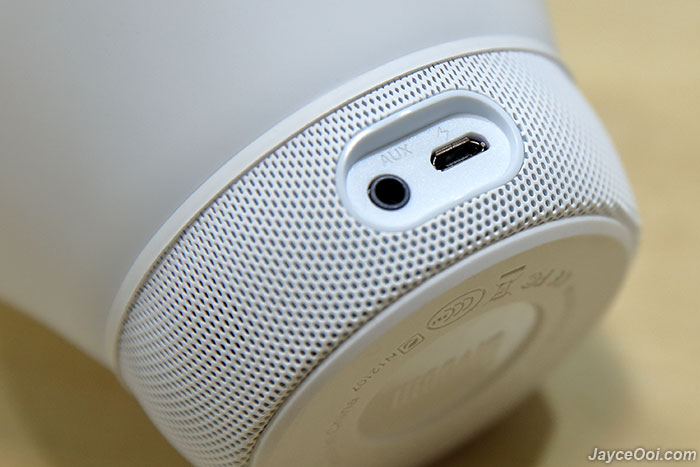 Yes, AuraBulb has hands-free calling feature. I can hear other's voice loud and clear. However, its microphone quality is just average at best. My voice is kinda soft to others. Not a deal breaker as it is not the main purpose of this speaker but a nice add-on, right?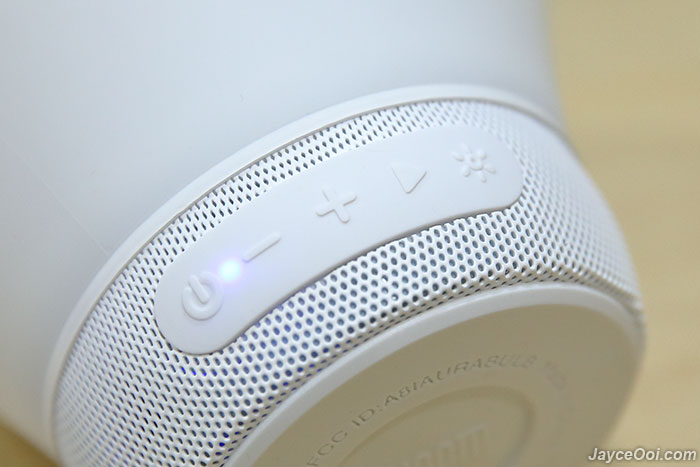 You can use AuraBulb directly without any mobile application. Select LED lighting effects like normal, flashing, pulse, candle and rainbow modes is possible with the built-in button. However, AuraBulb mobile app will greatly improve user experience because you can adjust the LED light colours to any colour that you prefer and control the brightness. Lighting effects are controllable there too. Besides alarm clock function, I love the sleep feature. It will automatically turn off when the sleep minutes that you set is reached. No manual step is needed. Besides your own favourite songs, you can select 3 built-in sceneries – the forest of Zen, the calming ocean waves and the rhythmetic rainstorm. By the way, AuraBulb app can be found at both iOS App Store and Google Play Store.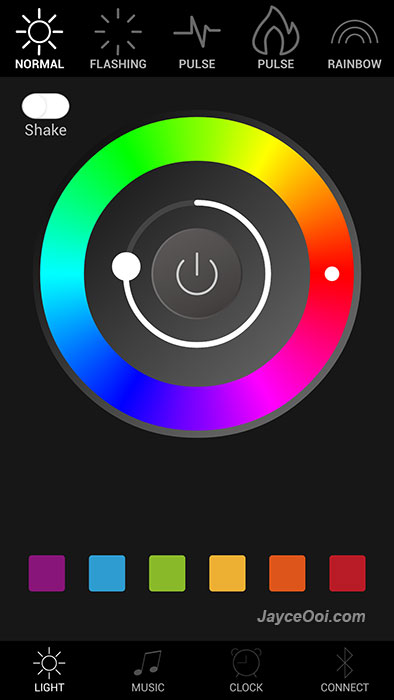 Divoom AuraBulb sound quality is great thanks to its fine-tuned 2″ 5-watts speaker with the passive radiator. Perfect with relaxation songs. Being a 1 channel speaker, it can really produces loud sound and decent bass. No distortion even at maximum volume. And it is more than enough to blast in a room and suffice for mini party too. Check out AuraBulb live in action with below video – demo of all 5 lighting effects and 3 built-in sceneries.
Any complaints? Yes but a minor one. I can't select 3 built-in sceneries in sleep mode on Android app. iOS version is working just fine. No worry, it will be fixed on next version release.
Advantages
Lovely LED lights
Impressive sound quality
Yes, there's bass
Mobile app supported
Lightweight & portable
Fast charging
Alarm clock
Limitations
Average microphone
Mobile app needs improvement
Conclusion
Looking for a relaxation music lamp? Give Divoom AuraBulb a try and you will love it as I do. Enjoy the lovely LED lights with soft music. Mobile app supported to further enhance user experience. Interested? More information can be found at Divoom Website. And get yours there.