Introduction
Meet the junior – Divoom TimeBox-Mini. A smaller version of TimeBox – The most intelligent pixel speaker by Divoom. They share most of the goodies like 121 programmable LED, 30+ built-in professional sleep aid, smart alarm and many more. Again, the mobile app is updated with even more functions and features like pixel chat. Come on, continue reading this review to know more…
Special Thanks
This review is possible thanks to below companies. Be sure to check them out…
Features
Great Fun: 121 App-programmable full RGB LED. Create any pixel art and animation easily, and share your awesome designs with the pixel art fans around the world.
Great Sleep: Highly customizable with 30+ built-in professional sleep aid and smart alarm preset sceneries. Enjoy your rest with both acoustic and lighting enchantments.
Great Usages: Time Management, Microphone, Social Media Notification, Mini Pixel Games, Date Reminder, Weather Report, and more…
Great Audio: Five watts 2" driver tuned by the latest DSP technology (Digital Sound Processor). It also supports AUX in/out for daisy-chain function.
Great Coverage: Timebox Mini will continue to evolve through the constant updated software, where we will release new and exciting features.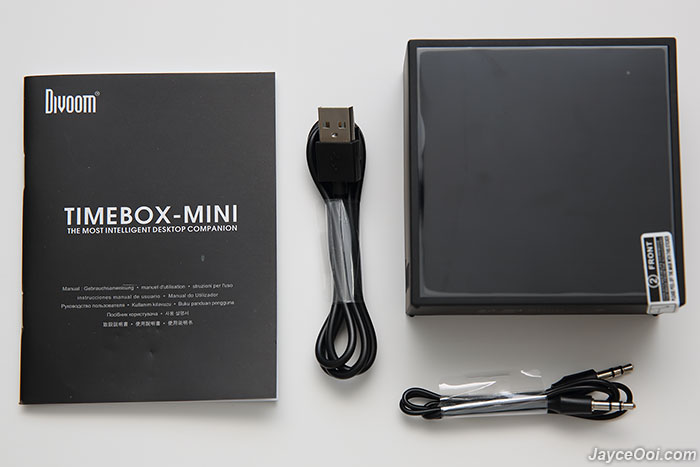 Package Content & Design
Again, TimeBox-Mini comes in a well protected gift box packaging just like his big brother. And there are USB cable, 3.5mm audio cable and user manual in the box too. The user manual is loaded with multiple languages. Also come with multiple colours like black, blue, hot pink, jade green, red, teal and white. It have the same sturdy matte UV coated housing that gives the rubberize feel when touch too.
Buttons are located on top and right side of the speaker this time. Play/pause/answer call, next/previous track, volume up/down and microphone on top while light change mode, power on/off and reset buttons on the right.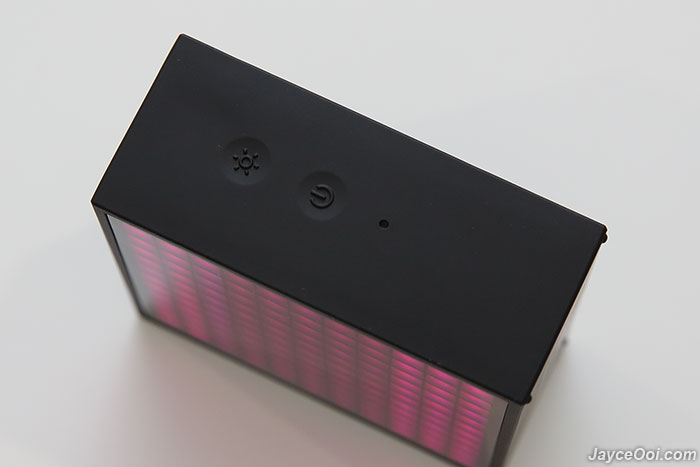 At back, you have 2″ full range speaker with metal speaker grill. AUX in, micro USB port and AUX out are located at the lower part. There are 4 tiny anti-skid bumps at bottom which surprisingly provide a great stability here.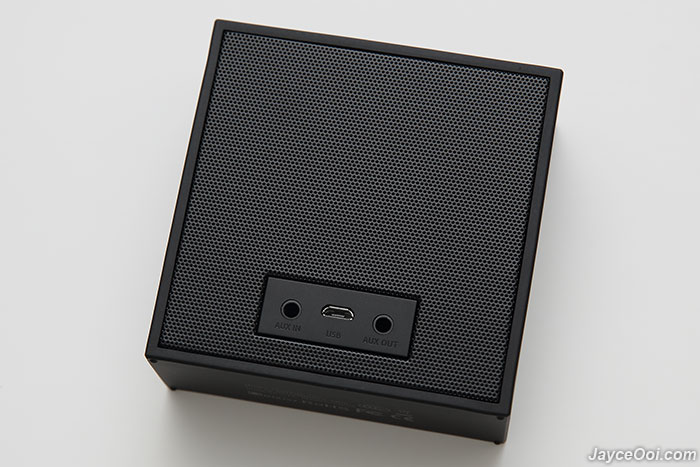 TimeBox-Mini does not have gem-style front cover with isolation bracket this round. But having the same LED light design like 1st generation – Divoom AuraBox.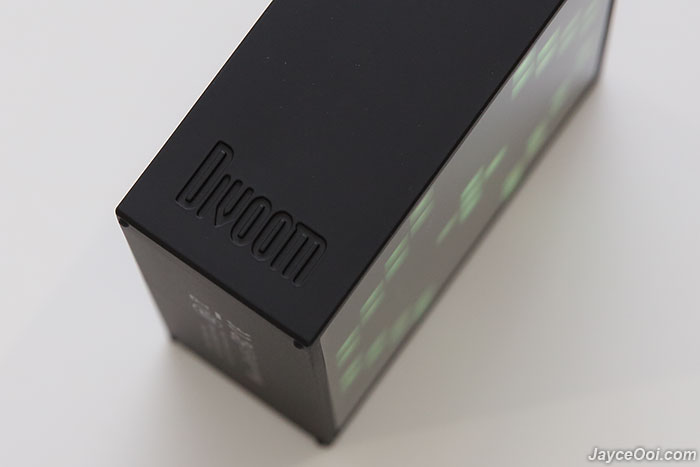 Specifications
Dimensions: 90L x 38W x 91.2H mm
Weight: 292g
Driver size: 2 full range
Output power: 5W
Frequency Response: 60-20000Hz
Signal-to-Noise Ratio: 78dB
Playback Time: up to 10 hours
Battery Capacity: 2500mA
Battery Voltage: 3.7V
Battery Charge Time: 3-3.5 hours
Bluetooth Compliant: Bluetooth V4.0 smart
Software
Divoom surely improved and added lot of stuff into TimeBox app since my previous Divoom TimeBox review (Do read to know more about TimeBox App). New interface, new pixel chat, new planner, new tools like stopwatch, scoreboard and lot more… As usual, TimeBox application can be download from App Store and Google Play for both iOS and Android devices. You can unleash more features and functions that can't be done by TimeBox-Mini itself with this app. In short, the mini version has most of the stuffs like TimeBox except FM radio.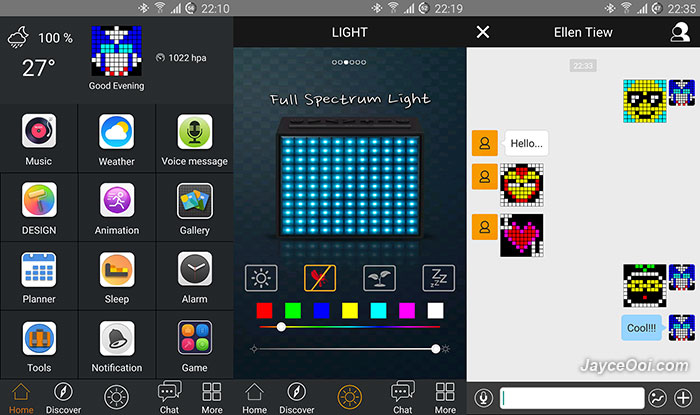 Yes, you can get more pixel art from cloud through Internet this round. That's from all the TimeBox users, so you can do so to bring more pixel art there too. Unleash your creativity with lot of interesting pictures or animations. The planner is a good reminder based on the schedule that you set. It will sound alert and pixel art then. Tools like scoreboard is useful to calculate games match scoring. And the new pixel chat enable you to chat with your friend who own TimeBox too. It will show pixel art that you select on their TimeBox. Chatting does not limited to text only now…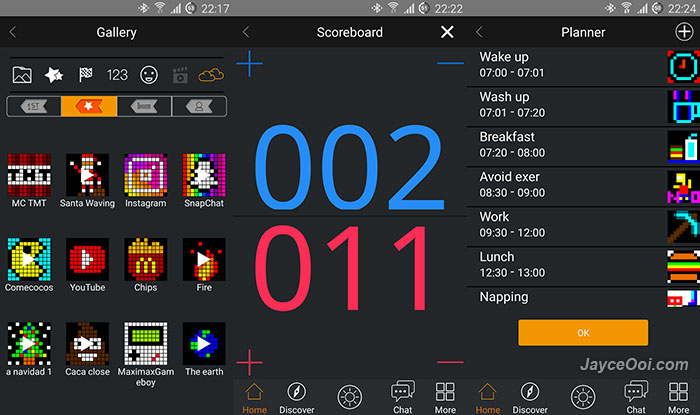 Performance Result
As a Bluetooth speaker, TimeBox-Mini does not perform well in Bluetooth range test. Barely reached 10m Bluetooth range in straight sight line with no obstacle. And up to 4 to 5m only with obstacles like walls. Hmm… Totally different from TimeBox that have super wide Bluetooth range. As usual, there is AUX in port for non-Bluetooth devices. And AUX out port for you to connect to another TimeBox or speaker as daisy-chain mode.
Battery life is also shorter even with same capacity 2500mAh battery. With same average room sound level and rainbow mode LED light effect enabled, TimeBox-Mini manages to get around 8 hours non-stop music playback only. Having a smaller size driver does have some disadvantages here. As always, you will get longer playback with LED lights turned off. Charging is a bit faster in this case. Took less than 3 hours to fully charge here.
Speakerphone performance is decent and better this round. Others can hear me loud and clear. As usual, closer to microphone == better. As for sound quality, it retain the great quality as TimeBox. Much more balanced in this round and warmer when compare with TimeBox (which has bright sound signature). Highs and mids are clear as usual. Bass is decent for this speaker size. And there is no distortion even playing at maximum volume. That's great. Basically, you can fill a small room with music on this TimeBox-Mini.
Advantages
Lovely LED lights
Plenty of features
Fun to play
Mobile app supported
Ultra lightweight & portable
Decent microphone
Limitations
Below average Bluetooth range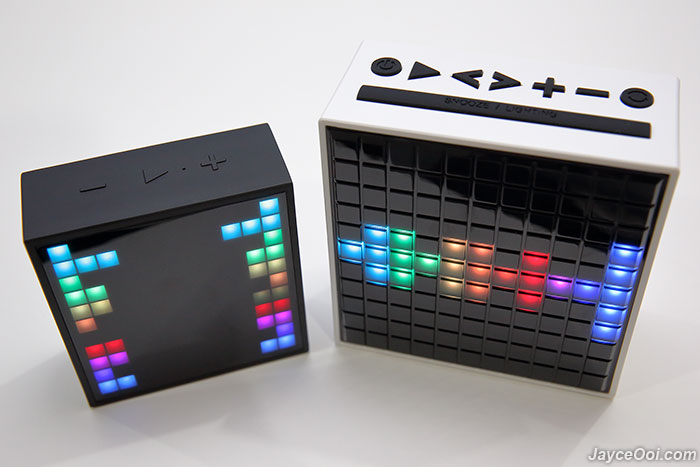 Conclusion
Divoom TimeBox-Mini is perfect as desktop companion with smaller size body. Just put it right below your monitor and it will keep you entertained whole day long. Enjoy all the nice and useful features that it brings. As usual, you can buy yours at GearBest or Amazon.