Hmm… How to solve Logitech Wireless Gamepad F710 on Windows 8.1 issue? My PC can't seem to detect Logitech F710 correctly with X-Input mode even with official Logitech Gaming Software. No issue on D-Input mode though, run smoothly. Most of the PC Windows games support XBOX controller only. And F710 with X-Input mode is the only way to play them. Games can't find F710 with D-Input mode as the controller. Well, you can use XBOX 360 controller emulator but that's not the friendly way.
How to fix Logitech Wireless Gamepad F710 not detected on Windows 8.1 issue? Well, the solution is quite simple. And you don't even need to download any driver. You can use Xbox 360 Wireless Gaming Receiver for Windows driver which come along with Microsoft Windows 8.1.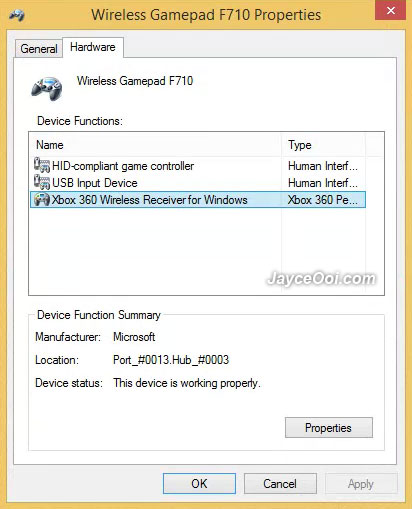 Yup, just update existing F710 driver with yellow exclamation mark (driver problem) with this Xbox 360 Wireless Receiver for Windows. Manual installation is required.