Can't wait for Samsung Galaxy S III Premium Suite Upgrade? Yes, either do I. Can't wait to enjoy Samsung Galaxy S3 Premium Suite Upgrade features like Page Buddy, Contexual Menu, Contexual Tag, Multi Window, Auto Share Shot Paring using NFC, Reader Mode, Facebook Lock Ticker, Paper Artist, Low Light Shot, Best Face, Easy Mode, Sound Balance, Setup Wizard and Camera Easy Snap. Well, you can wait for your region Samsung Galaxy S3 OTA update. Or install official Android 4.1.2 Jelly Bean XXELKC Firmware from Poland now.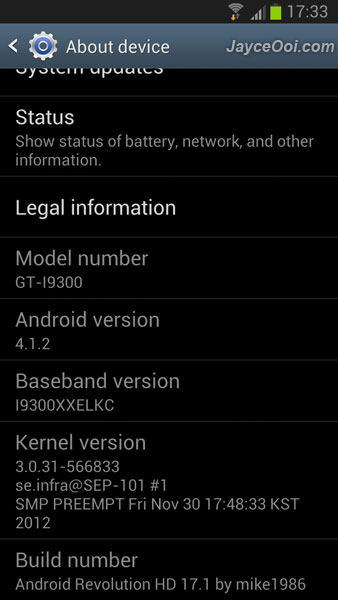 No worry, you can install this XXELKC firmware on any region Galaxy S3 as long as the model is GT-I9300. Personally, I prefer to use custom ROM (just like screenshot above) which based on this official XXELKC firmware. Lot of tweaks and optimizations. But rest assures that official stock firmware is working just fine for most of you…
Installation guide ~ How to install firmware on Samsung Galaxy S3 with Odin? (Video)
Download official Android 4.1.2 Jelly Bean XXELKC Firmware for Samsung Galaxy S3 here.