I use Firefox a lot on my laptop and desktop. And did not use Opera browser until I get my hand on HTC HD2 which have Opera Mobile 9.7 built-in. Too bad that it does not have Adobe Flash Lite and I am stuck with Microsoft Internet Explorer Mobile 6 for flash websites. However, the wait is over when Opera Software comes out Opera Mobile 10 for Windows Mobile and Symbian S60 while Opera Mini 5 for Android, BlackBerry and also Windows Mobile (yes for Apple iPhone 3GS if Apple approves their AppStore submission). I managed to play around with Opera Mobile 10 and I like it.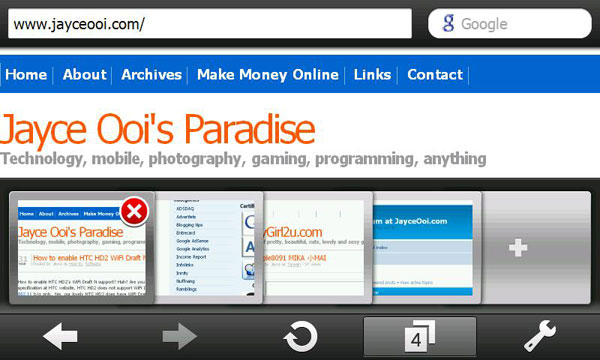 The speed and ease of multitask with tabs buy me off to use Opera Mobile 10 instead of 9.7 which support pinch and zoom. By the way, Opera Mobile 10 does not support pinch and zoom in HTC HD2. But I found myself seldom use it anyway, so version 10 is my cup of tea now. In addition, Opera Mobile 10 has Adobe Flash Lite 3.1 built-in just like Microsoft Internet Explorer Mobile 6. Flash is disabled by default. How to enable Flash Lite 3.1 in Opera Mobile 10? Just head to Setting then Advanced and turn on the Plug-ins. That will enable flash on Opera Mobile 10. Yes, I have no issue watching video at YouTube. Check out Opera Mini 5 & Opera Mobile 10 in video below.
Download Opera Mini 5 & Opera Mobile 10 by using your phone's default Web browser to visit the address m.opera.com. Or download Opera Mobile 10 cab here.