Finally, a nice free Android application to tune Samsung Galaxy S II Super AMOLED Plus display's sharpness, temperature and RGB values. And it supports Dynamic, Standard and Movie display modes. I use Chainfire3D Pro's night mode to control display red, green and blue values. But you need to purchase Chainfire3D Pro to use night mode feature. But you get the same feature and extra ones with Soft Screen Tuner for Samsung Galaxy S2 now. Note – root access is required.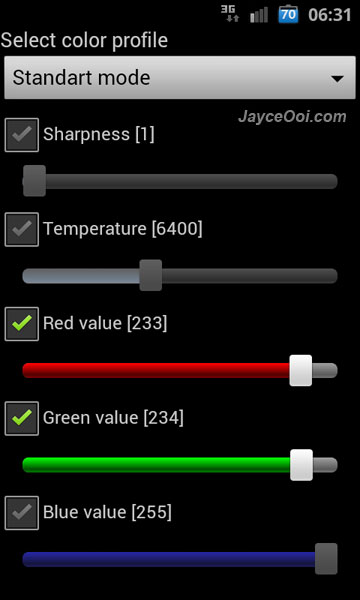 Soft Screen Tuner is not service or background process. Basically, it just change display settings values. The changed values will stay on even you uninstall Soft Screen Tuner. Can I change the values back? No worry, you can always revert back to default settings.
Download Soft Screen Tuner for Samsung Galaxy S2 here.