For me, root access is a must for my Android devices. I have no issue with Android HTC HD2 where custom ROM has root access by default. And Samsung Galaxy S II has CF-Root kernel that provide root access too. SuperOneClick is the application that provides 1 click to root Android device. SuperOneClick supports lot of Android phone and tablet. And SuperOneClick is going to root my Kindle Fire now.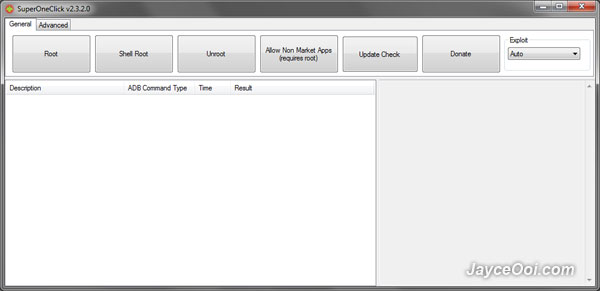 SuperOneClick Compatibility List
Acer Liquid Metal
Dell Streak
HTC Magic (Sapphire) 32B
HTC Bee
LG Ally
Motorola Atrix4G
Motorola Charm
Motorola Cliq
Motorola Droid
Motorola Flipside
Motorola Flipout
Motorola Milestone
Nexus One
Samsung Captivate
Samsung Galaxy 551 (GT-I5510)
Samsung Galaxy Portal/Spica I5700
Samsung Galaxy S 4G
Samsung Galaxy S I9000
Samsung Galaxy S SCH-I500
Samsung Galaxy Tab
Samsung Transform M920
Samsung Vibrant
Sony Ericsson Xperia E51i X8
Sony Ericsson Xperia X10
Sprint Hero
Telus Fascinate
Toshiba Folio 100
You can try SuperOneClick to root your Android device even it is not in the list (as the list might not be updated). Do consult others at XDA if you face any issue during rooting. Good luck. And enjoy root access on your Android devices…
Download SuperOneClick v2.3.2 here.