Rooted Samsung Galaxy S4? Triangle Away will be your saver when you need to send Galaxy S4 back for warranty claim or service. Yes, Samsung knows if you install custom kernel, firmware or root Galaxy S4. There is a counter inside to keep track all these unofficial installations. And Triangle Away application is the tool to reset the counter and change the status back to official. Triangle Away supports most of the Samsung Galaxy series devices. So not to worry much about rooting if your device is supported by Triangle Away.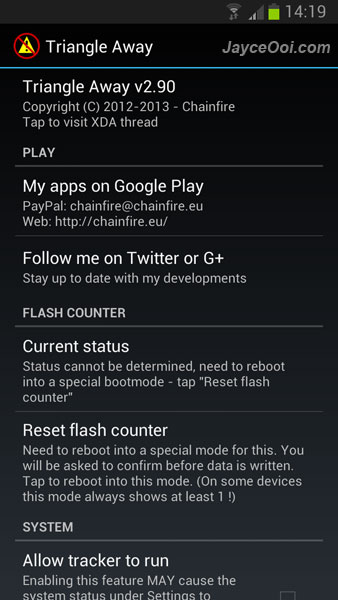 The latest Triangle Away version 2.90 does support Galaxy S4 GT-I9505 Qualcomm LTE model unofficially. Again, not supporting GT-I9500 Octa model yet. If you are worry about your Galaxy S4 warranty, don't install custom stuffs yet. Wait for Developer Chainfire to update Triangle Away to support I9500. Then do so.
Download Triangle Away for Samsung Galaxy S4 at Google Play Store here or FREE at XDA Forum here.