Triangle Away is another great product from XDA Developer, Chainfire. Personally, I don't recommend using Triangle Away unless USB Jig is not working. Basically, Triangle Away can remove the yellow triangle from boot screen as well as reset the flash counter, for a select few Samsung devices that running Android 4.0 Ice Cream Sandwich like Samsung Galaxy S II (GT-I9100 & SGH-I777), Samsung Galaxy Note (GT-N7000 & GT-I9220) and Samsung Galaxy S III (GT-I9300 & GT-I9300T). The flash counter keeps track of how many custom firmwares you have flashed and this voids warranty. So Triangle Away helps to recover warranty back if you have flashed custom firmware or kernel.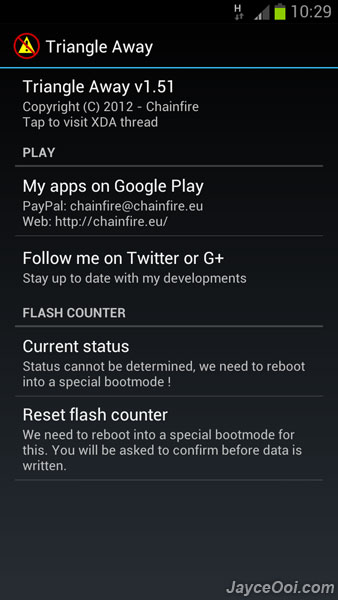 Note – Only use Triangle Away for Samsung Galaxy S3 if you know what you are doing. And process at your own risk. Finally, do study more information at XDA website.
Download Triangle Away for Samsung Galaxy S3 free version here.