Introduction
Hey guys, check out my very first soundbar. Yes, Edifier CineSound B1 Soundbar is the star today. It is made for home and living room entertainment. 3 different sound presets for you to enjoy – 3D surround effects, news and movie mode. And comes with wireless remote too. How does Edifier entry level soundbar sound? Let's find out…
Special Thanks
This review is possible thanks to below companies. Be sure to check them out…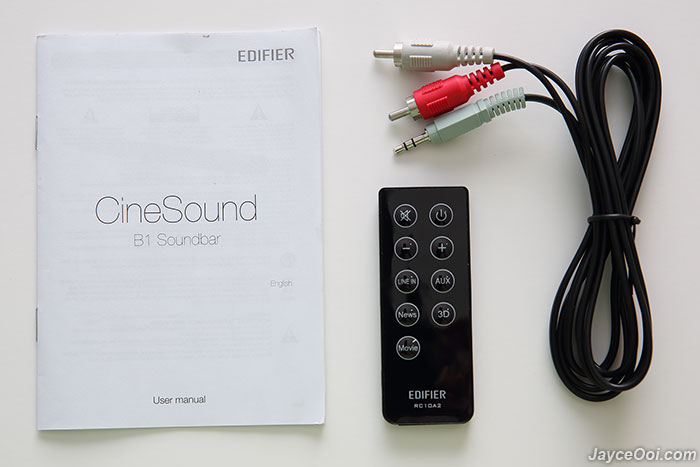 Package Content & Design
Edifier B1 Soundbar comes in a long well protected packaging. Once opened, you can find B1 Soundbar itself, 3.5mm-RAC audio cable, remote control and user manual. B1 Soundbar is long with 100 cm length. Just slightly shorter than my 49″ TV. Build quality is great with solid plastic. As for design, it is just like a long rounded triangle. The front is covered with plastic grill. The LED light indicator is just right below the center Edifier logo (green = line in; red = AUX).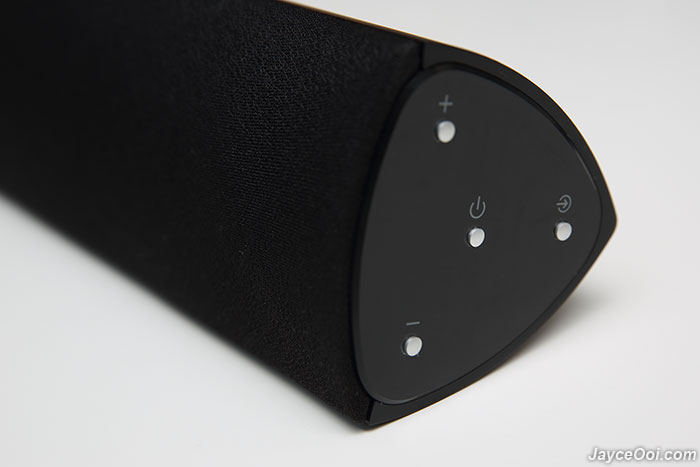 Control buttons like volume up / down, audio source selector and on / standby buttons are located at the right. Or you can use bundled remote control with up to 6 to 7m reach to control too.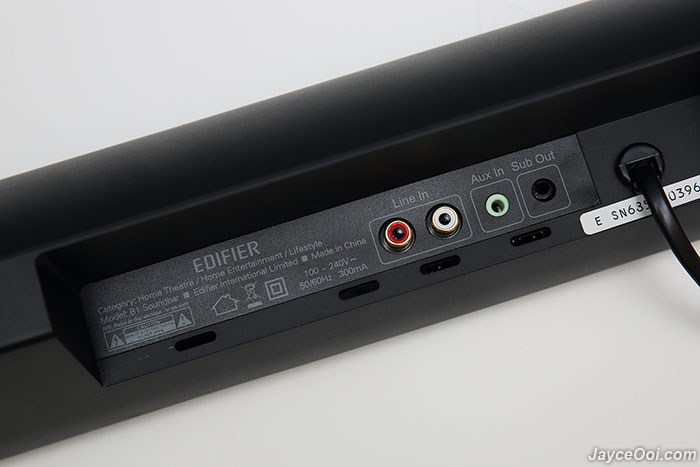 At back, there is power cable with EU plug, line in, AUX inputs and bass output ports. Yes, you can connect to external subwoofer. Too bad that I don't have one to try out yet.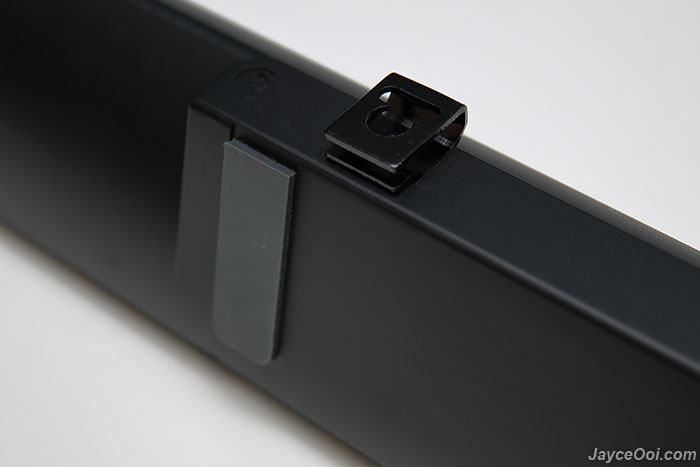 There is 2 big anti-skid pads at the bottom. And 2 metal hooks for you to attach B1 Soundbar against the wall.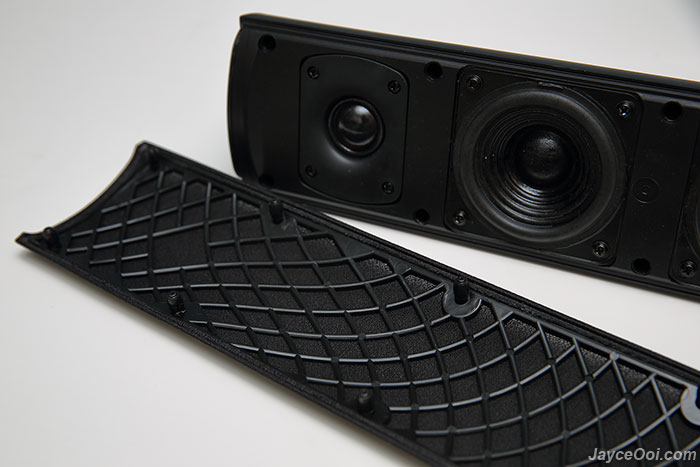 Yes, the fabric covered plastic grill is removable. You can see all the treble and bass drivers there. IR receiver is located at the center by the way.
Specifications
Power output :RMS 16W×2(Treble)+19 W×2(Mid-range and bass)
Signal to noise ratio : ≥85dBA
Frequency response : 70Hz~20kHz (±3dB)
Input sensitivity : Line in: 700 ± 50mV AUX: 550 ± 50mV
Input type : Auxiliary/Line in
Bass driver : 2¾" (70mm)
Treble driver : 3/4" (19mm) silk dome tweeter
Speaker dimension : 1000×79×80 mm
Packing box dimension : 1066×170×143mm
Performance Result
I should have a soundbar for my TV since day 1. Yes, Edifier CineSound B1 Soundbar does bring much more punch compare to TV built-in speakers. Most TV's speakers sound flat and emphasize treble than bass. Or should I say lack of bass quantity due to the speaker design in order to keep TV as slim as possible. Yup, the very first thing that you will notice – there is bass. Even without subwoofer, B1 Soundbar sound a lot better. Fuller, dynamic and natural are what you get (when compare to TV's one). High is clear and smooth. Vocals are much more organic and warm. And you will appreciate the bass that it produces.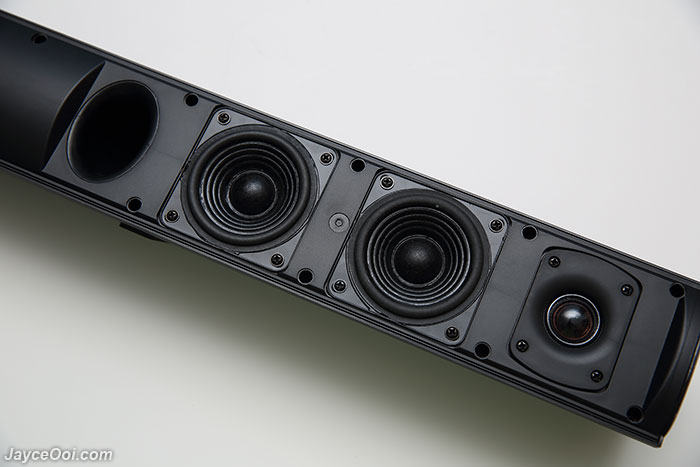 These are the treble and bass drivers that make B1 Soundbar delights to hear. 3D surround effects, news and movie mode for you to choose. And 2 inputs to select. For your information, B1 Soundbar will memorize the last used audio source. However, it always set back to movie mode no matter you selected news or 3D modes previously. News mode is best suit for me. It has least bass among all while 3D mode has too much bass that make treble muddy. Movie mode is well balanced but I prefer brighter sound personally – clearer vocals. Overall, Edifier CineSound B1 Soundbar is great for movie, music and even gaming. With added bass, they sound totally different. And it definitely level up the entertainment experience here.
Advantages
Hey, every TV should come with it
Yes, bass comes to papa
Excellent build quality
Stylish design
Limitations
3D mode with too heavy bass
Conclusion
Looking for a soundbar to add to your TV? Give Edifier CineSound B1 Soundbar a try. And you will like it as I do. Enjoy much fuller, dynamic and natural sound. More information can be found at Edifier Website.