Introduction
Looking for a 2.1 multimedia speaker system? Let me introduce you a nice one – Edifier XM6PF. It is loaded with 6.5″ bass and 3″ mid-range drivers with 48W output (RMS) totally. And it supports MP3 playback with USB flash disk / SD card. FM radio is there for whole day music listening. In addition, it comes along with IR remote control too. How does it sound? Read this review to find out…
Features
With USB flash disk / SD card playback, FM function
6.5 inch bass and 3 inch mid-range drivers
Integrated side control panel makes system adjustments easy and convenient
With IR remote control to select source directly
Six buttons for audio source selection, previous/next track, play/pause and volume up/down
USB/SD card playback supports breakpoint memory function
Able to memorize mode and volume
Support USB/SD card folders change
Universal 100V-240V power supply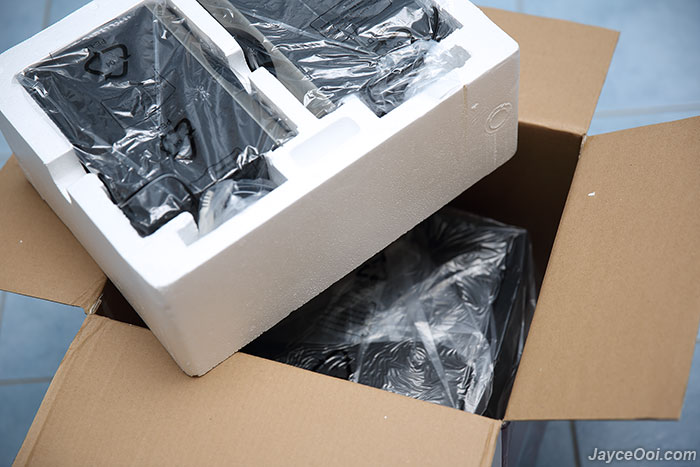 Package Content
Edifier XM6PF comes with tough packaging box and well protected by styrofoam. You can find IR remote control (with CR 2025 battery built-in), user manual, warranty card and 3.5mm audio cable after opened the box. Then 2 satellite speakers and follow by subwoofer which all of them are covered with plastic. The remote control is very useful when speaker is connected to TV as you can control XM6PF from far away. And no worry if you lost the remote as all of the functions can be perform with built-in controls (except mute). By the way, you can select music source directly with the remote.
Specifications
Power output: R/L: RMS 12W × 2 SW: 24W
Distortion: ≤ 0.5%
Signal to noise rate: ≥ 85dBA
Frequency response: 50Hz-20KHz
Input type: AUX/USB/SD card/FM
Bass unit: 6.5 inch
Mid-range unit: 3 inch
Treble unit: 10mm
Adjustment: Side control panel, remote control
Build Quality & Design
Edifier XM6PF build quality is top notch thanks to wooden cabinet – solid and tough. Personally, I prefer wooden cabinet even though it is heavier than plastic one. But the sound quality is fuller in return. No specification about what kind of wood is being used but it should be MDF. The satellite speaker has wooden cabinet and stylish plastic front panel with fabric covered plastic grill. After removed the speaker grill, you can find tweeter on top, mid-range driver in the middle and Edifier logo at bottom. At the back, there is a keyhole slot for you to hang satellite speaker on the wall. Lastly, 4 round anti-skid pads at the bottom to provide stability. Do check out below pictures to get better understanding of XM6PF design.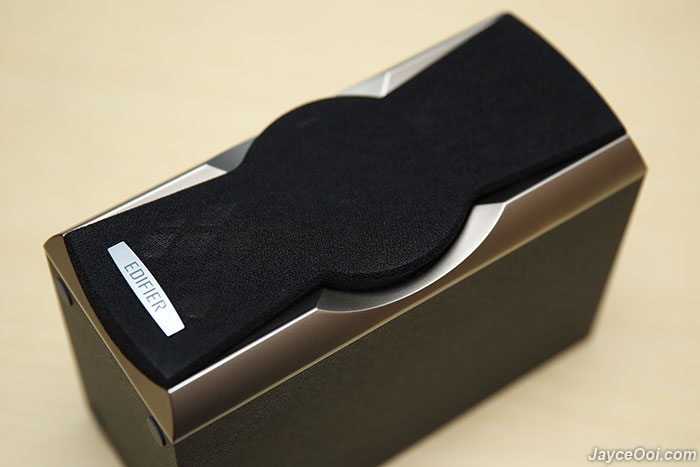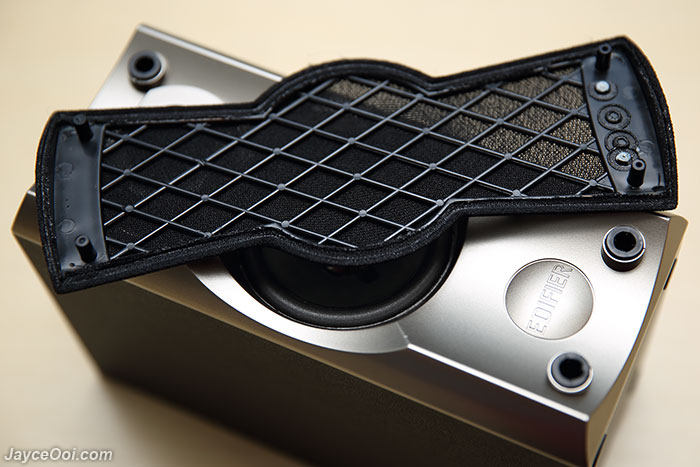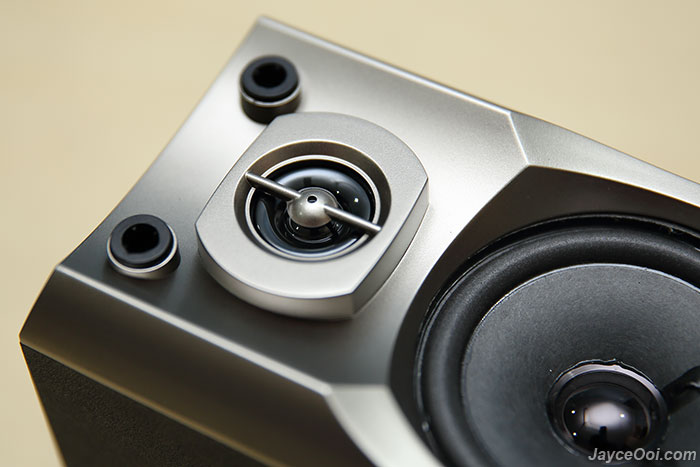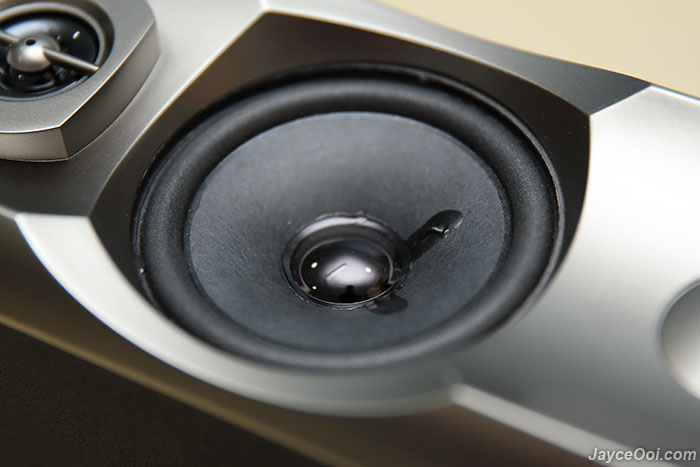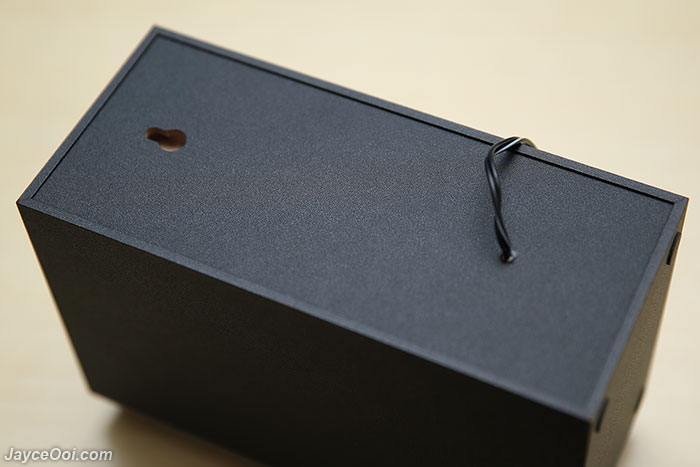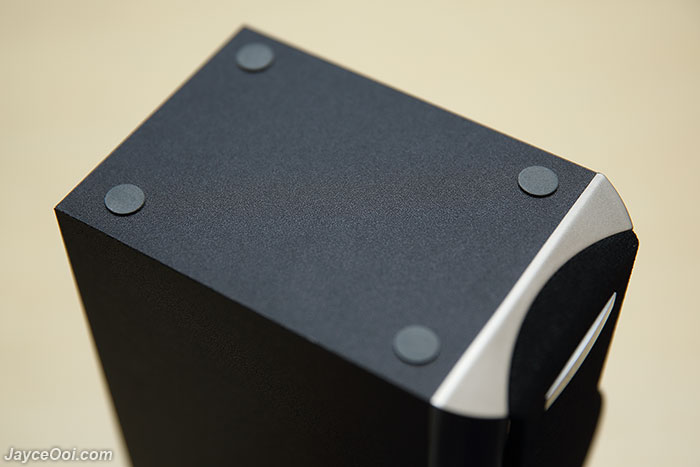 Edifier XM6PF subwoofer is getting the same build material as the satellite speaker – wooden cabinet but including the front. The front speaker grill is removable as well. Once removed, the 6.5″ bass driver is exposed then. Yup, you can see it pumping clearly on heavy bass songs. And feel the sound wave coming out from bass reflex port on the left. All the control buttons, inputs and output are located on the right. You can select audio source, play/pause, next/previous track and control volume up/down with the buttons. There are 2 LED indicator lights – Red for SD/USB, green for AUX and orange for FM radio. You can find SD card slot and USB port as sources for built-in MP3 player. Or just use the common AUX port. There is bass volume adjustment to control subwoofer output. And composite audio output for both satellite speakers. The infrared receiver is located right above speaker out by the way. Oh, don't forget the power switch too. Do refer to side panel picture below for exact placement. Finally, 4 round anti-skid pads can be found at the subwoofer bottom too.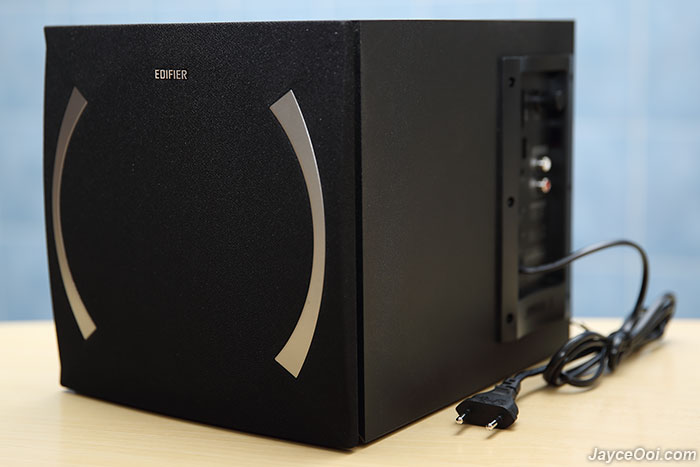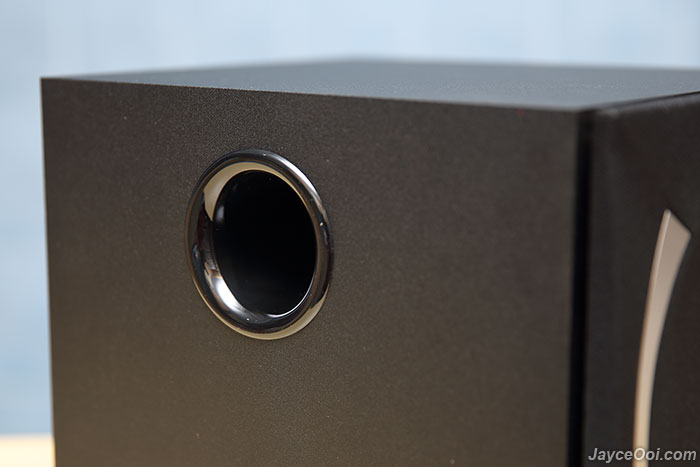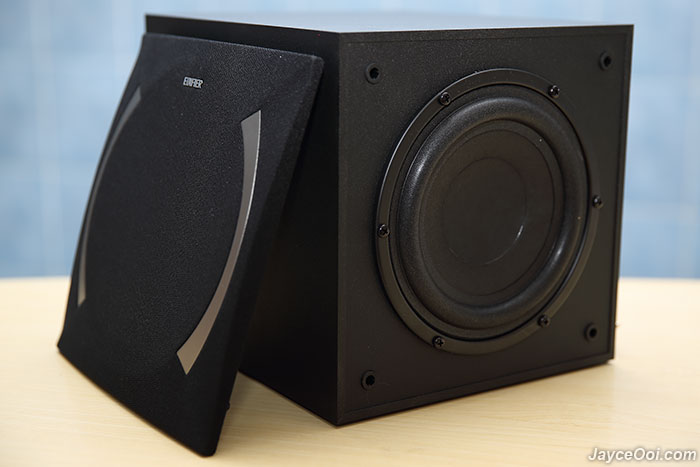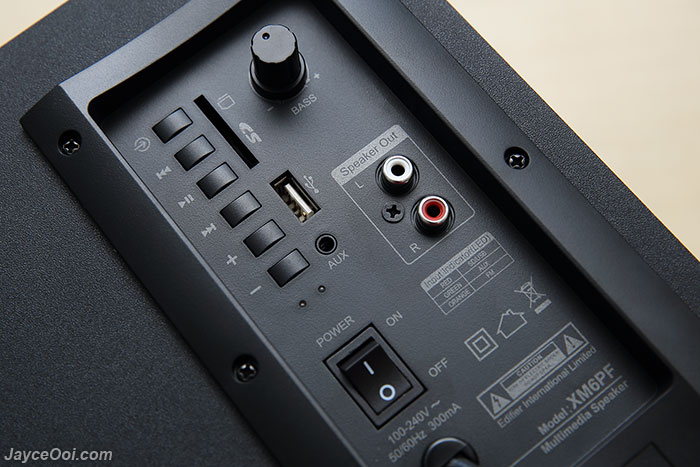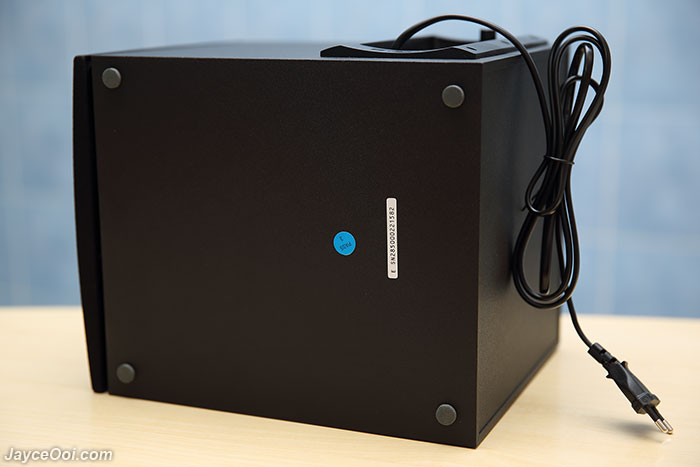 Performance Result
Speakers are getting lot of features nowadays. Same apply to Edifier XM6PF with 48W output (RMS). Yup, you can use it as normal speaker through AUX connection. Or turn it into a MP3 player through SD card slot and USB port. It will start to play MP3 song after plugged in SD card or USB flash drive with FAT32 format. And support MP3 rate up to 320kbps. Breakpoint memory feature is one of the useful features as it will continue to playback the last song and at the place that left off after power off or SD card/USB flash drive being ejected. No need to start from all previous listened songs again. In addition, it has the ability to change MP3 folder as well. No song by song skipping here too. That's not the end yet. It's able to memorize the last used audio source mode and volume too. For example, it will start playing FM radio music again when FM was the last mode before power off. Yup, no need to change source from AUX to SD/USB then to FM at last. Convenient and useful features, right?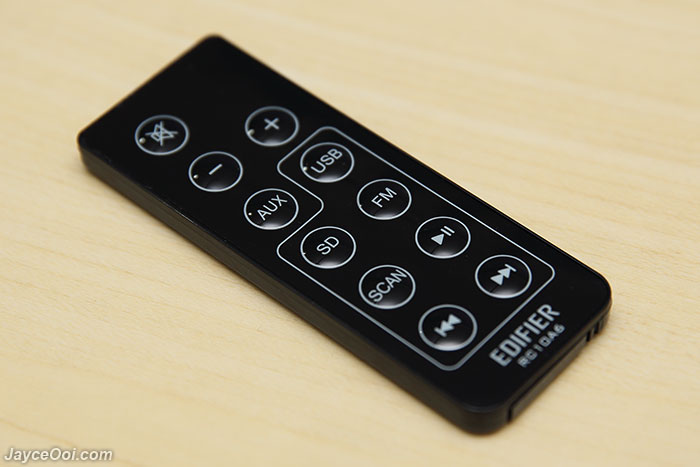 Besides built-in MP3 player, XM6PF supports FM radio. A nice add-on for those still listening to FM radio stations. Its reception is good and no external antenna is needed. Of course, it is depended on your area FM coverage. Perfect sound quality when signal is clear. By the way, it supports frequency range from 87.5 MHz to 108 MHz. And has the ability to auto search and store all radio stations found (up to 50 presets max). Once found, just use next/previous track button on remote / side panel to change station. Remote control is much easier to use here as long as the infrared receiver is not blocked by other stuffs. And can be reached within 5m in straight sight line.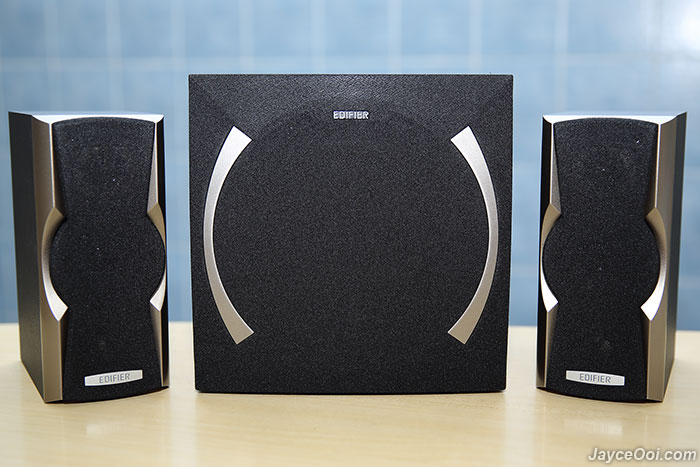 How is Edifier XM6PF sound quality? Wow!!! Period. Yes, it has amazing and powerful bass. You can really feel the bass pumping while enjoying songs like Michael Jackson's Billie Jean, Beat It and Black or White. Powerful yet in control. Of course, you need to adjust the bass volume so that it is not over power nor under. Personally, I found that it sound balanced with around 30% bass turn on with subwoofer placed in between satellite speakers. Around 50% or more when placed under table and blocked by desktop casing. By the way, I am using Lotoo PAW 5000 and Zorloo ZuperDAC as sources for music listening. Panasonic TH-49DS630K TV for movie and TV series. And PC gaming with Creative Sound Core3D.
Overall, Edifier XM6PF has balanced and smooth sound signature. And it performs very well at this price point. Highs are clear and round. Definitely no harsh here but I do love to have treble volume control so that it can be brighter if you want to. For mids, it performs great here too. All the instruments and vocal can be heard clearly even in the complex scene. Lows are fast and full. Yes, again you can feel the bass pumping. And my father does not want to let go once I connected it to TV. It is different as night and day because the powerful subwoofer help to bring every movie much more lively with accurate bass like scene with explosive effect. Built-in TV speakers can't do so. Same apply to game console (with GameSir G4s Review) as well. And 48W output can fill up entire living room easily (and whole house too). Gaming will never be the same again!
Advantages
Smooth & balanced sound quality
Amazing & powerful bass
Hey, it can go really loud
Built-in FM radio & MP3 player (USB & SD)
Excellent build quality
Stylish design
Limitations
Side infrared receiver placement
No treble adjustment control
Conclusion
Look no further. Edifier XM6PF 2.1 Multimedia Speaker is the one that you should consider. Highly recommended and surely will enhance your entertainment experience no matter using it with music player alone, connected to PC or TV. Enjoy the amazing powerful bass like I do. As usual, more information can be found at Edifier Website.