Introduction
Hey guys, check out my most beautiful and stylish mechanical keyboard. Yup, Elysium DOT by lofree is the star of the day. It is a retro and elegant Bluetooth mechanical keyboard. Support both wired and wireless mode. Compatible for Mac, iOS, Windows and Android. And you can pair up to three devices simultaneously. 3 different backlit settings for you to choose from. How's the performance? Read on to find out…
Special Thanks
This review is possible thanks to below companies. Be sure to check them out…
Elysium for this Elysium DOT by Lofree mechanical keyboard
Package Content
Elysium DOT comes in a rather simple packaging. No worry, it's well protected. Besides Elysium DOT keyboard, there are user manual and micro USB to USB cable. For your information, the USB cable is sturdy and solid with gold plated plugs.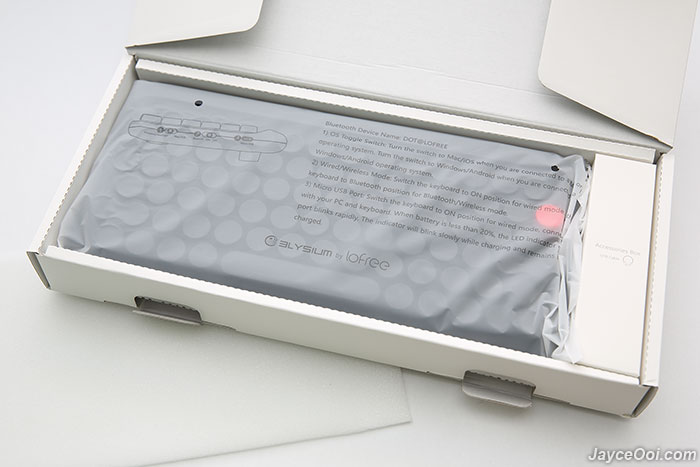 Design & Build Quality
Outstanding build quality thanks to solid PC material as keyboard housing. Can't flex it at all. And the Keycaps are made by PC and ABS. Yeah, love the retro design very much. Just like the aged typewriter. But comes with new technology inside. There are lot of colours to match your taste – black, green, off white, red, pink and white.
At back, there are 2 big round high quality anti-skid pads and 2 legs. No high adjustment here.
All the switches – Windows/Android & Mac/iOS mode and Bluetooth, on/off are located at the right of the keyboard. Same apply to the micro USB port.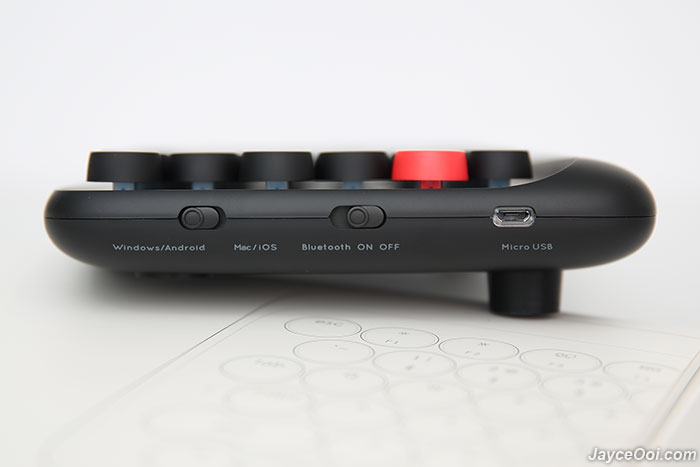 Performance Result
Elysium DOT by lofree comes with Gateron Blue Switches. Sound like retro typewriter? Well, not as loud as the real one. But does have the tactile feedback. Hey, do check out the spherical round keycaps. That's what makes this keyboard unique as you don't see round keycap much. Again the keycaps' build quality is top notch as you can see. Lastly, that small dot is caps lock light indicator by the way.
Pair up to 3 devices simultaneously. Yes, you can switch between smartphone, tablet and PC/Mac easily. No need to re-pairing them again and again. Just press fn + 1, 2 or 3 to switch between them. A great feature for user with multiple devices. Surely ease multi-tasking as you can type on laptop then reply message on smartphone. In addition, Bluetooth range is excellent. Easily passed the 10m Bluetooth range in straight sight line with no obstacle test.
Elysium DOT has Mac / iOS layout as primary design. So the key layout is set to suit Mac more than Windows PC. But no worry, all the PC functions are still working. But it does has slight different layout compare to standard keyboard if you look closely. So learning curve is here for sure.
12 multimedia function keys for you and me. Yeah, you can easily control screen brightness, media playback, volume and others. Great for mobile devices no doubt.
3 brightness levels can be set on Elysium DOT. Or totally off. No lighting effect here. As for battery life, it's great. Power saving kicks in after 5 minutes of inactive – LED lights will be turn off. After 10 minutes, keyboard will enter sleep mode. You need to press any key to wake it up then.
Things to take note… My major complaint – enter and shift keys use 2 switches unlike other mechanical keyboards which use one only. This make them harder to press with little finger. Another minor one – no anti-ghosting support. Hmm… I am surprise. I thought all the mechanical keyboards support NKRO. Guess not…
Advantages
Lovely retro typewriter design
Wired or wireless mode
Pair up to 3 devices simultaneously
Wide Bluetooth range
Illuminated character keys
Outstanding build quality
Detachable sturdy cable
Portable
Limitations
Hard to press enter and shift keys with 2 switches
Different numeric key layouts placement
Not for gaming (no anti-ghosting support)
Conclusion
A lovely retro typewriter design Bluetooth mechanical keyboard for you and me. Support both wire and wireless. Top notch build quality for long lasting. As usual, more information can be found at Elysium Website.