Using Windows Mobile 6.5 Outlook Tasks is like nightmare on my HTC HD2 that without stylus even with its large screen. I can't touch properly on the task that I wanted to complete and usually miss touch other uncompleted tasks. However, pTasks ~ a finger friendly Manila-style Outlook Tasks comes to rescue.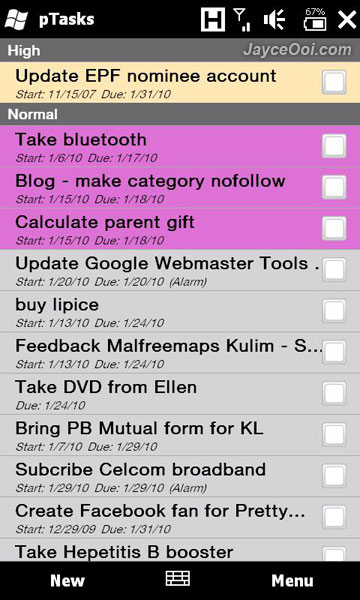 By the way, the current stable version 0.721 does not support delete task function (the beta v0.79901 does). And it requires .NET CF 3.5 which you should install already since most of nice applications need it. Hmm… There is another similar to do list tasks manager called Tasks Manila. But I have problem to use it ~ it crashes when I confirm editing a task.
Updated…
pTasks is currently sold through the Windows Marketplace. Please get your copy at there.