Introduction
Looking for ultra-portable wireless speaker for entertainment on the go? Have a look on Gsou F2 Water Resistant Bluetooth Speaker. It is powered by 18 coil of dual magnet 5W speaker and has sturdy aluminium alloy body. In addition, it has IPX5 waterproof rating and loaded with speakerphone ability too. How does Gsou F2 perform? Let's find out…
Specifications
Bluetooth version : 4.0
Working distance : about 33 feet
Loudspeaker : Φ45mm 4Ω / 5W
Frequency response : 100Hz-20KHz
RMS : 4W x 2CH
Sensitivity : 80db
S/N ratio : ≥60db
Distortion : ≤0.4% @ 1W
Battery : Built in 1800mAh rechargeable lithium battery
Working voltage : 3.7V – 4.2V
Charging voltage : DC 5V / 1A
Charging current : 500 – 650mA
Dimensions : 162 x 62.6 x 28.6 mm
Weight : 270g
Warranty : 1 year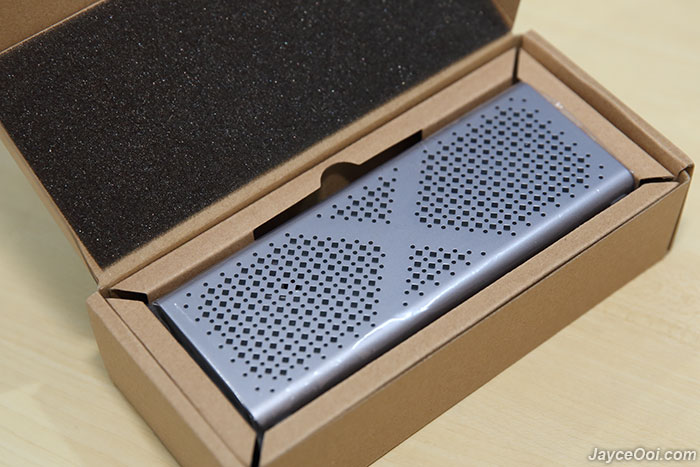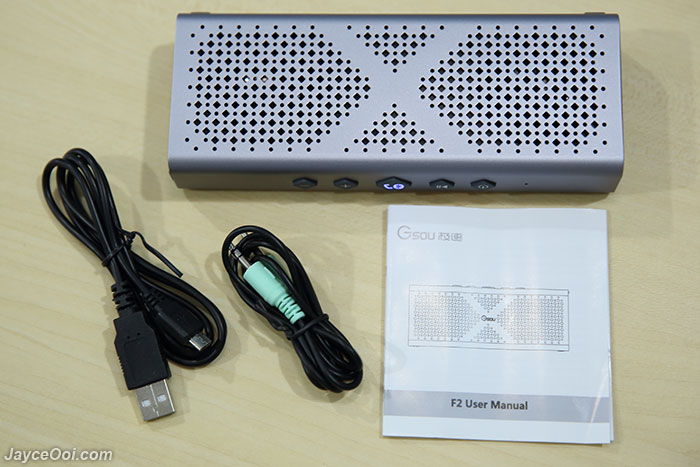 Package Content & Design
There are Gsou F2 speaker, USB cable, audio cable and user manual in the environment friendly packaging. F2 is rectangle in shape and it is really thin. Build quality is top notch as you can expect from unibody aluminium alloy metal frame finished. Besides provide cool and stylish outlook, it does not attract fingerprint at all. On the top, there are input buttons like power on/off, play/pause, answer/reject call, next track/volume up, previous track/volume down and microphone. AUX in, DC in ports and reset button are located on the right, covered by soft touch rubber. And there is hole on the left for hanging strap. Lastly, 2 anti-skid rubbers at the bottom. Oh, before I forget, there are blue light indicator on Bluetooth/call button and red light on power button.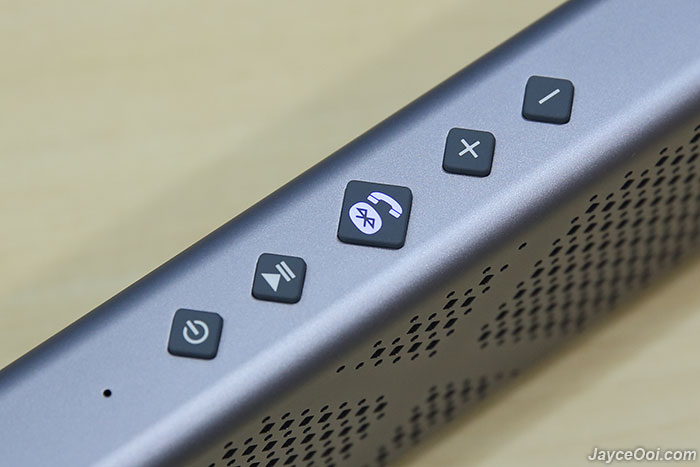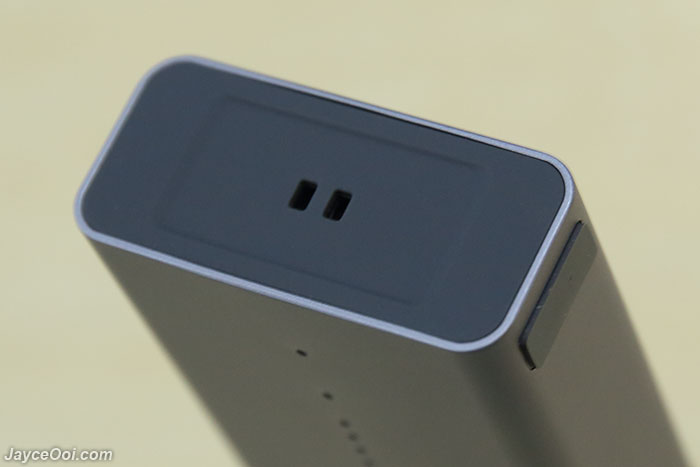 Performance Result
Gsou F2 Bluetooth coverage is great thanks to its Bluetooth Chipset 4.0 which has low power consumption, stable transmitting and high compatibility. It easily exceeds the standard 10m Bluetooth range in straight sight line with no obstacle. And up to 7m with obstacles like wall and others. All my Bluetooth devices like smartphone, tablet, notebook and PC are able to pair with F2 and work perfectly. Music will continue to play even I walk to another room. By the way, my F2 is a base model and does not have NFC feature. However, Gsou Technology does have F2 with NFC feature support as optional. For devices without Bluetooth, 3.5mm AUX line-in port is there for you.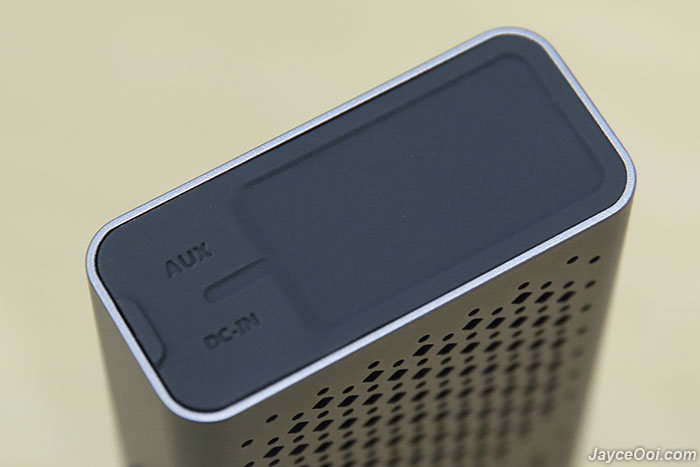 20 hours of non-stop music playback is what I get from Gsou F2 1800mAh PLB battery. As usual, tests were done with average room sound level. And battery life will be shorter when play louder. It can easily last for days on normal usage thanks to auto sleep function. Yes, it will auto power off by itself if no Bluetooth connectivity after 15 minutes. The power button will start to flash red light when battery voltage is lower than 3.3V. And there is no battery low beep or announcement that might annoy certain people every 30 seconds. I love this implementation as we all can enjoy our music without getting interrupt by battery low alert. Finally, it took 3 and a half hours to fully charge.
Gsou F2 has hands-free calling feature. I can hear other's voice loud and clear. However, its microphone quality is just average at best. My voice is kinda soft to others. Not a deal breaker as it is not the main purpose of this speaker but a nice add-on, right?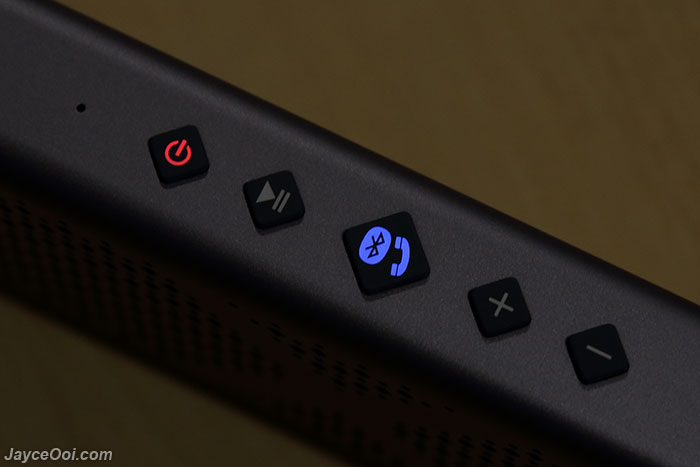 Wow… Gsou F2 can output really loud sound even with its thin profile. And sound quality is good as you can enjoy nice and clear music from it when paired with Lotoo PAW 5000 DAP. Bass is there but just not as strong as other speakers that I have tested. There is almost no distortion even on maximum volume thanks to 18 coil of dual magnet speaker that being used in F2 as it has stronger high-density magnetism, larger power compare to same size speaker. Besides, F2 does not move around even on the loudest volume setting thanks to the sturdy metal frame and anti-skid rubber. Perfect to blast at small party for both indoor and outdoor. IPX5 rating surely will ease you to play music any place that you prefer like beside swimming pool, bathroom and lot more. Can F2 survive water projected by a nozzle (6.3 mm) test? Check out below video to find out…
Advantages
Clear sound quality
Long battery life
IPX5 rating
Ultra-portable & lightweight
Speakerphone ability
Stylish design
Limitations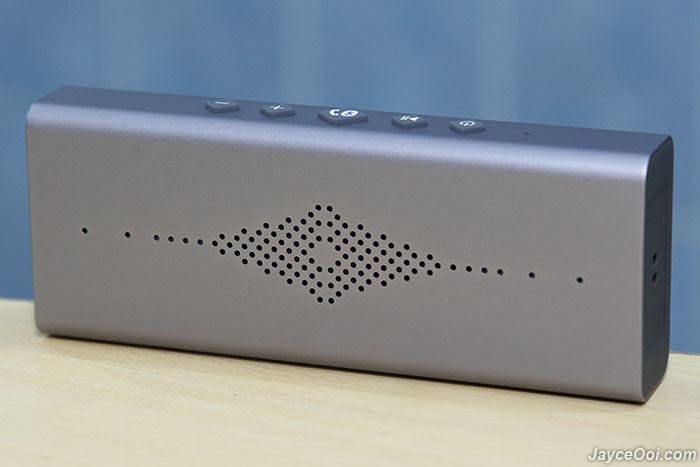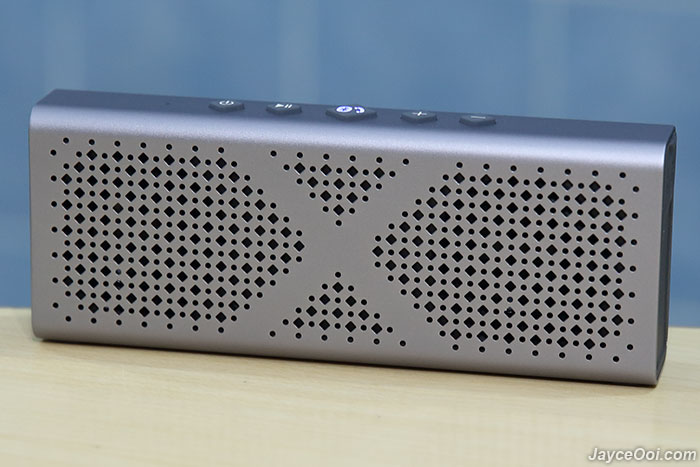 Conclusion
Look no further if you wish to have a stylish and IPX5 water resistant Bluetooth speaker on the go. Give Gsou F2 a try. It's thin yet powerful. Enjoy long hours of your favourite music, or attached it to smartphone and tablet to level up your entertainment experience no matter in gaming or movie. Interested? Check out Gsou Website to know more.