Introduction
Hey guys, check out my latest mini Hi-Fi system. Yeah… It is Gsou U210 Wireless Bluetooth speaker. Powered by 16 coil of dual magnet 5W speaker and equipped with Enhanced Sound Technology (EST) to provide full spectrum audio and deep bass. Speakerphone enabled and it's also a MP3 player. Yup, just plug in microSD card and enjoy your music then. Besides, it also has interesting design – cool and cyber look. Alright, let's wait no more and check it out…
Specifications
Bluetooth version : 4.0
Speaker : Φ52mm 4Ω / 5Wx2
Output : 8-10W
Frequency response : 100Hz-20KHz
Sensitivity : 80db
S/N : ≥80db
Distortion : ≤1%
Battery : Built in 2200mAh rechargeable lithium battery
Working current : ≤600mA
Working voltage : 7.4V
Charging voltage : DC 5V
Charging current : 800-1500mA
Dimensions : 185 x 72.5 x 78 mm
Weight : 710g
Warranty : 1 year
Package Content & Design
You can find Gsou U210 speaker, USB cable, audio cable and user manual in the package. As I mentioned, it really does have high-tech outlook. Well-built and sturdy to withstand loud volume playback. In addition, the speaker is coated with soft touch rubber which makes it nice to hold and touch. There are large control buttons on the top. You can use them to select modes – Bluetooth, MP3/WMA player, FM radio. Increase / decrease volume level, select previous / next track, play / pause and even answer phone call. At the back, there are power & reset buttons, USB & Aux in ports and microSD slot. Finally, 2 large anti-skid rubbers at the bottom. Wow… There are 6 colours in total to choose from. Mine is blue and the others are red, green, orange, white and gray. By the way, TF (microSD slot) and FM are optional features. Mine has MP3/WMA player built-in but no FM radio.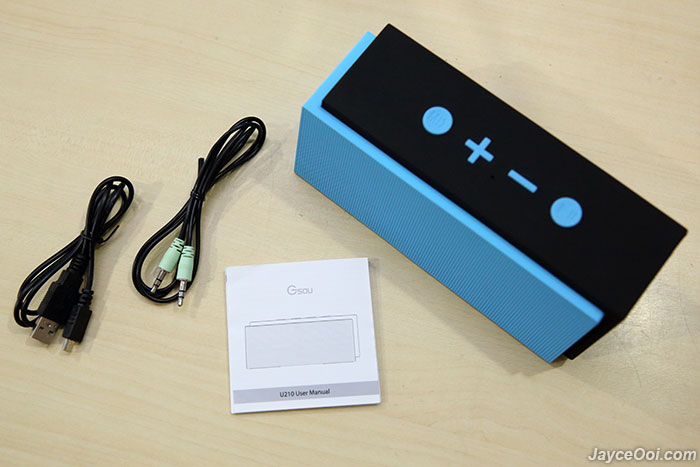 Performance Result
Yeah… My Gsou U210 has MP3/WMA player built-in. Just plug in microSD card with songs and it will start to play. A nice feature in addition as a Bluetooth speaker. Gsou U210 is equipped with Bluetooth Chipset 4.0 which has low power consumption, stable transmitting and high compatibility. Yup, its Bluetooth coverage is great. Exceed the standard 10m Bluetooth range in straight line with no obstacle. Up to 7m with obstacles like wall and others. As expected, all my Bluetooth devices are able to pair and work flawlessly. Non-Bluetooth device is able to connect through Aux in port.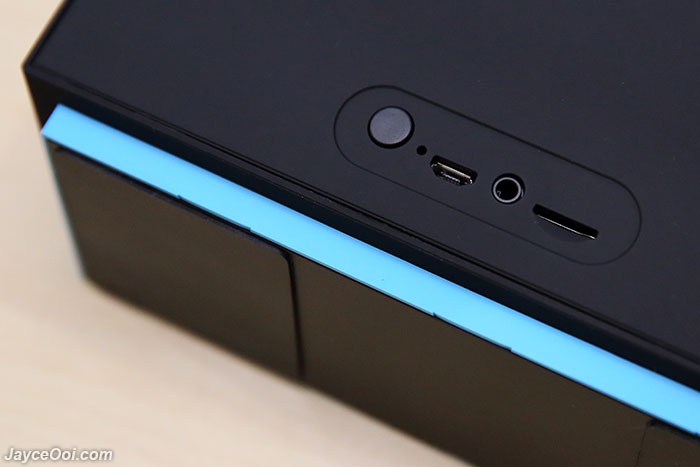 2 x 2200mAh battery 18650 are used in Gsou U210 to provide 7.4V in order to have more natural and less distorted sound. 20 hours of average room sound level non-stop music playback is what I get from 2200mAh battery. As usual, battery life will be shorter if you play it louder. It can easily last for days on normal usage thanks to auto sleep function. Yup, it will power off automatically if no Bluetooth connectivity after 15 minutes. By the way, it took 5 and a half hours to fully charge. Just leave it to charge overnight, no big deal here, right?
Most of the Bluetooth speaker has hands-free calling feature. Same apply to Gsou U210. Yes, you can use its speakerphone ability for conference call in the office. The phone call quality is good thanks to acoustic echo cancellation digital mic, I can have loud and clear conversation. As usual, be sure to get close to the mic in order to let other hears you clearly. Your voice will be softer when far away from mic.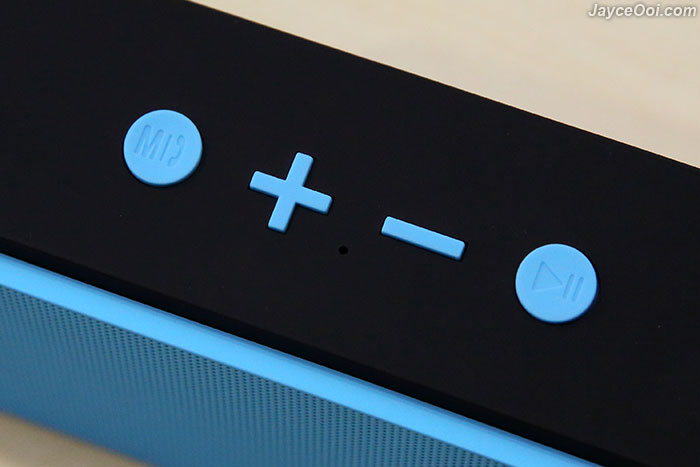 Powerful, dynamic and vivid stereo sound are what you get from Gsou U210 Bluetooth Speaker. Yup, it is just like a mini Hi-Fi system loaded with overwhelming bass. Loud enough to blast at party for both indoor and outdoor. All of these are possible thanks to Enhanced Sound Technology (EST) with optimum internal speaker structure and integrated circuit design. By the way, speaker does not move around even on the loudest volume setting thanks to the 2 large anti-skid rubbers. Therefore, you can continue to rock your party without worry that speaker will drop off from table. And there is slightly distortion that time (depend on your audio source sound level). No worry, it is too loud for indoor at that level. Therefore, as a conclusion, Gsou U210 is a perfect companion for smartphone, tablet and portable media player. Trust me, you can't go back to their tiny built-in speaker after tried Gsou U210.
Advantages
Loud & clear sound quality
Powerful bass
Built-in MP3/WMA Player
Long battery life
Speakerphone ability
Lightweight & portable
Cool design
Limitations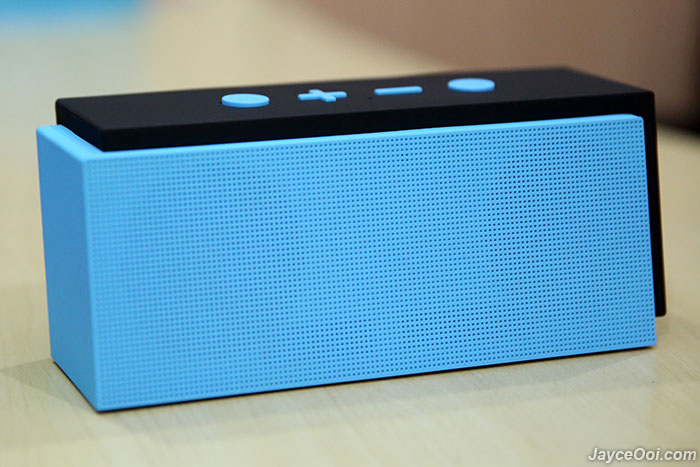 Conclusion
Want to have a mini Hi-Fi system for your smartphone or tablet? Be sure to check Gsou U210 Bluetooth speaker out. It has dynamic, vivid stereo sound quality and loaded with powerful deep bass. Built-in MP3/WMA player and hands-free calling feature are there too. Perfect for both office conference and home entertainment. Check out Gsou website for more information now.