Introduction
Looking for a RGB backlit mechanical gaming keyboard with brown switches? Look no further and check out HAVIT HV-KB389L that I have. It is loaded with 104 anti-ghosting keys. Lot of LED backlit animations like 4 unique interactive RGB backlit mode and 7 colours breathing mode. In addition, it has side RGB backlit too. 6 multimedia shortcuts and 5 programmable macro keys. Everything is done within the keyboard itself and no software is needed. Interested? Read on to find out more…
Features
Full 104 anti-ghosting keys
4 Adjustable multiple RGB backlit modes
Backlit brightness and speed adjustment
Customizable backlit keys and Programmable macro keys
Unique Side RGB Backlit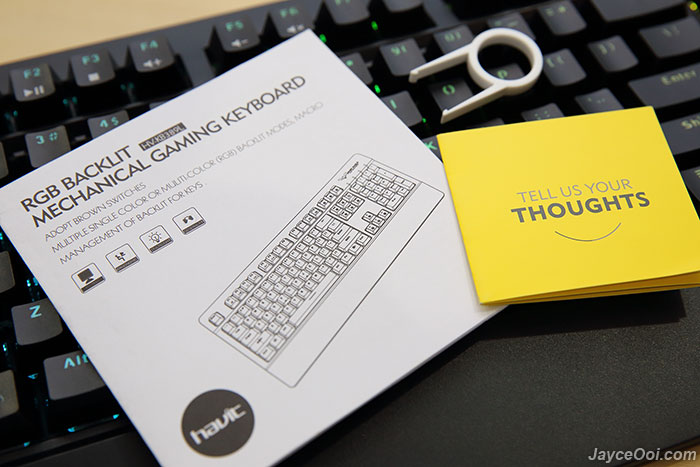 Package Content & Design
HAVIT HV-KB389L Keyboard comes in the usual packaging like other Havit products. And it is well protected with foam holder. You can find its user guide, keycap puller and feedback card there too. Be sure to take your time to go through the guide as there are lot of customizations can be done. Yes, lot of LED light animations here and there. That's all, no Windows CD driver because it is plug and play.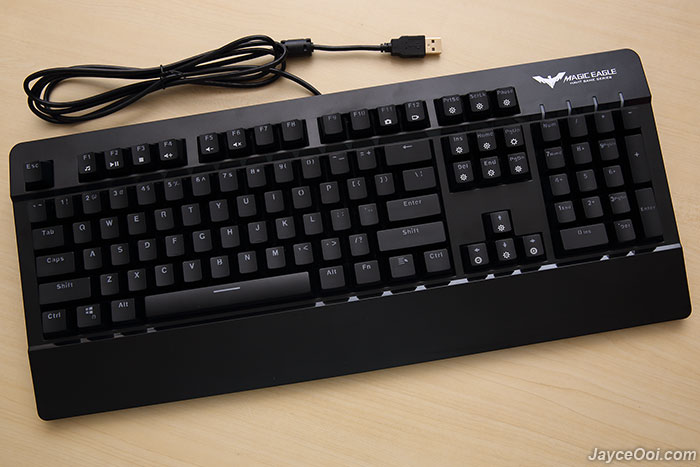 Unlike other keyboard, HAVIT HV-KB389L comes with built-in wrist rest. This definitely improve the overall ergonomic. And build quality is decent with solid hard plastics. There are 4 large LED light indicators on top right corner. The usual 3 indicators for nums, caps and scroll locks plus addition one for Windows key. Yup, it supports Windows key lock function which will help to prevent pressing it while playing games. A must have for hardcore gamers, right?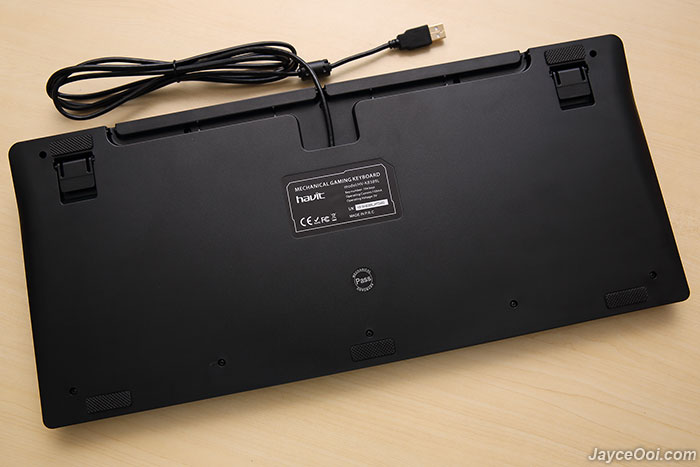 The 1.8m cable is loaded with magnet ring and USB plug is gold plated. Furthermore, you can adjust cable location to be left, center or right to suit your existing PC setup. Quite heavy but it's good as it provides better stability. Thanks to the 5 anti-skid pads and another 2 rubber anti-skid pads on keyboard legs too.
Yes, there is a unique side RGB backlit strip along the keyboard. And you can customize it as well. Just pick the colour that you like to brighten your day. Do check out those high profile keycaps too.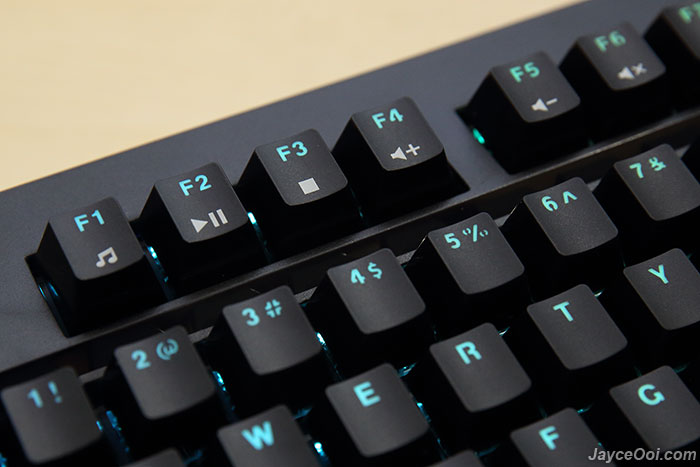 6 multimedia shortcuts are there for you. I always love keyboard with volume control shortcut. No need to find my speaker remote and I can control sound volume with keyboard directly. Yup, you can launch media player, play/pause and stop songs with these shortcuts. Mute shortcut is included too. Besides control these multimedia functions with FN key, you can use it to adjust LED light effects too. Same apply to custom key backlit and macro management. Yup, macro keys are supported even without any software installation. You can use Fn + Y / U / I / O / P combo to execute the marco that you want. Not as fast as dedicated keys but better than no at all, right?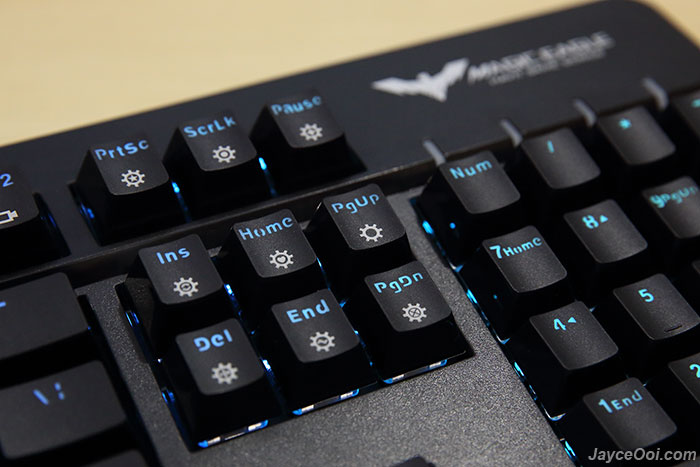 Specifications
Multimedia keys: 6
Layout: US
Key Switch: Brown switch
Operating Force: 50~60g
Travel(Total): 4.0 mm
Net Weight: 1200g
N-key-rollover: Support
Operating Current: 150mA
Operating Voltage: 5V
Compatibility: Windows Vista/Win 7/Win 8/Win 10/Mac OS
Win key deactivation: Fn + Win key
Product Dimentions: 457mm x 202mm x 41mm
Cable Length: 1.8 m
Performance Result
Who don't love gaming keyboard with colourful illuminated keys? I believe everyone do. HAVIT HV-KB389L has them no doubt. However, the LED lights are not as bright as my other keyboards. And do not cover all the keycap sides. Hmm… Maybe that's part of its design – LED light is deep inside the brown switch. No worry, all the keys still can be seen in dark environment. And does not affect the real usage purpose here. For those love to play with LED light effects, you are going to love HAVIT HV-KB389L. There are really a lot of effects and combinations. 4 interactive (single key, ripple, zone & speed), breathing, always on and backlit scans modes for you to play. You can select multi-colour or 7 single colours on each modes. Control the brightness and animation speed too. Do check out this video for all the backlit settings and effects. Don't forget that you can set your own LED colour on the keys that you want like photo below. Up to 3 profiles. By the way, there are 3 brightness levels to select. And you can also turn it off totally.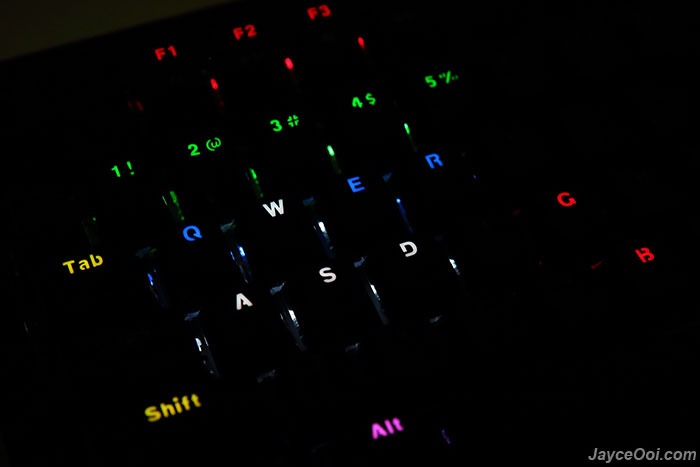 Those who love quiet keyboard will going to love Kailh brown switches (they sound almost like membrane keyboard). Yup, they do not have the loud click-click sound like Kailh blue switches yet still have the tactile bump feeling. Do take note that they require slightly less force for actuation and much lesser tactile feel compare to the blue ones. A great alternative for those who want feedback from the mechanical keyboard but without the loud clicking.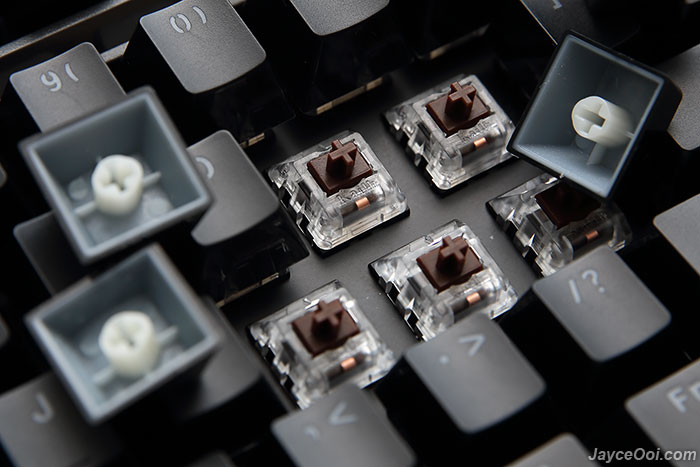 Full 104 anti-ghosting keys (or n-key rollover)!!! That's reason that you buy a mechanical keyboard, right? HAVIT HV-KB389L supports it no doubt. Yes, every single key is scanned independently. Windows will able to detect regardless of how many keys are being pressed or held down at the time. Perfect for fast paced gaming and a must for hardcore gamer like you. By the way, it is good of normal office work as well like typing.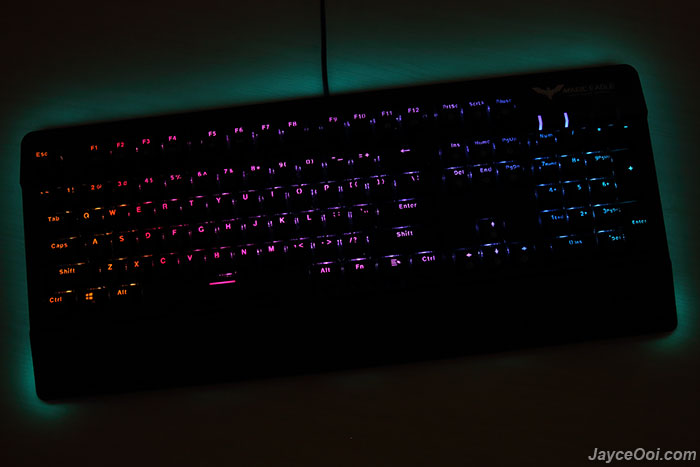 Advantages
Anti-ghosting with n-key rollover
Illuminated character keys
Windows key lock
6 multimedia function & macro keys
Solid build quality
Cool backlight effects
Limitations
LED lights can be brighter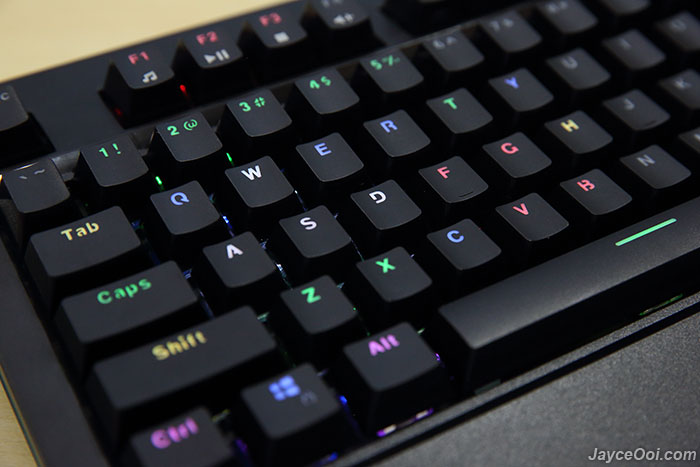 Conclusion
Hey, HAVIT HV-KB389L RGB Mechanical Gaming Keyboard is my current daily keyboard. A great keyboard for both gaming and typing. Furthermore, there are lot of cool backlight effects to play with. Give it a try and you will like it as I do. By the way, there is a white version too. Do check out Havit Website for more information. And buy yours at Amazon.