Introduction
Most of the HDMI cable that bundled along with TV box is not long enough. What should you do? Get a longer one of course. And which one to buy is the question. First of all, you need to get a HDMI 2.0 cable for UHD 4K 2160p 60Hz contents. Longer one like 2m should work. And you might want to have 24K gold plated connectors, solid aluminium connector housing, 100% pure copper wiring and braided cord one. Yup, that's HAVIT HV-X90 that I have now. Let's find out more about it…
Features
24k gold-plated connector
High pure OFC conductor
Aluminum shell
Nylon braided jacket
100% pure oxygen-free bare copper
Package Content & Design
There are HV-X90 HDMI 2.0 Cable and Havit feedback card in the package. That's all. The cable build quality is excellent as you can see from the photos. 24K gold plated connectors with solid aluminium connector housing. 100% pure copper wiring in braided cord.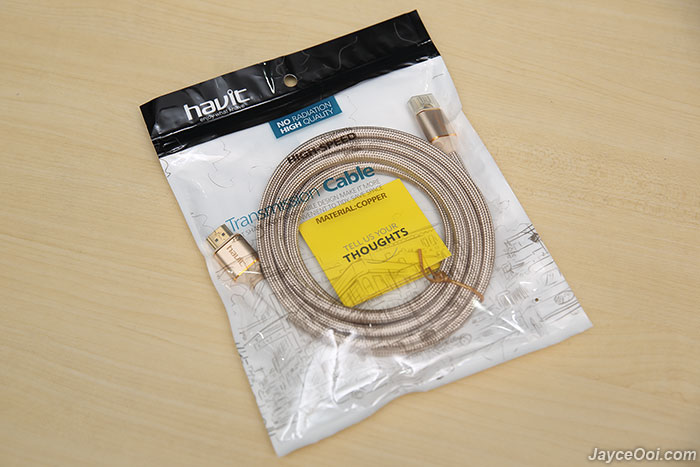 Specifications
Connector Type: HDMI Male to Male
Version: HDMI 2.0 Cable
Outer Diameter: 7.3mm
Cable Length: 6.6ft./ 2m
Net Weight: 138g
Performance Result
HAVIT HV-X90 HDMI 2.0 Cable works as advertised. I am getting clear and crisp signal for both video and audio from my Android TV Boxes. And I can place my TV box to a better location thanks to 2m long cable. The aluminium housing and braided cord really help to improve the durability here. Overall, I am impressed with this cable. Great replacement cable for existing one.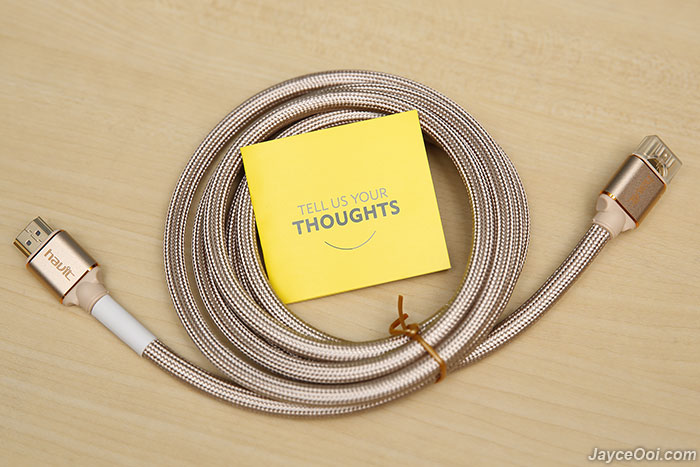 Advantages
Clean & crisp signal for both video and audio
Excellent build quality
Stylish design
Work as advertised
Limitations
Conclusion
HAVIT HV-X90 HDMI 2.0 Cable gives me clean and crisp signal for all my 4K contents. Furthermore, it is loaded with great quality material. I got mine from Amazon, you can get yours there too. More information can be found at HAVIT Website.