Backup Android applications, games and data are fairly easy with Titanium Backup. However, root access is required in order to use Titanium Backup just like most other Android backup applications in Google Play Store. Can I backup and restore Android applications and data without root access? Yes, you can but adb knowledge is required. No worry, ClockworkMod team has make our lives easier by coming out this useful application ~ Carbon – App Sync and Backup. Carbon does not require root access. Therefore, I can use it on my unrooted HTC One X.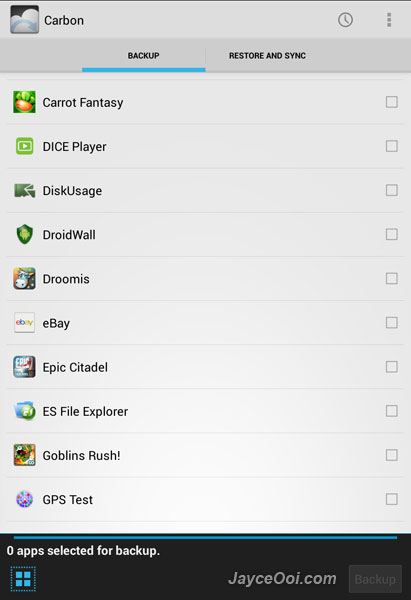 Okay, here is the catch. Nothing is perfect. Without root access, Carbon needs you to install Carbon Desktop on PC. And Carbon Desktop needs adb drivers from your Android device manufacturer. Luckily, most popular manufacturers like Asus, Motorola, Google, Samsung, HTC, Sony, LG and ZTE do provide adb driver (get the drivers here). You are not totally out of luck if you can't find your Android device adb driver there. But some works need to be done manually and some google in the Internet. As long as you can get adb driver installed, you are ready to use Carbon without root access.
How to backup, sync, restore Android apps & data without root access?
Have adb driver installed.
Then install Carbon on Android.
Install Carbon Desktop on PC.
Finally, start to backup in Carbon
Carbon free edition gives you 2 features ~ Backup & restore to SD card and Backup & restore from PC. Which Carbon (Premium) paid version gives you addition features like no ads, Automatic Backup schedules, Android to Android sync and Cloud storage backup and restore to Dropbox, Box & Google Drive.
Note – not all applications and games' data can be backup properly. Sometimes, just application itself was backup but data was left behind or can't restore data. This is normal.
Download Carbon – App Sync and Backup for Android apk here.