How to check Samsung Galaxy S4 CPU temperature? A simple question but no easy answer. So far I can't find any Android application at Google Play Store that can display Galaxy S4 GT-I9500 CPU temperature. All of them are displaying battery temperature instead. This is not what I want. Luckily, I discovered that Samsung has its own application to do so. Not so user friendly but it does the job ~ show Galaxy S4 CPU temp. It is able to show Exynos 5 Octa CPU temp. It should work for GT-I9505 Qualcomm Snapdragon 600 too.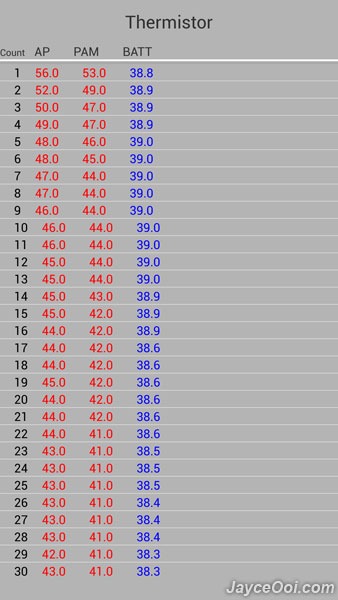 How to check Galaxy S4 CPU temp?
First of all, bring up Galaxy S4 hardware tests app.
Go to Sensor.
Select Thermistor.
That's it.
If you take Galaxy S4 battery temp as CPU temp, you are so wrong. As you can see from above picture, Galaxy S4 battery temp never go pass 40 °C when AP (Application Processor = Exynos 5 Octa CPU) reached 56 °C. Galaxy S4 already overheated but battery temp shows the other way.