How to disable Samsung Galaxy Note II camera shutter sound? I wish to turn off all Samsung Galaxy Note 2 camera sound including focus and shutter sounds. Be the paparazzi in town, use a silent Samsung Galaxy Note 2 camera. I thought Galaxy Note 2 camera is like Galaxy S3. But I was wrong… I can't use the same Galaxy S3 method to mute my Galaxy Note 2 camera…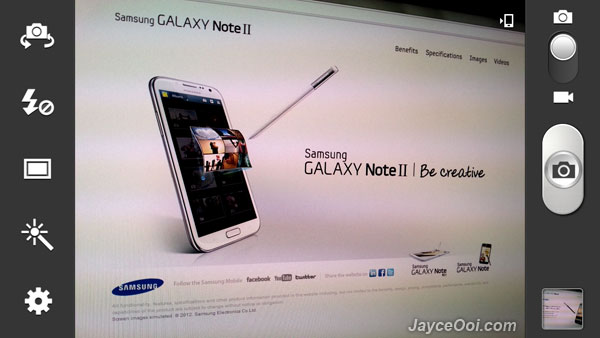 How to disable Samsung Galaxy Note 2 camera shutter sound?
The easiest way ~ Turn sound mode into vibrate or mute mode. This will disable Samsung Galaxy Note 2 camera focus, shutter, burst mode sounds. However, this method does not work on every region Galaxy Note 2. Malaysia firmware has no effect and still has all the camera sounds. Workable on certain region only.
Another way ~ go to Google Play Store. Find a camera application that support silent operation. Not the best option but at least get your job done.
The hard way which require root access. Go to /system/media/audio/ui/ with ES File Explorer. Rename all these files to .bak extension. Example, shutter.ogg to shutter.ogg.bak. But you still have burst mode sound.
auto_focus_error.ogg
auto_focus.ogg
cam_start.ogg
cam_stop.ogg
camera_click_short.ogg
camera_click.ogg
camera_empty.ogg
camera_focus.ogg
camera_timer.ogg
shutter_multiple.ogg
shutter.ogg
videorecord.ogg
Not rooted your Galaxy Note 2? Please refer to this guide to do so ~ How to root Samsung Galaxy Note 2 with CF-Auto-Root? (Video).
That's it. Enjoy taking photo in paparazzi mode…