Oh no, USB mass storage is gone on Android 4.0 Ice Cream Sandwich Samsung Galaxy S II. We should be able to use USB storage mode when enable USB debugging in Gingerbread. But it is not working on Android 4.0.3 ICS Samsung Galaxy S2. I have 2 options ~ Media device (MTP) and Camera (PTP) modes to choose only. No worry, USB storage mode is still available on Android 4.0 ICS Samsung Galaxy S2 but located in other place…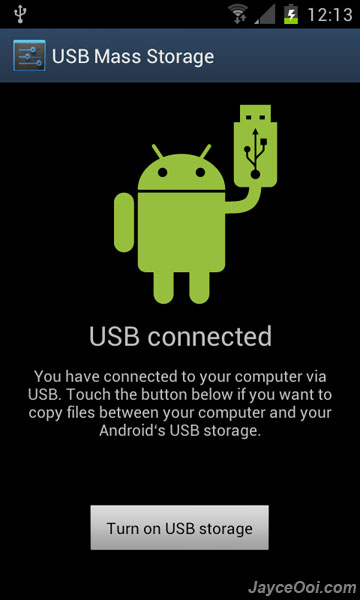 How to enable USB mass storage on Android 4.0 ICS Samsung Galaxy S2?
Bring up Settings.
Click More… (under Wireless and network).
Then select USB utilities ~ Set USB cable connection mode.
Select Connect storage to PC then.
Connect USB cable from phone to PC.
Select Turn on USB storage.
That's all.
One thing that I notice. USB mass storage mode in Ice Cream Sandwich is better than Gingerbread. I have video playback issue with USB mass storage connection to Samsung TV. It will hang during extensive scene. But no issue on ICS USB storage mode.