I love exFAT supported external micro SD card on Samsung Galaxy S III. I can enjoy movie video that more than 4GB file size finally. However, Samsung Galaxy S3 does not support USB mass storage mode natively. Android 4.0 Ice Cream Sandwich seems to disable USB mass storage feature. Latest Samsung Galaxy S2 ICS firmware does not have this feature too. But worry no more, there is an application called SGS3 Easy UMS can help to enable USB mass storage on Samsung Galaxy S3. It will make external micro SD card on Samsung Galaxy S3 available as USB mass storage device. It supports exFAT for the moment (tried FAT32 but not working). Come on, try it out. Don't stick on Media device (MTP) and Camera (PTP) mode only. Note – root access is required.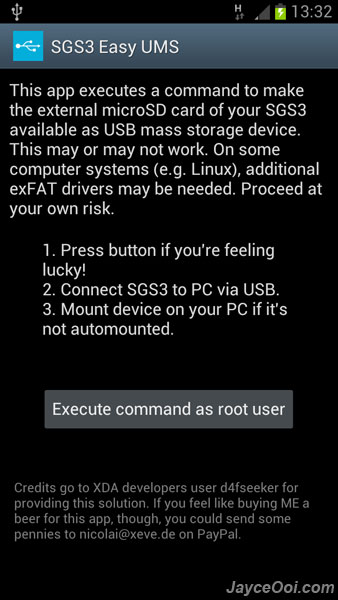 Did not root Samsung Galaxy S3 yet? Please follow this guide to do so ~ How to root Samsung Galaxy S3 with CF-Root? (Video)
Download SGS3 Easy UMS here.