After running Mdeejay eVo Sense Matted Android ROM on my HTC HD2 for months, I discovered that internal phone storage is running low. And I cannot install new applications or games. I found out that I set only 512 MB internal phone storage when I installed this ROM. So I need to increase data.img file size without damage my data in there. How to increase Android data.img file size for HTC HD2?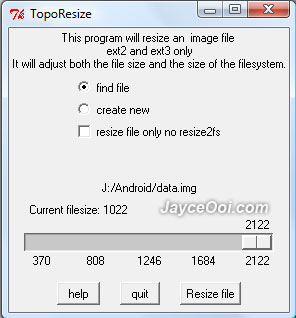 Yeah… TopoResize comes to rescue. I managed to increase internal phone storage to 1022 MB from 512 MB. Besides resizing, TopoResize can also help to create a totally new data.img file. Now I have another 610 MB extra free internal phone storage. Of course, your SD card needs to have extra free space else TopoResize can't help you too.
Download TopoResize v0.7.1 here.