Not enough internal USB storage disk space on Samsung Galaxy Series smartphone like Galaxy S II, Galaxy Note and Galaxy S III? There is around 11 GB internal USB storage disk (sdcard) on Samsung Galaxy S3 (16 GB version). And some of you might face running out of sdcard disk space issue sooner. Even with external micro SD card, you can't install applications and games directly on it. Luckily, you can move applications and games data to external micro SD card with Directory Bind. Note – root access is needed.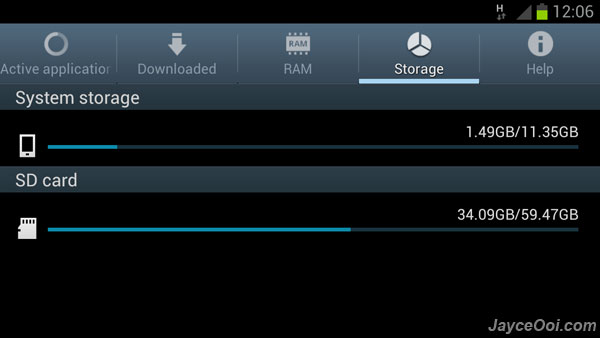 Directory Bind Features
Aimed at specific functionality and features.
You can create any number of Data to Target directory pairs, mount them manually or choose to mount them on system boot (checkbox does that).
On / off switch controls whole mount-on-boot function.
Diskette icon indicates if mount operation was successful, by taping it you can mount / unmount entry.
Icon changes if application is using mounted entry.
Directory Bind can tell what application is using this entry (tap at entry in use).
Long tap on entry (disabled) brings edit/delete window.
App auto unmount all entries on USB connected and remount after USB disconnected.
App shows notification and vibrates if auto unmount on USB fails.
If mounting all checked entries (ex. on boot) app is waiting specified time (def. 60 sec) if data directory is not available.
How to move applications & games data to external SD card on Samsung Galaxy S3?
I take my Samsung Galaxy S3 as example. It should work on rooted Android phone with external micro SD card. Old Gameloft games data are stored at /mnt/sdcard/. However, latest Gameloft games data are stored at /mnt/sdcard/Android/data/ just like other Android applications and games. With Directory Bind, you can move one folder by one folder to external storage at /mnt/extSdCard/. I won't move all applications and games data in Android/data folder to external micro SD card because it is much slower compare to internal memory. Therefore, I only move those unimportant or less frequent used applications and games to external storage with Directory Bind.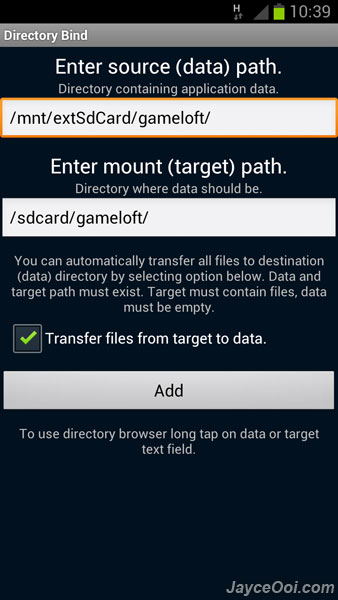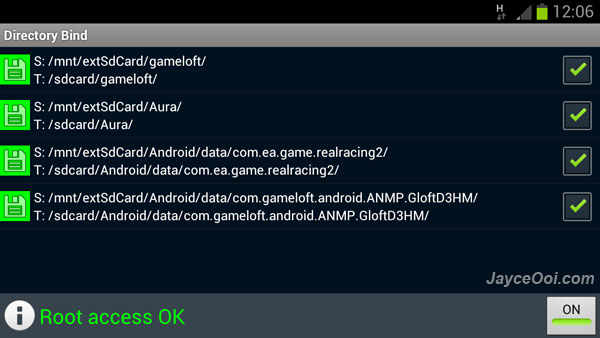 Above are some of the applications and games folders that I moved to external SD card from internal storage. Thanks to Directory Bind, I can use internal storage disk space for more important stuffs. By the way, do study more about Directory Bind at XDA website.
Download Directory Bind v0.2.0o here.