Everyone wants a perfect Samsung Galaxy S III. What should I do in order to get a fully working Samsung Galaxy S3? Check all Samsung Galaxy S3 hardware functions before you pay for it. As usual, Samsung includes its own hardware testing application for Galaxy series smartphones. Therefore, you and I can check Samsung Galaxy S3 hardware function with it.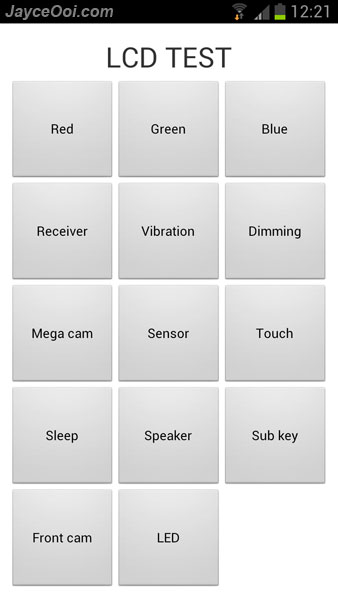 How to test Samsung Galaxy S3 hardware functions?
Just bring up dialpad. Then key in *#0*#. LCD TEST application will be loaded.
In Samsung LCD TEST application on Samsung Galaxy S3, you can check HD Super AMOLED display in red, green, blue, white and black colour. Run these tests to make sure that you don't have any dead pixel. Check other hardware tests like receiver, vibration, dimming, sleep mode, speaker, front and back camera too. Double check all the sensors like accelerometer, proximity, barometer, lights, gyroscope and magnetic sensors. You can also check touch screen sensitiveness, hardware buttons and LED notification lights.
Make sure that you run all these tests before leaving mobile phone shop. And happy owning a perfect working Samsung Galaxy S3.