I used to delete everything in Android folder when upgrade Android build to another version. However, I don't want to do so this time because I still have not finish playing Angry Birds yet. And I want to keep all my installed applications, data and settings too. So here you are ~ upgrade Mdeejay FroYo Sense NextSense from version 2.5 to 2.7.
Whats news in v2.7:
Fixed Footprints
Added "Flying" animations
Latest .acdb
Camera 5Mp
Many minor fixes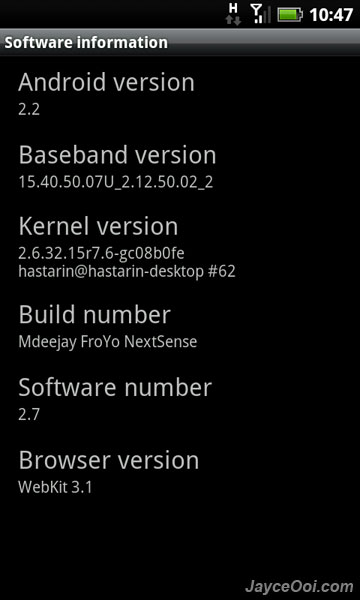 How to upgrade Android build?
Backup SD card's Android folder (for just in case).
Copy new Android build content to SD card.
Overwrite everything except data.img.
That's it. Load Android now…
This method works for me. You can do it when sync in Windows Mobile mode or use card reader. By the way, this is meant to upgrade from the same Android build like this case and not from Sense build to Nexus One build. After upgrade, I got "Flying" animations now. And it also fixed Bluetooth issue.