You can upgrade Samsung Galaxy S III firmware through OTA method. However, you might not get OTA notification about new upgrade. And "no update available" prompted when you checked for update manually. No worry, there is another official way to upgrade Samsung Galaxy S3 firmware ~ through Samsung Kies. Basically, just launch Samsung Kies application at PC or Mac. Then plug in USB cable to your Samsung Galaxy S3. Continue the firmware upgrade by follow the onscreen instructions. Still don't get it? No worry, just follow my picture step by step guide to upgrade Samsung Galaxy S3 firmware with Samsung Kies…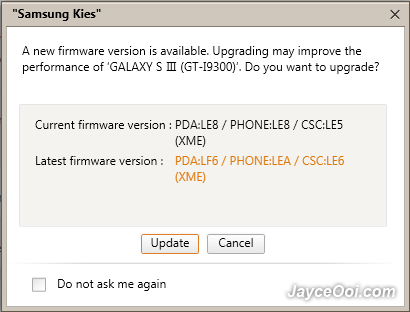 You will get a pop up if a new firmware version is available when you connect Samsung Galaxy S3 to Samsung Kies. Just click Update to start the firmware upgrade process.
Or click Firmware upgrade if you miss the pop up.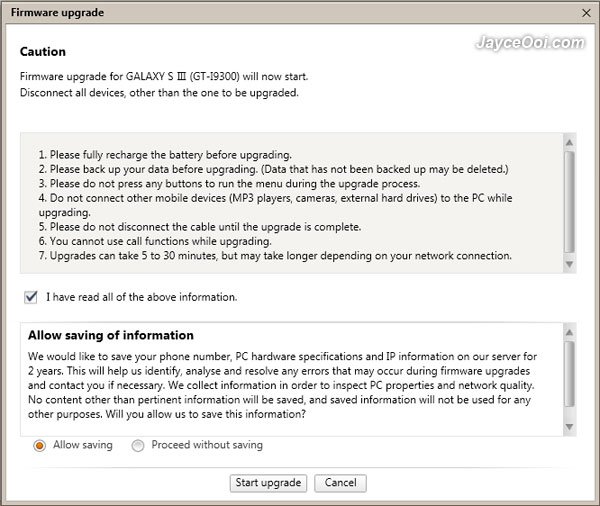 Read all the instructions carefully. Then check I have read all of the above information. Finally, click Start upgrade.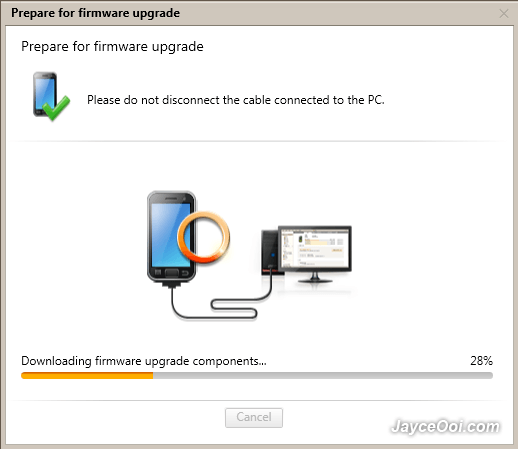 Downloading and preparing firmware upgrade components will take few minutes only.
This is the slowest step of the whole processes. Samsung Kies will download the whole Samsung Galaxy S3 firmware from Samsung server. Usually, Samsung Galaxy S3 firmware size is around 600 MB to 900 MB. Unlike OTA update which usually around 50 MB in size. So take a cup of coffee if you have a slow Internet connection. Mine took around half an hour on 4 Mbps Internet connection.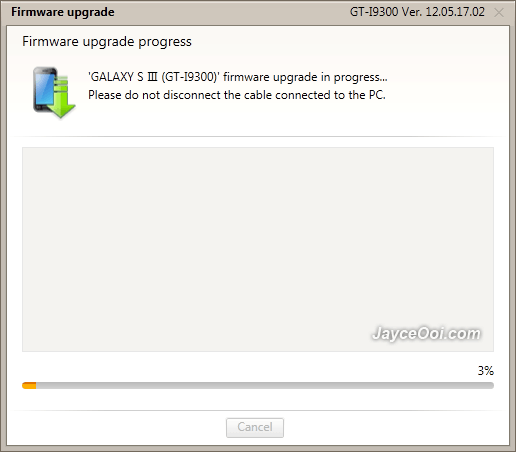 Your Samsung Galaxy S3 will boot into Odin Download Mode during this stage. Note – Don't disconnect the USB cable. This process should take less than 10 minutes.

Firmware upgrade complete
Your Samsung Galaxy S3 will reboot by itself after firmware upgraded successfully. That's all. Enjoy the latest official firmware for Samsung Galaxy S3.