Introduction
My favourite mechanical gaming keyboard has tactile-style switches now. Yes, meet HyperX Alloy Origins with Aqua key switches. As usual, it is loaded with a lot of attractive features like full aircraft-grade aluminum body, compact, portable design with detachable USB Type-C cable, dazzling RGB lighting with dynamic effects, advanced customization with HyperX NGENUITY software, three adjustable keyboard angles, onboard memory for three profiles, game Mode, 100% anti-ghosting, and N-key rollover functionalities. Alright, let's have a closer now…
Special Thanks
This review is possible thanks to below companies. Be sure to check them out…
HyperX for this HyperX Alloy Origins Mechanical Gaming Keyboard with HyperX Aqua key switches and HyperX Red version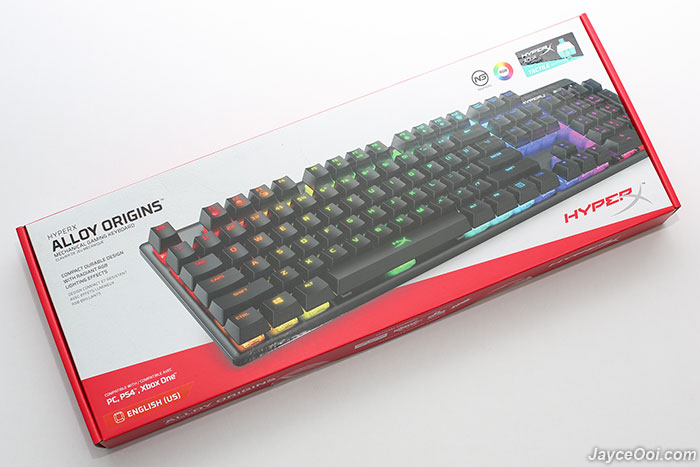 Package Content
As usual, Alloy Origins comes in well-protected packaging. You are getting the same detachable braided USB-C cable, thank you card, support info card and multi-language quick start guide too. That's it.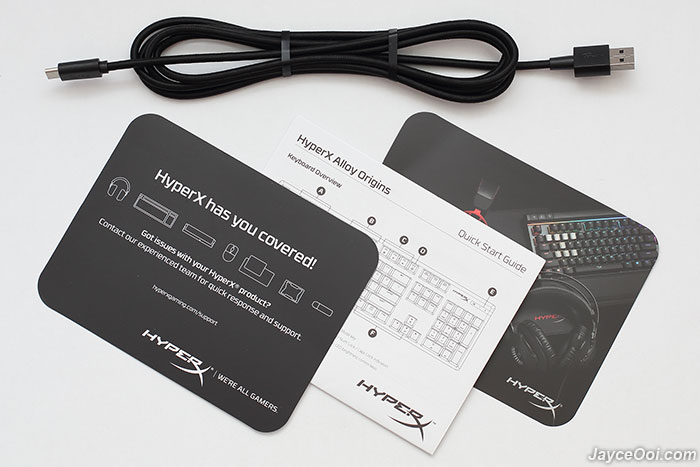 Design & Build Quality
In short, this HyperX Aqua key switches version shares the same all the hardware design and features except for the switches only. You can skip to the switches review if you already read about the HyperX Red model. Else stay with me here to know more about it. All the keycaps are well made. They give smooth and soft touch experience. Furthermore, all the letters can be clearly seen even without LED backlit too. Finally, there are white light indicators for game mode, num lock and caps lock.
Yeah… Enjoy the very same sturdy full aircraft-grade aluminum body housing. Excellent build quality no doubt. Again, it does add some weight due to that. It is stylish, compact and portable design thanks to detachable USB Type-C cable. Ease to carry around indeed.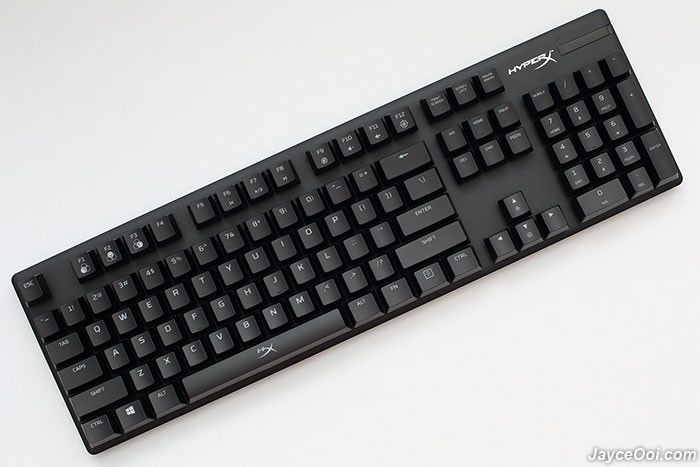 At the bottom, you can find 8 high quality anti-skid pads (including 4 on keyboard legs). Two-step keyboard feet for three different angle settings (3°, 7°, or 11°) can be adjusted. Pick the one that makes your wrists the most comfortable will do. Again, the anti-skid pads do provide strong grip and stability for their tiny sizes. You need to apply some force in order to move the keyboard.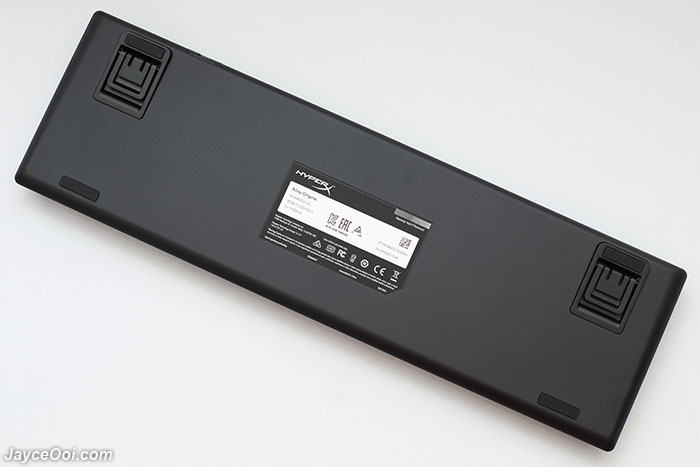 Here is the USB-C port for keyboard's data and power. And check out the keyboard leg and those Aqua switches too. By the way, this is the highest height setting at 11°.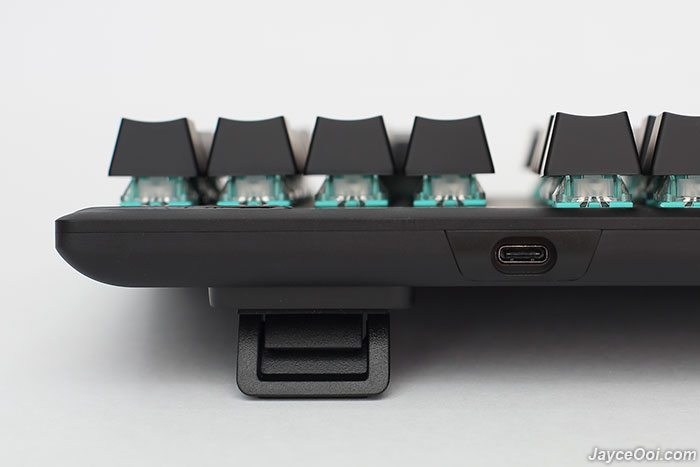 Here is the 7° mode. Minimalistic compact design indeed.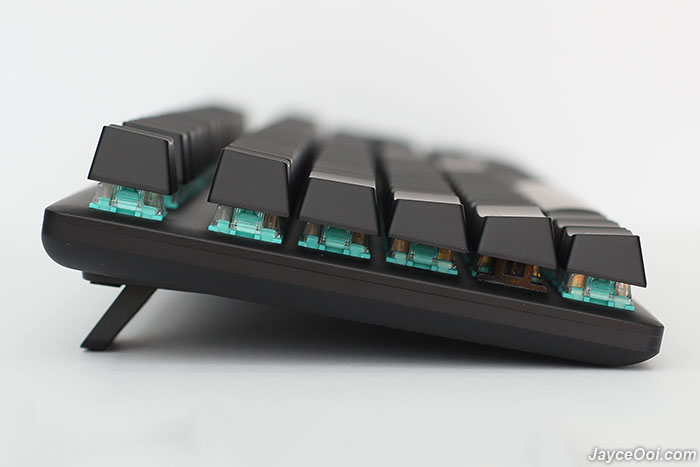 Software
You can start to use Alloy Origins without any software. However, you are not getting the most out of it then. Therefore, here comes HyperX NGENUITY. It is a powerful and intuitive software that allows you to personalize compatible HyperX products. You can use it to set button bindings, program, store macros and customize the lighting effects. By the way, NGENUITY comes with a library of presets, so you can quickly choose one to install and jump straight into the action.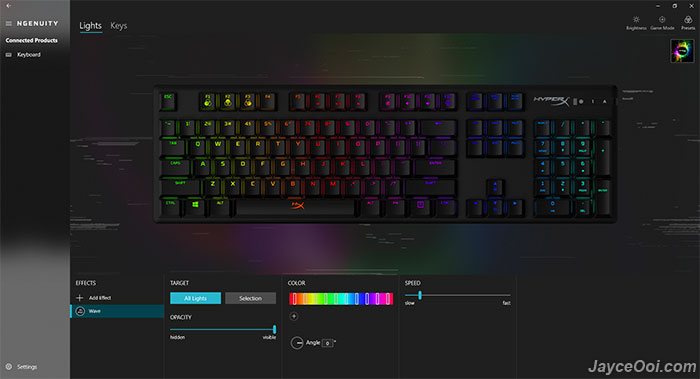 There is onboard memory for three profiles. Just create your own custom-designed lightshows then save them directly to the keyboard. Finally, take it with you on the go. HyperX NGENUITY is no longer needed anymore.
Performance Result
HyperX Aqua key switches are tactile-style switches. And it almost performs as Cherry MX Brown switches. They have a slight bump in their travel path that helps gives the user confirmation of a keypress. Unlike HyperX Red which is a linear-style switch. And does not noisy clicking sound like the common clicky blue switches. Yes, it falls between both of them. In fact, it has the best of both worlds. And it is my favourite switch among all.
HyperX Aqua is rated a lifespan of 80 million keystrokes just like the Red. Having the same operating force at 45g. Loaded with actuation point at 1.8mm and 3.8mm total travel distance. 0.2mm shorter when compared to Cherry MX ones. Both HyperX Aqua and Red are excellent switches. Fast and responsive!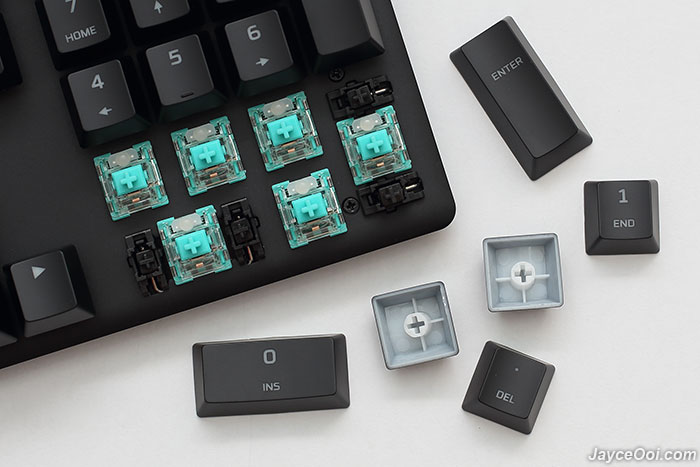 Yes, 100% anti-ghosting, and N-key rollover support. Every single key that is pressed on the keyboard will be registered correctly. You can press all of them at once if you want. All of them will be registered. A must have feature for gamers – disabled Windows key when Game Mode is turned on. HyperX goes further by letting you disable other combo keys like Alt + Tab, Alt + F4, Shift + Tab and Ctrl + Esc as well. No worry about accidental interruption during gaming anymore.
You can control volume and music playback by using the built-in 6 media shortcut function keys. Again, you can also use the function key to enable Game Mode. Or control the LED lights' brightness. Up to 4 brightness levels can be controlled through keyboard directly. 0% to 100% with 1% incremental in HyperX NGENUITY. Finally, select the gaming profile that you prefer. Up to three profiles that stored in the onboard memory.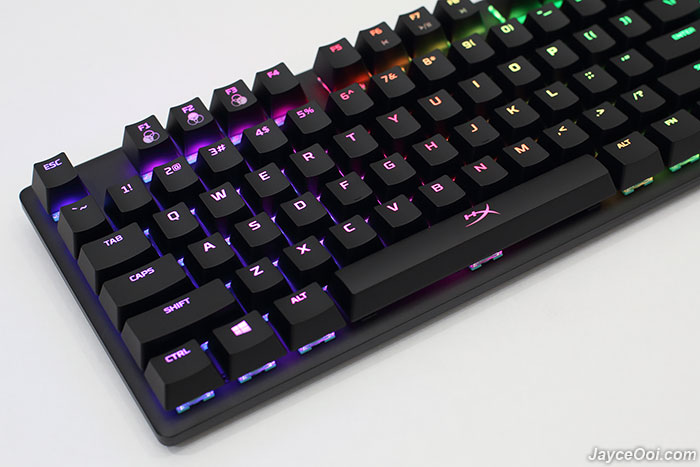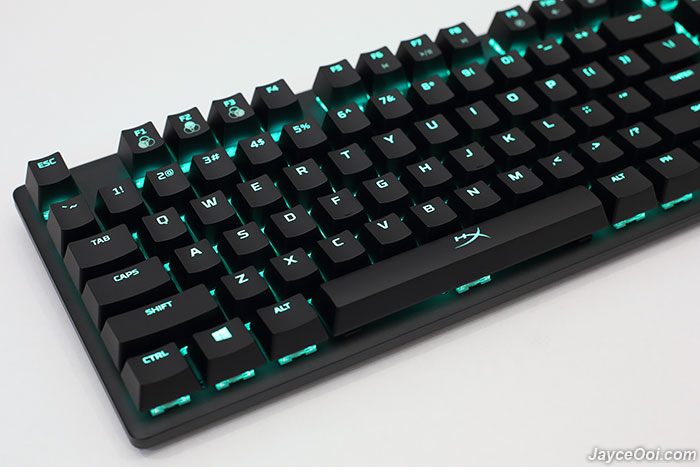 Super bright and colourful RGB lighting. A lot of effects and animations to play with too. Yes, the exposed LED makes it brighter, more luminous RGB lighting. Bright enough during the day. And can be configured easily to adapt to the low light environment. You can select lovely rainbow colour or solid ones. Multiple animation effects can be selected too. You can even stack them together too. Totally up to your preferences. Yes, it's cool to show off and level up your gaming experience at the same time.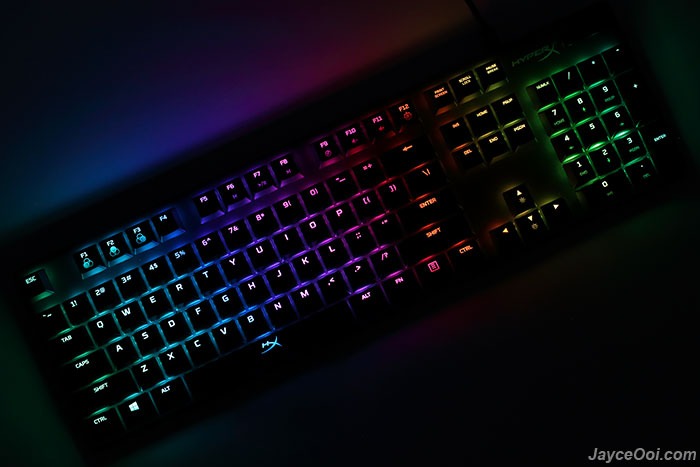 Advantages
HyperX Aqua Switches
100% anti-ghosting, NKRO support
Lovely RGB & backlight effects
Game Mode with Windows key lock
HyperX NGENUITY software support
Top notch build quality
Illuminated character keys
Detachable braided USB-C cable
Ultra-portable
Limitations
Conclusion
Yeah… Enjoy the best of both worlds. All thanks to HyperX Alloy Origins with Aqua tactile-style switches. Don't forget the 100% anti-ghosting and lovely RGB lighting effects too. And 3 onboard game profiles with a lot of customizes through HyperX NGENUITY software. Compact design that eases to carry around. Wait no more and get yours at Lazada or Amazon.