Introduction
Need a portable 87 keys RGB Mechanical Gaming Keyboard on the go? Check out Imperion Mech 7 by Nobel IT Distribution that I have. Yes, it supports NKRO (N-key rollover or 100% Anti-Ghosting) which is perfect for fast paced action games. And comes with multiple RGB light effects. Furthermore, it is loaded with solid aluminium panel. Sound great? Read on to find out…
Special Thanks
This review is possible thanks to below companies. Be sure to check them out…
Package Content & Design
Imperion Mech 7 comes in well protected package. And the keyboard itself is the only stuff there. No user guide is given. No worry, all the information that you need is located behind the packaging.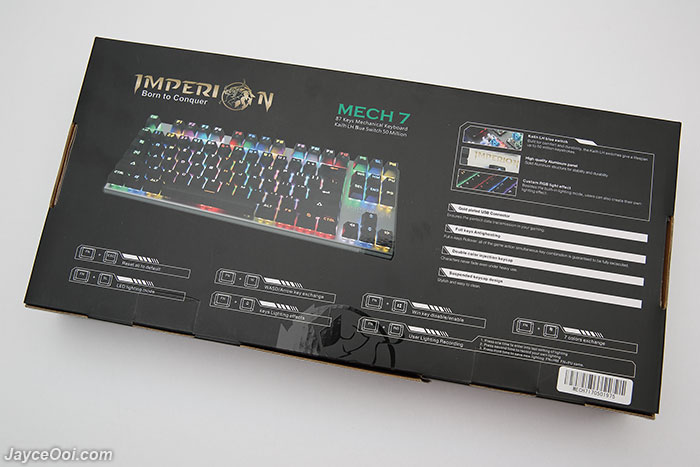 As you can see, you can setup keys lighting effects, exchange WASD/arrow key, disable Windows key and change colours… By the way, be sure to take a photo first if you plan to throw away the box.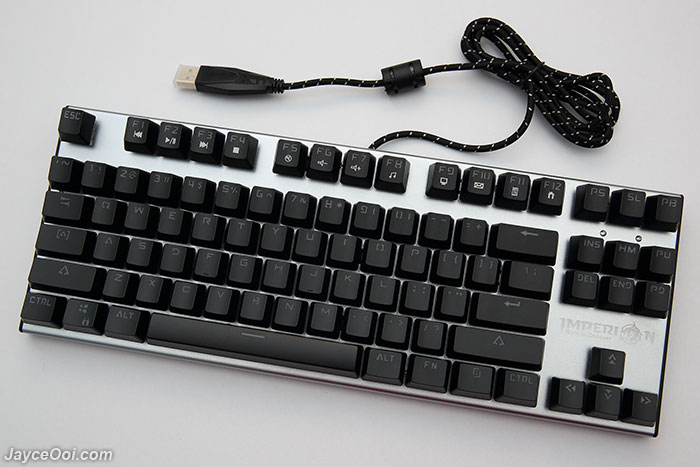 Imperion Mech 7 has excellent build quality thanks to high quality aluminum top panel and solid plastic bottom. In addition, it has sleek form factor that ease carry around. The cable is braided and has magnet ring while USB plug is gold plated. The keycaps are injected with double colour to make sure that characters never fade even under heavy use.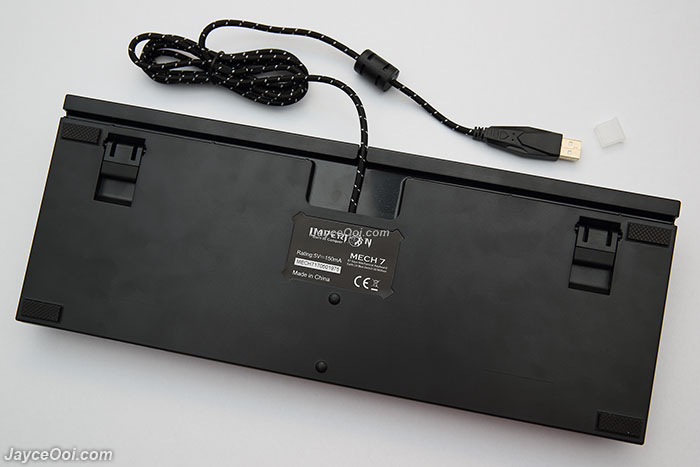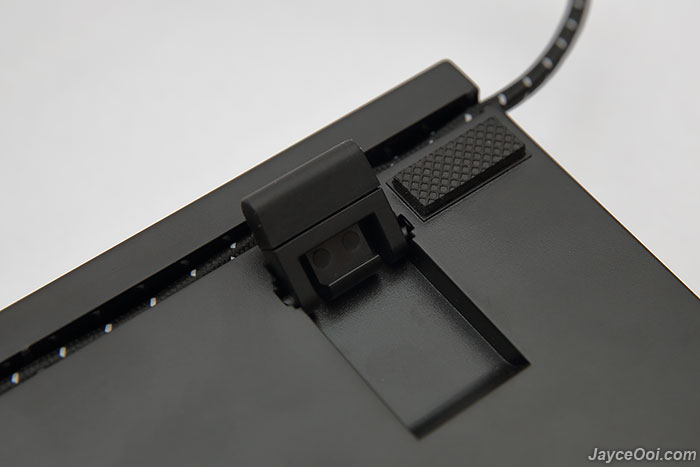 At bottom, you can find 6 anti-skid pads including 2 rubber anti-skid pads on keyboard legs. And you can do a great cable management as well. Yup, choose cable out at left, middle or right. Totally up to you to match your desktop placement.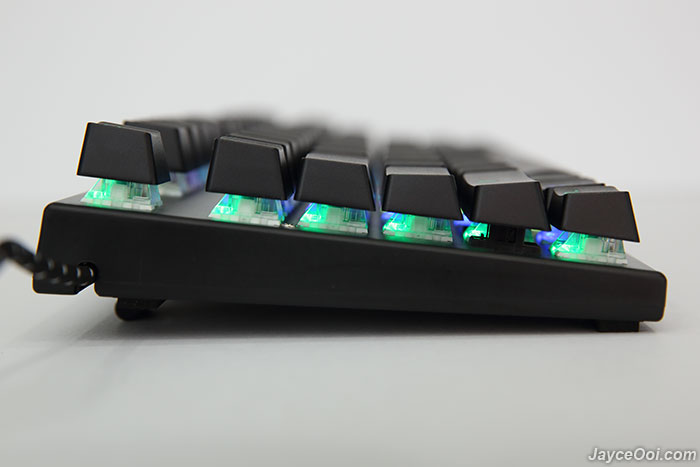 Hey, check out these high profile keycaps. And nice colour LED lights too.
Performance Result
Wow… 13 LED lighting effects for you to play! They are fun and interesting. You can have different lighting effect each day up to 2 weeks here. In addition, you can also create your own custom one. Just enable LED lights on certain keys to match your games like FPS, CF, COD, RTS and others. Furthermore, Imperion Mech 7 RGB LED lights are bright and colourful. Bright enough for daylight usage unlike my previous RGB keyboard which is not bright enough. That's the very first thing that I noticed. And there are 3 brightness levels to select. It can be turned off totally too.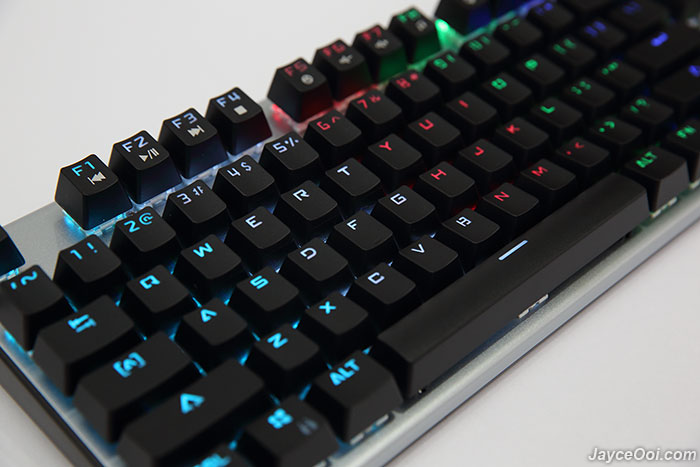 Imperion Mech 7 supports NKRO (N-key rollover or 100% Anti-Ghosting). Every key that you pressed will all be registered correctly. Yes, no matter how many keys that being pressed. You can also lock the Windows key to avoid accidental interruption during gaming too. A must have for gamer, right? There are lot of Fn shortcut keys for you too. Multimedia control like play/pause, next/previous and stop. Volume control and several quick launchers like calculator, my computer, browser…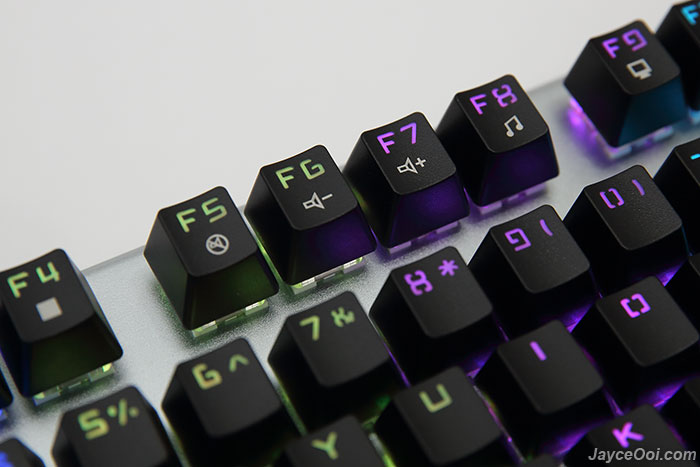 Hmm… The switches are labelled Long Hua. LH for short? Anyway, let's compare to other blue switches that I own – Cherry MX, Outemu (Xinda alike) and Kailh. As expected, Outemu is still the loudest among all. LH is slightly louder than Kailh and Cherry MX. Tactile feedback and actuation force are almost like Kailh. Much better than Outemu. And of course, Cherry MX is still the best among all but with highest price tag as well. Overall, LH is a budget performer no doubt.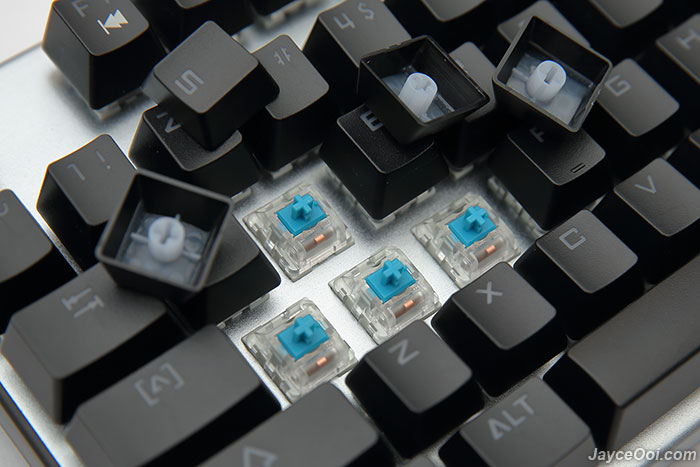 Alright, let's check out colourful and vivid RGB lighting in dark environment. And the custom key lighting that I mentioned previously. By the way, there is one thing that I found interesting too. The caps and scroll locks LED themselves will stay in white colour when enabled. A new thing to me…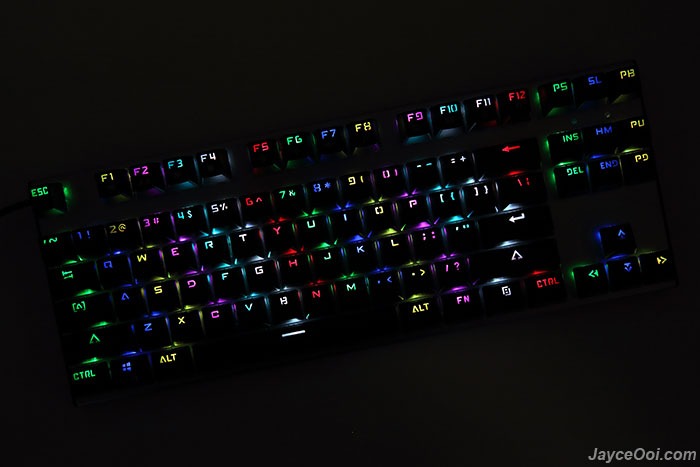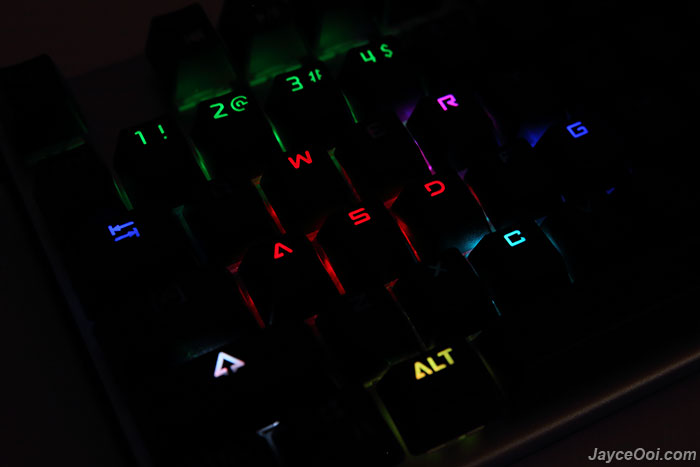 Advantages
Anti-ghosting with n-key rollover
Illuminated RGB character keys
Windows key lock
12 multimedia function keys
Solid build quality
Cool & bright backlight effects
Limitations
No software driver (macro) support
Character keys not so visible without lighting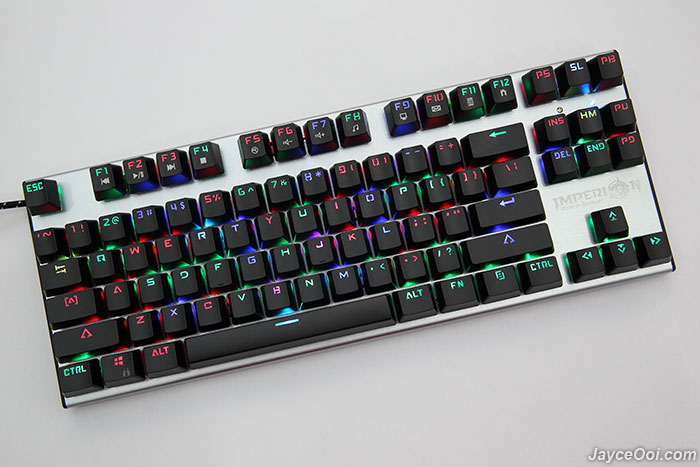 Conclusion
Imperion Mech 7 is a solid 87 keys RGB Mechanical Gaming Keyboard no doubt. Great for those who looking for their very first on the go RGB mechanical gaming keyboard. 100% anti-ghosting with n-key rollover support and loaded with bright yet colourful RGB LED lighting effects. Interested? Get yours at Shopee now.