My friend told me a great files download manager called JDownloader last month. I did not have the chance to try it until now. JDownloader simplifies downloading files from One-Click-Hosters like Rapidshare.com or Megaupload.com. It offers downloading in multiple parallel streams, captcha recognition, automatically file extraction. Therefore, you just need paste the download links into JDownloader and let it runs the show. Most important part ~ it is FREE.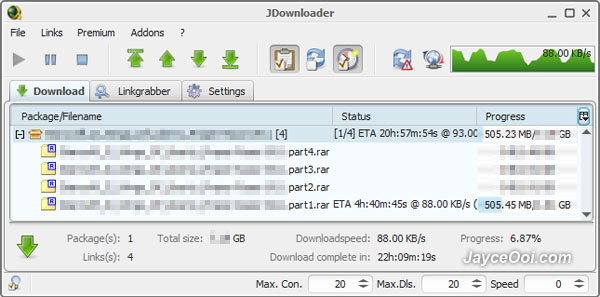 JDownloader Features
Platform independent. (Windows, Linux, Mac, ..)
Runs on Java 1.5 or higher
Complete Open-Source (GPL)
24-hour support
Download several files parallel
Download with multiple connections
JD has an own powerful OCR module (JAntiCaptcha)
Decrypt RSDF, CCF and DLC Containerfiles
Decryptplugins for many services. e.g. sj.org, UCMS, WordPress, RLSLog….
Youtube, Vimeo, clipfish video and Mp3 Download
Automatic extractor (including password list search) (Rar archives)
Theme Support
Multilingual
About 110 hoster and over 300 decrypt plug-ins
Reconnect with JDLiveHeaderScripts: (1400 router supported)
Webupdate
Integrated package manager for additional modules (eg. Webinterface, Shutdown)
Download JDownloader here.