Introduction
Yeah… I have another S View featured flip case with me. It is JisonCase Fashion Folio Case for Galaxy S4 (SKU: JS-SM4-02H). A handcrafted premium leatherette case with no stitching. Besides S View, it has auto wake/sleep ability too (by flipping the cover). Enjoy chic, sophisticated style while protecting your Samsung Galaxy S4. Okay, let's check it out…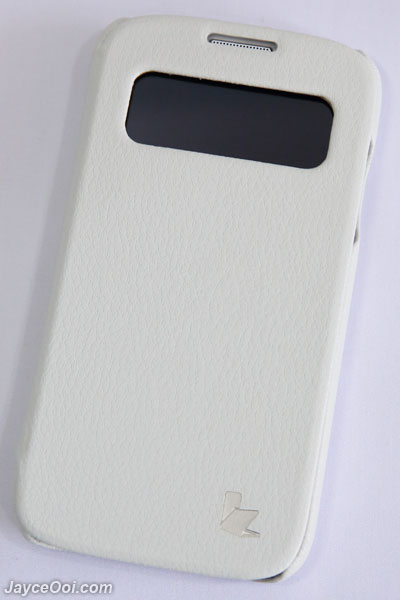 Video Review

Style
JisonCase Fashion Folio Case cover and back case are covered by premium leatherette (synthetic PU leather). And have soft lining inner part which provides protection to Galaxy S4 (also pleasant to touch by the way). Build quality is good as you can expect from JisonCase. Fashion Folio fits and holds Galaxy S4 tight. All the ports and sensors are easy to access. And it can be docked on popular docking station out there. No worry about earphone plugs size too. The cutouts for camera lens & flash, earpiece, power button and speaker are accurate. And do take note that the S View cover is a small cutout window (no protection to Super AMOLED Screen). Overall, Fashion Folio does not add much weight and size to Galaxy S4 while providing certain level of protection. And there are 4 colour choices – white, black, rose red and blue to suit your taste.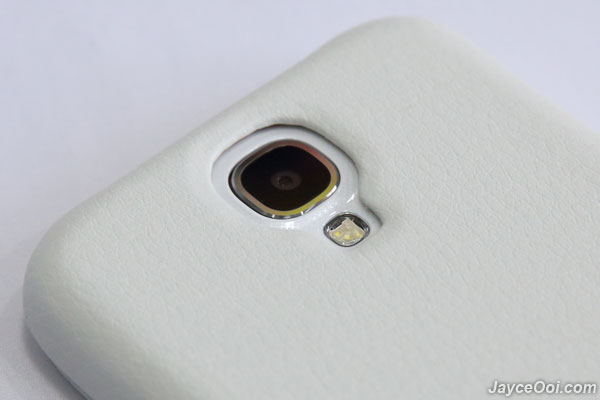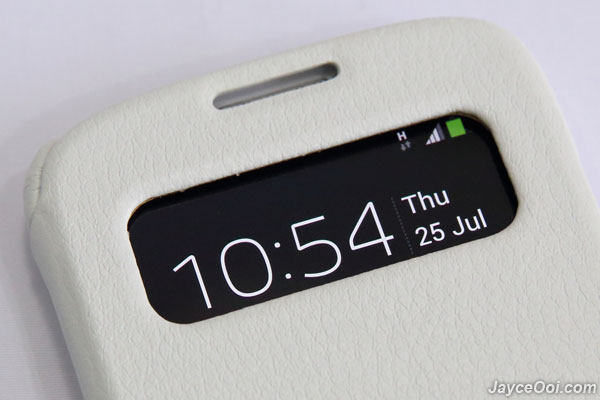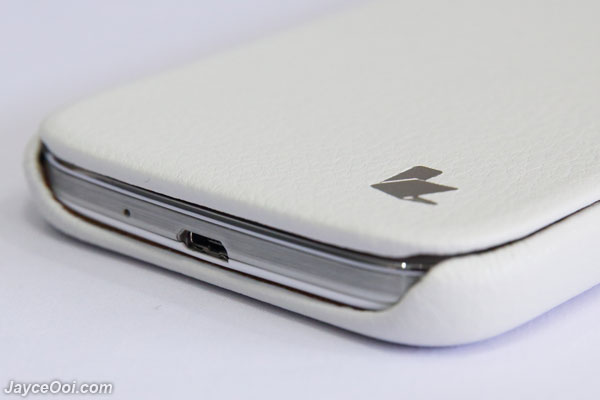 Function
It is nice to hold Jison Case Fashion Folio Case. The premium leatherette provides lot of grips. Perform daily activity as usual like the extra flip cover is not there when put to back. Answer or reject call with ease through cutout window with cover closed. Loud and clear as the earpiece is not blocked. Enjoy other S View functions like checking date & time, view all notifications like messages, missed calls, emails and see music tracks too, right? Yes but in a limited way because the cutout window is not big enough (half of top and bottom views are blocked). Don't forget that it has wake/sleep function too. No need to press power or home button to turn on Galaxy S4. Just flip the cover will do. As for protection, it will protect Galaxy S4 from scratches, bumps and minor drops thanks to special durable edge finished, all corners are protected (note – top and bottom are not).
Conclusion
Looking for a budget yet quality S View flip case for Galaxy S4? Now it is the best time to get it. Why? Jison Case Fashion Folio Case is only $13.99 (instead of $29.99) after applied 10 USD off coupon code – BYOUTUBE2013 and special 20% promotion + free shipping. Hurry up and grab your here. Or Amazon here.