Introduction
Looking for a fast micro SD card to record 4K videos on your GoPro HERO5 Black? Or your new smartphone? Check out my latest microSD card that loaded with fast UHS-I Class U3 speeds of up to 90MB/s read and 80MB/s write. Yup, that's 64GB Kingston micro SD UHS-I U3 90R/80W. Besides providing fast transfer rate, it is also waterproof, temperature proof, shock/vibration proof and X-ray proof. And comes with Lifetime warranty too. Sound great? Check out this review to know more…
Features
Fast UHS-I Class U3 speeds of up to 90MB/s read and 80MB/s write
Small-form-factor card has optional adapter for standard-size devices
Tested for durability and to withstand the elements
Multiple capacities of up to 128GB
Packaging and Design
Kingston 90R/80W microSD comes in a simple packaging. There is warranty and support information at the packaging. That's it. Build quality is decent. And rest assures that it is durable with waterproof, temperature proof, shock/vibration proof and X-ray proof protections. By the way, the version that I got does have a full-sized SD card adapter. Therefore, you can turn it into a SD card for SLR camera usage too. Finally, there are 32GB, 64GB and 128GB capacities for you to choose from.
Specifications
Capacities: 32GB, 64GB, 128GB
Performance: 90MB/s read and 80MB/s write, UHS-I Speed Class 3 (U3)
microSD dimensions: 11mm x 15mm x 1mm
SD Adapter dimensions: 24mm x 32mm x 2.1mm
Format: FAT32 (microSDHC 32GB); exFAT (microSDXC 64GB-128GB)
Operating temperature: -25°C to 85°C
Storage temperature: -40°C to 85°C
Voltage: 3.3V
Warranty: lifetime
Performance Result
In short, 64GB Kingston micro SD UHS-I U3 90R/80W performance is great. Managed to get up to 96MB/s for reading and 82MB/s for writing sequentially here. I ran several disk benchmarks with Kingston MobileLite G4 card reader. Most of them are providing almost the same result. Do check them out one by one…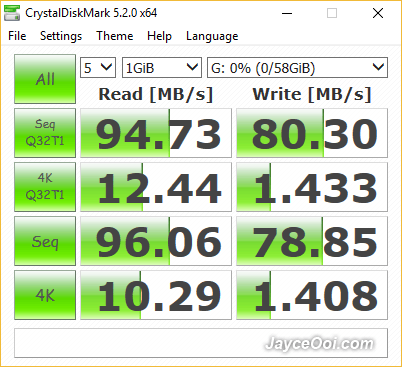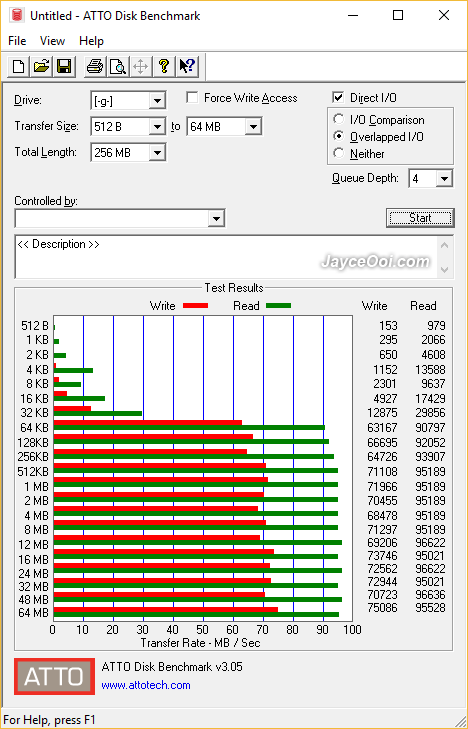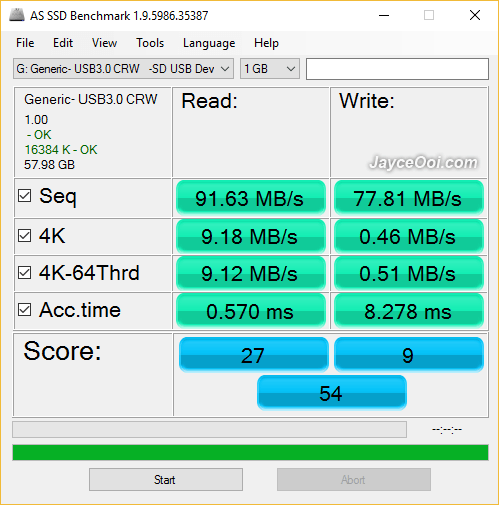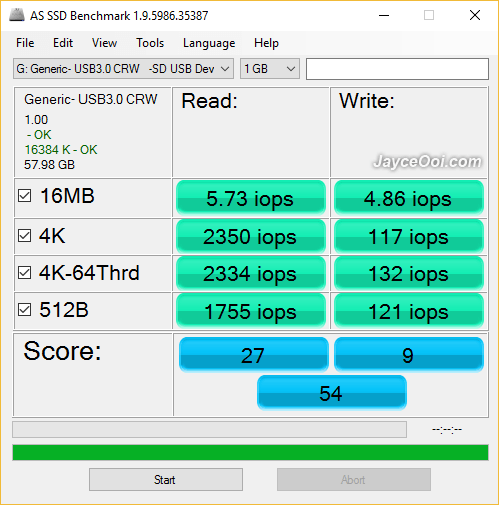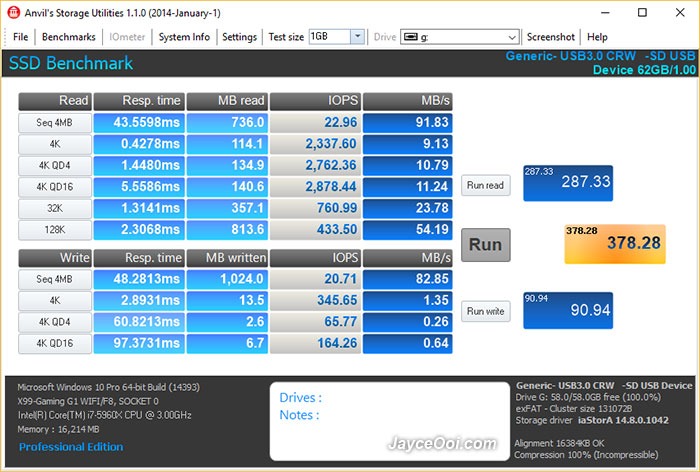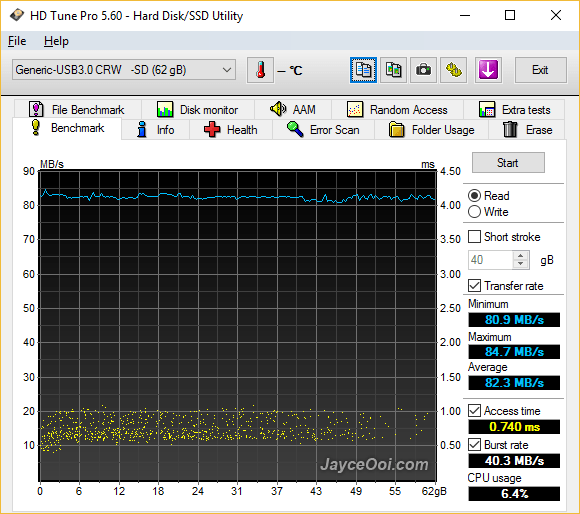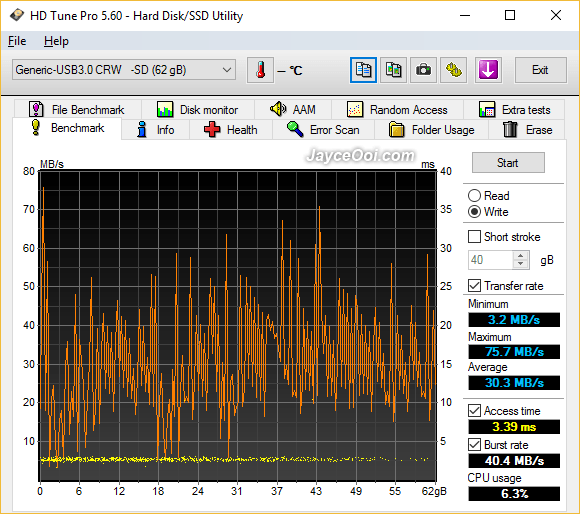 With 80MB/s seq write speed, Kingston 90R/80W card performs flawlessly on BlackVue DR650GW-2CH dash cam that needs to record both Full HD and HD videos simultaneously while still able to provide wireless access to read the content on SD card. BlackVue DR650GW-2CH is very picky on micro SD card and won't work on slow cards. And should work on the upcoming YI 4K+ Action Camera with 4K/60fps at highest bitrate 135Mbps too. Can it be used as part of internal storage of Android Adoptable Storage? Yes, it is working properly on my Android TV boxes. No possibly degraded experience warning here.
Advantages
Excellent transfer rate on both read and write
UHS-I Class U3 support
Lifetime warranty
Come with SD adapter
Decent build quality
Limitations
Conclusion
With price around US$35, 64GB Kingston micro SD UHS-I U3 90R/80W is the card that you don't want to miss out. Enjoy fast read and write transfer rate speed up to 96MB/s. And supported by Kingston lifetime warranty too. More information can be found at Kingston Website. And get yours at Amazon.