Introduction
Hey guys, check out my latest Bluetooth speaker from Kmashi. Wait, it is also a power bank. And a flashlight too. Furthermore, it is also music player that support MP3 and WAV file formats. In addition, it is also drop resistance, dustproof and waterproof with IP66 standard. Finally, have the ability to mount on bicycle. Wow… Is this product for real? Let's find out…
Specifications
Capacity: 4800mAh
Bluetooth version: V4.0
Playing time: 35 hours
Input: 5V/1A
Output:  5V/2.1A(max)
Connection range:  10m (33 feet)
Audio input: Wireless, TF card
Speaker specs: 4Ω 3W
MP3 support: Baud Rate 32Kbps-320Kbps
Size: 60x60x140mm
Weight: 335g
Warranty: 1 Year
Package Content & Design
There are Kmashi Arma K1, micro USB cable, bike mount, foam strips, clip hook and user guide in the package. The whole speaker is covered with soft touch rubber except the front orange part with hard plastics. All the inputs like flashlight on/off, mode/play, volume up/down and next/previous buttons are located on top. Clip hook hole is there too. You can open up the back cover to get access to power on/off switch, DC input, USB output and TF slot. Bicycle mount can be attached at the bottom. The LED flashlight and power indicator are located at front. Oh, before I forget. There are 2 speaker drivers, one at front (behind LED flashlight) and another small one (passive radiator?) at bottom. Overall, the build quality is good and no problem to withstand from minor drop.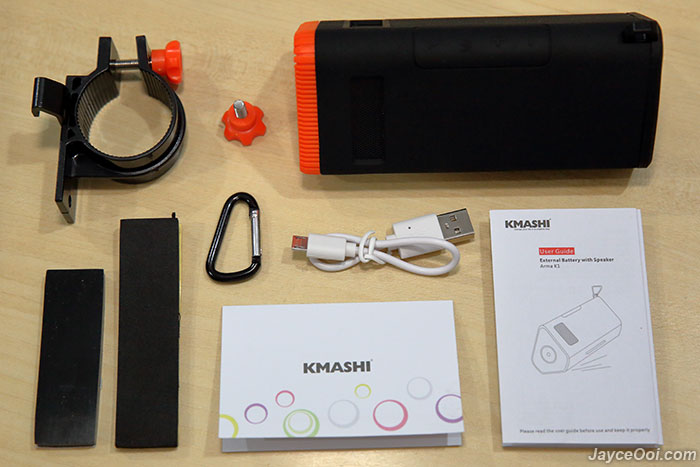 Performance Result
Let's talk about speaker performance first. Kmashi Arma K1 exceeds the standard 10m Bluetooth range in straight line without obstacle. And up to 7m with obstacles. All my Windows, Android and iOS devices can pair with it flawlessly. There is no 3.5mm AUX line-in port but microSD built-in MP3 player is there for you. Both MP3 and WAV formats are supported.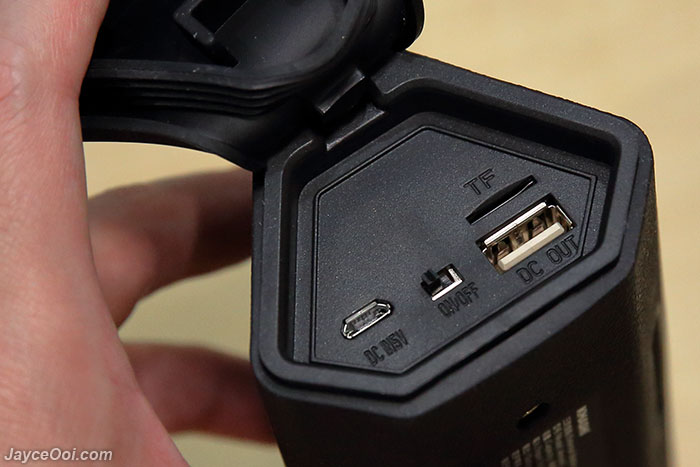 4 days of non-stop music playing!!! The longest playing time among all of the Bluetooth speakers that I had tested. This is possible thanks to Arma K1 built-in 4800Ah battery. It is using 26650 lithium battery cells that can hold up to 1000 times charge and discharge cycle. By the way, the test was done with average room sound level. Shorter if you play louder. And it took around 7 hours and a half to fully charge.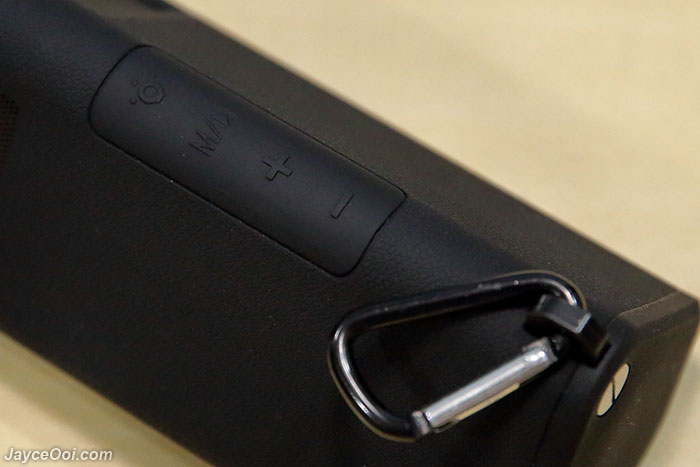 Arma K1 sound quality is good. The treble is clear and bass is there. And it can really produces loud sound and no distortion even at maximum volume level. You can call for a mini party with it easily. However, there is one minor issue. The bass is gone when you opened up the back cover to charge tablet or smartphone. Not a big deal just you can't enjoy wonderful music anymore while charging.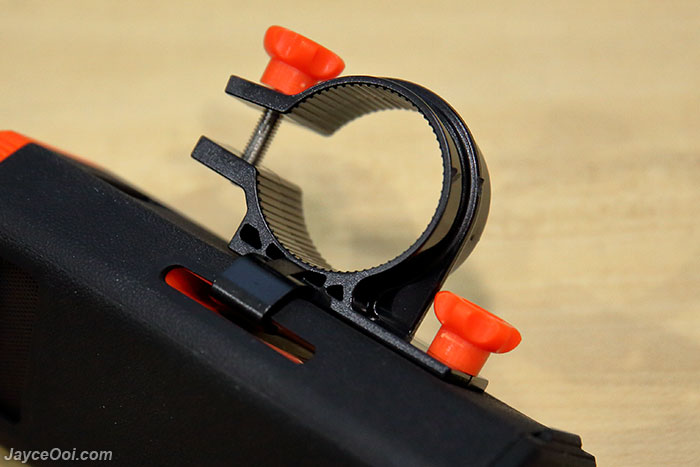 As a power bank, Arma K1 able to perform well too. Yes, it has total effective power supply of 3356mAh based USB voltmeter reading. That's around 70% efficiency. You can easily use it to charge Galaxy S6 (2550mAh) x 1.3 charges, Samsung Galaxy Note 5 (3000mAh) x 1.1 charges, iPhone 6S (1715mAh) x 1.96 charges and iPhone 6S Plus (2915mAh) x 1.2 charges. Yup, it can fully charge most of the smartphones in the market easily.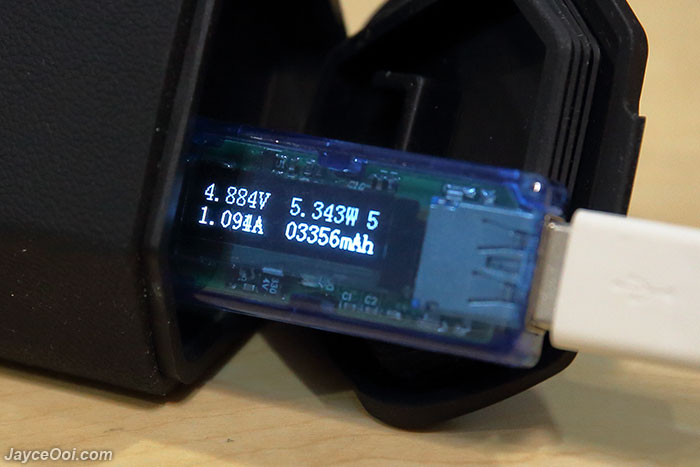 Lastly, its LED flashlight is super bright too. Easily light up whole pitch dark room. And the throwing distance is quite far too. It will definitely enough to light up your whole outdoor adventure trip with its long lasting battery. And there are 3 modes to select – bright, average and SOS. Okay, here is the bonus. How does it perform as an IP66 rating speaker that can withstand powerful water jets? Check out below video to find out…
Advantages
Hey, it's a speaker, power bank & flashlight
Decent sound quality
There's bass
Large battery capacity
Built-in MP3 player
Portable & lightweight
Limitations
Bass is gone when cover opened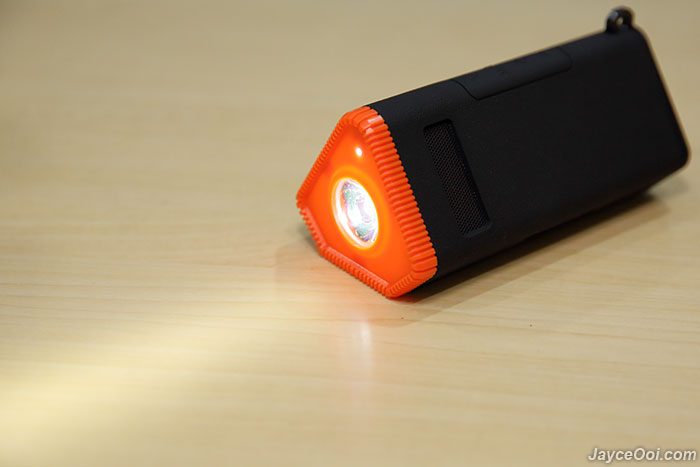 Conclusion
Kmashi Arma K1 is a Bluetooth speaker, power bank and flashlight too. Perfect for outdoor adventurer as you need to carry one device but comes with 3 functions. Don't forget, it's a MP3 player too. Interested? Get yours here. Do check out Kmashi Facebook for other goodies too.
Update – My unit can't seem to hold battery charges anymore after 2 months. Battery life goes down by itself without even turn on Bluetooth.