Introduction
True wireless, Bluetooth 5.0, stereo Hi-Fi sound, IPX7 waterproof, up to 70 hours playtime, CVC8.0 for excellent calling quality… Enjoy all these wonderful features from Lypertek TEVI true wireless earphones. In addition, enjoy better sound quality with aptX and AAC codecs too. Does TEVI sound great? Read on to find out…
Special Thanks
This review is possible thanks to below companies. Be sure to check them out…
Lypertek for this Lypertek TEVI True Wireless Earbuds
Package Content & Design
Lypertek TEVI comes well protected. Once taken out the earphones and charging case, there are another 2 pairs of silicon eartips, a pair of flexifit foam tips, USB-C charging cable and quick start guide in English, Japanese and Korean.
TEVI build quality is excellent thanks to sturdy and smooth matte plastic housing. Compact and light in weight. There are multi-function button, LED light indicator and microphone on top of it.
And here are the included eartips. Just pick the one that matches you.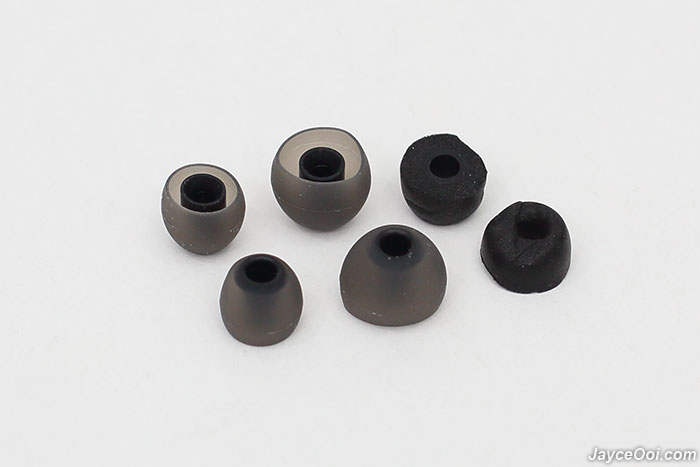 Finally, the lovely charging plastic case with fabric cover. Yes, USB-C port is there. USB-C is the future.
Fit, Comfort & Isolation
TEVI fits very well. Make sure you choose the correct ear tip size will do. In addition, it stays securely while exercising and jogging. No worry about dropping it at all. Furthermore, it supports IPX7 waterproof that can use during the rain and even shower. Comfort wise is great. It's a pleasure to listen music for long hours with TEVI. Lastly, it has outstanding noise isolation. Yes, it virtually blocks most of the environment noises while music is being playback.
Performance Result
Excellent Bluetooth range for true wireless earphones. Yes, TEVI can to go up to 7m+ with obstacles like walls. Connection is very stable. Furthermore, AAC and aptX have lower latency than the usual SBC codec. Audio and video are virtually in-sync that great for movie, games and so on. It also supports TWS Plus technology. You can use TEVI as stereo or mono as you wish. Bluetooth connection is one of the most important stuff and TEVI passes with flying colours.
10 hours of playback time on a single charge based on specs. Yes, TEVI does have outstanding battery life. And up to 70 hours when combining with the charging case. In addition, if you need to recharge quickly, you can use the TEVI for 2 hours if you just put it in the charging case for 15 minutes. Surely more than enough for your daily sport activities. And there is battery indicator status on iOS and Android devices as well.
Crystal clear phone call thanks to Qualcomm's cVc 8.0 Microphone Noise Cancelling. It will suppress noise during a call and reduce echo feedback. In addition, the microphone performance is great as well. Others can hear me loud and clear.
Sound Quality
Balanced sound signature is what you get from Lypertek TEVI. Maybe a slightly toward on the bright side depending how secure fit you get. Here are the results that I get from perfect fit. Highs are bright and clean. Performs great without any harshness and sibilant. As for mids, vocals sound natural in both male and female. A bit forward and closer to ear. Female vocals like Faye Wong, The Corrs and Taylor Swift sound sweet to me for sure. Bass is decent and enough. But don't expect V-shape kind of bass. So this may not be the basshead favourite. Soundstage is okay. Not the best out there nor the worst. Instruments placement separation is clear even in the complex scene thanks to the sound clarity. Overall, Lypertek TEVI sounds great for the price.
Thing to take note… At totally quiet environment, there is a very sightly hiss noise when Bluetooth is kicked in but nothing is being played. You won't notice it during normal music listening or movie playback.
Advantages
Crisp, clear sound with nice bass
Wide Bluetooth range
Excellent microphone
Ultra long battery life
Comfortable for long hour wear
IPX7 waterproof
Excellent build quality
Limitations
Slightly hiss noise at totally quiet environment
Conclusion
For less than $100, Lypertek TEVI is surely a keeper. Enjoy crisp, clear sound with nice bass. Excellent phone call quality. Ultra long battery life. And comfortable for long hour wear. Interested? Do visit Lypertek Website for more information. Get yours at Amazon.