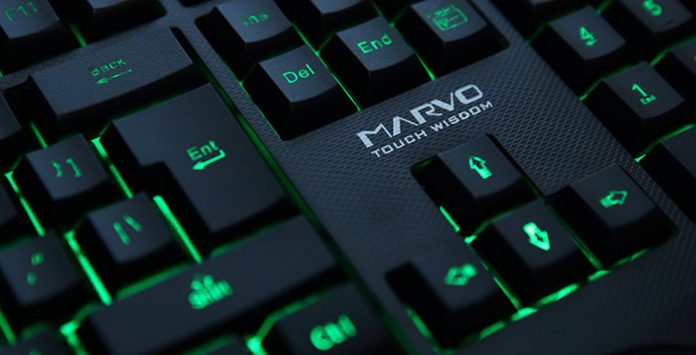 Introduction
Finally, I have an illuminated characters gaming keyboard. Yup, Marvo Scorpion Order K650 is the multimedia gaming keyboard that I am talking about. Besides illuminated keys, you can select up to 7 backlight colours too. And loaded with ergonomic, shockproof and anti-splash design. Come with 8 multimedia shortcut keys to ease your daily task. Furthermore, it has anti-ghosting with 19 keys roll over support as well. How does it perform? Let's find out…
Features
Multimedia gaming keyboard
Anti-ghosting with 19 keys roll over support
1 ms response time
Ergonomic and shockproof design
Laser carved characters for durability
7 colours backlight with adjustable brightness
Anti-splash design protects the keyboard from accidental spills
Package Content & Design
Once opened the package, you can find Marvo K650 gaming keyboard and a simple yet useful user manual. Its build quality is decent. No complaint here. As for design, it is a full-size layout keyboard with number pad and extra 8 multimedia shortcut keys. By the way, the right Menu key is replaced by Fn key. You can change LED backlight colours with it. Adjust brightness and swap arrow keys with WASD keys too. On top 2 corners, you can find all 8 multimedia shortcuts in red colour. And num, caps and scroll key lock LED status indicator lights are located on top right corner. Then you can find 2 anti-skid pads at back lower part of the keyboard. 2 keyboard legs on top and 3 liquid drain openings between them. Do refer below photo for details of the keyboard layout.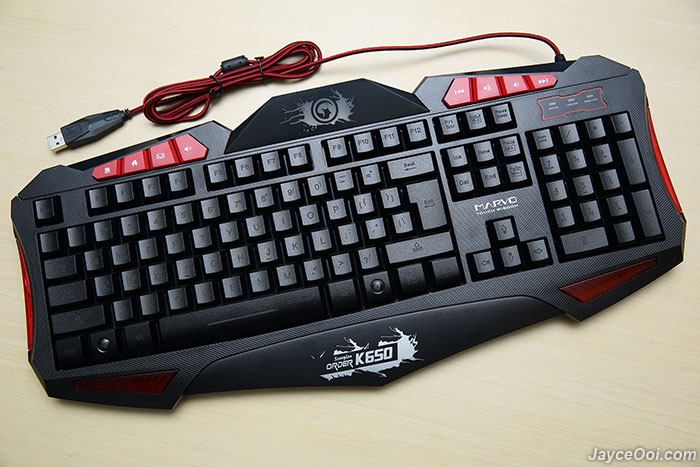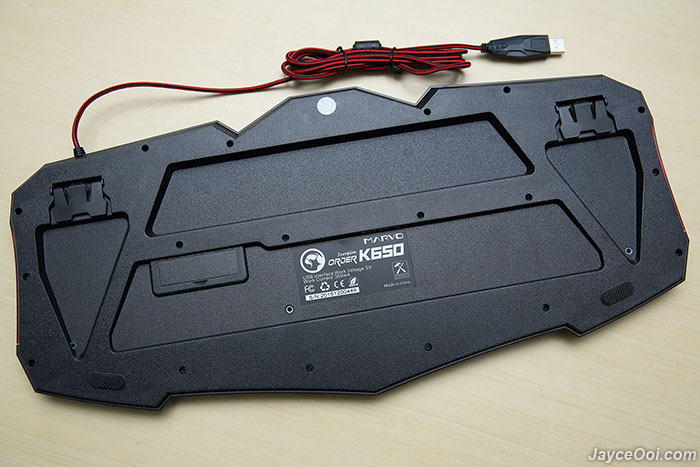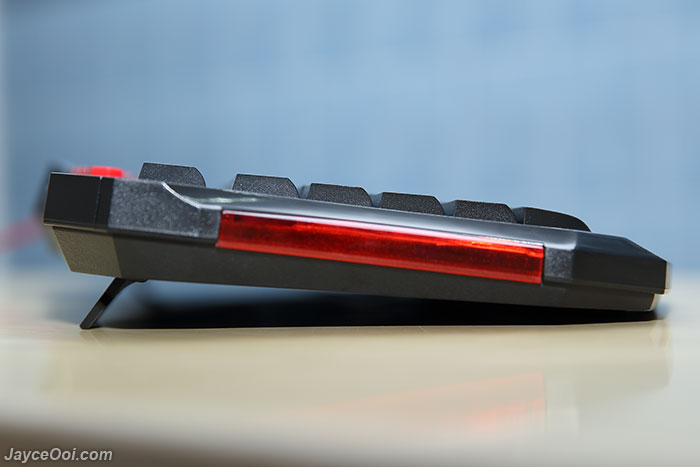 Specifications
7 colour lightings both on backlight and typeface
8 multimedia keys, 19 keys roll over support
Keys: 112
Pressure: 50±15g
Key Route: 3.6±0.3mm
Stroke Life: 5 million times
Rated Current: 300mA MAX
Rated Voltage: 5V
Cable Length: 1.5m
Size: 465*220*37mm
Performance Result
Yes, I love the stylish and colourful illuminated keys. That's what gaming keyboard should have. Yup, you can see all the keys clearly even in dark environment. Not only for show off but have the real usage purpose. 7 colours for you to choose from to match your taste and gears. And there is another flashing mode which cycle all the 7 colours repeatedly too. Surely will make your gaming life much more interesting. However, I am not sure why the LED backlight will be turned off after few minutes of inactivity. Not an issue while playing games though as you will surely keep your keyboard active all the time. By the way, the LED backlight will light up at maximum brightness once connected to PC. There are 9 brightness levels to select. And you can also turn it off totally.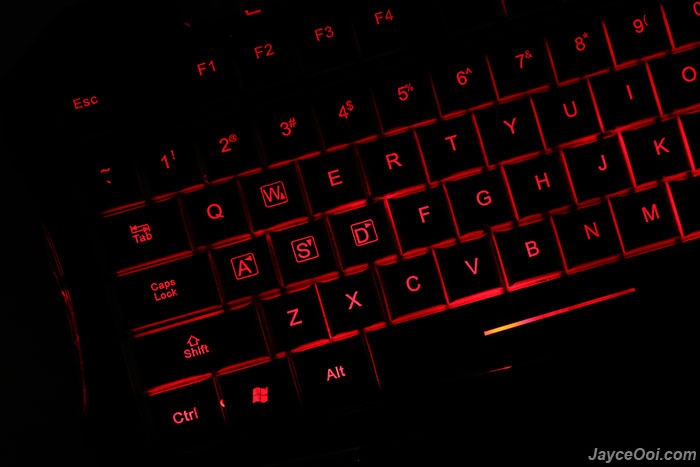 No driver is needed to use Scorpion Order. Plug and play will do. Windows will install the correct driver for you. And you start to use all its 8 multimedia shortcuts and Fn keys too. The shortcuts are surely useful because I usually use them to control volume and music tracks. You can also use them to show your computer, launch browser home page, open email default account and mute volume. Fn + W function lets you to change the functions of arrow keys to WASD keys which provide easier control while gaming. Don't forget the spill proof design. Yup, no worry about coffee spill here.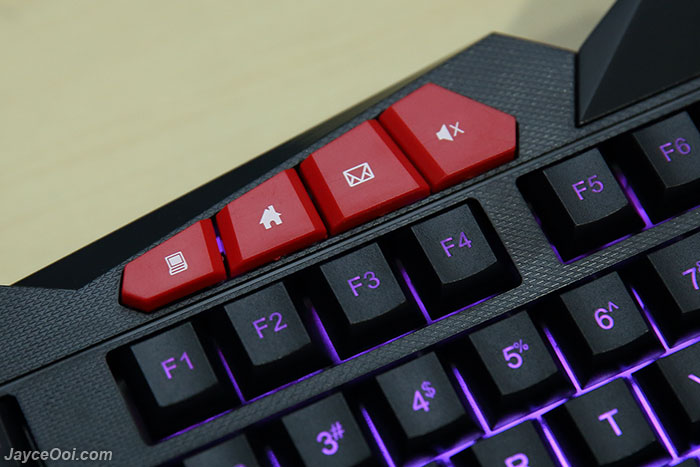 Wow… Anti-ghosting with 19 keys rollover support! Nope, they are not working as advertised. I can't even press WASD at the same time. Same apply to 4 arrow keys. You also can't press Q, Z or X while holing A and S keys. Q, Z and X key won't be registered. Fast-paced gamers do take note. Wondering why it is called a gaming keyboard in the first place?
Advantages
Illuminated character keys
Swappable WASD arrow keys
7 LED colours
8 multimedia keys
Spill-proof design
Limitations
Where got Anti-ghosting with 19 keys rollover support?
LED backlight turn off when inactive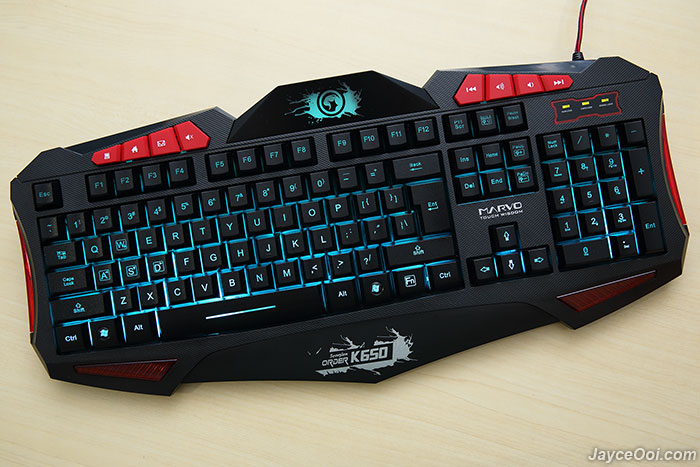 Conclusion
Marvo K650 is a colourful backlit keyboard with illuminated characters. It is great for normal daily usage with its multimedia shortcuts. Spill proof support too. But not for gaming as anti-ghosting feature is not there. More information can be found at Marvo Website.