Listen… Listen… Listen… Are you ready for Matr1x kernel for Google Nexus 4? Matr1x Kernel is based on Linux kernel version 3.4.0 and built with GCC 4.7 from Google. You can install it on Android 4.2.1 and 4.2.2 Jelly Bean. And rest assure that it is loaded with lot of features and goodies. No more washout display colour as it is tweaked by default. Check out below feature list to find out more.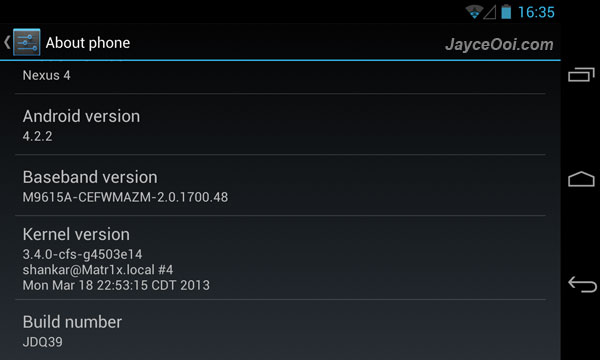 Matr1x Kernel Features
Voltage Control Interface
Gamma Control Interface with PA tweaked colors
FauxSound
Speaker amp control
Accuracy Filter Control
GPU OC to 487.5 Mhz
Thermal tweaks
UV by 100mV for all frequencies and cores
SIO, ROW and FIOPS I/O Schedulers
Touch screen improvement tweaks
Reduced msm_hsic_host wakelock duration
Thermald and mpdecision removed
Various performance tweaks
CPU Voltage table for "faster" binned chips
288 Mhz frequency for better battery when idle
Fast Charge
BLX
Sweep2Wake
Sweep2Wake gestures
PGM support
ARM hotplug driver with min_online_cpus value
Installation guide ~ How to install custom kernel on Nexus 4?
Download Matr1x Kernel for Nexus 4 here.