Maxis WiFi Modem (E5832) is your personal mobile hotspot. It provides simultaneously connection up to 5 devices. A nice modem for you when on the road. And a great companion for iPad too. Let's have a look on its hardware…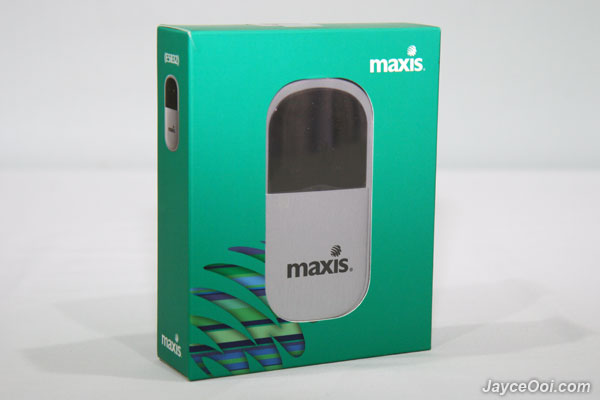 Maxis WiFi Modem (E5832)
Key Features
Wi-Fi 802.11 b/g.
Absolute mobility across HSDPA / 3G / EDGE / GPRS networks.
7.2 Mbps download and 5.76 Mbps upload capabilities.
Multi functional USB drive with MicroSD card slot support up to 32 GB.
Able to connect to PCs, notebooks and other Wi-Fi devices.
USB 2.0 for simple plug and play.
Package Contents
There are Maxis WiFi Modem (E5832), 1500 mAh battery, USB cable, Personal WiFi Quick Start Guide, Quick Tips and Copyright and Safety Information in the package. The quick tips let you know all the colour indicator status the on modem. And the quick start guide will guide you to connect to the Internet in no time.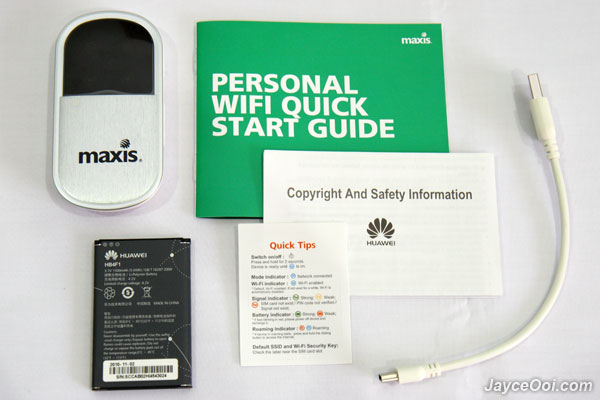 Package Contents
Design
Maxis WiFi Modem (E5832) is made with solid plastic. It has 5 round LED indicator for the status in the front. Battery cover on the back. Power on / off button, WiFi / WPS button and dialing button on the right. And MicroSD card slot on the left. Battery button on the top while mini USB connector at the bottom.

Maxis WiFi Modem (E5832) Outlook
Front | LED Indicators | Back | Left | Right | Top | Bottom
Overall, Maxis WiFi Modem (E5832) is a small and light portable modem. It is easy to carry around like in your pocket, handbag or even laptop bag.