Introduction
Xiaomi Piston 2 earphones is the one that bring me into audiophile world. It is well known for great sound yet value in price. I am so lucky to have their latest Mi In-Ear Headphones Pro HD (Gen 5) from GearBest. This hybrid earphones is loaded with dual dynamic + balanced armature drivers. Does it still packed with best performance from within? Let's find out…
Features
Dual dynamic + balanced armature drivers
All-new design. Sounds good, looks good
Full metal wired control
Stretchable matte wiring
Soft and comfortable ear buds
Package Content
Mi In-Ear Headphones Pro HD comes with a nice package and well protected in a hard plastic case. Once opened, you can find pouch that can keep Pro HD with rubberize holder. There are extra 3 pair of ear tips (XS, S & L) and user manual in the package too. That's almost everything that you need to get started and carry it around easily.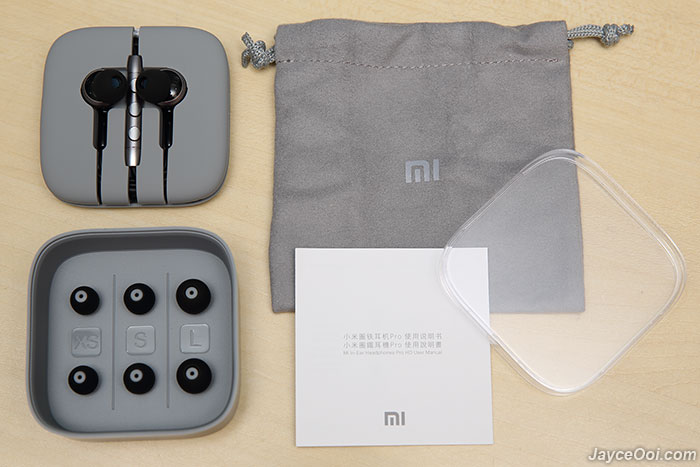 Specifications
Weight: 17g
Wired control: Available
Cable length: 1.25m
Jack type: 3.5mm
Rated power: 5mW
Speaker Impedance: 32 Ω
Sensitivity: 98 dB
Frequency response range: 20 – 40,000 Hz
Design & Build Quality
Mi In-Ear Headphones Pro HD's build quality is great with CNC diamond cut finished aluminium and solid plastic (for black part) as housing. Same apply to the metal wired control. Furthermore, it also comes with the highly stretchable TPE wiring that is hardy and durable. The 45° angled in-ear design fits snugly when worn cable down method. Can't be worn over the ear unless you swap left and right channels by the way. There is marking to determine L/R channel on the inner plastic housing but I always use wired control with mic to locate right channel. And 2 vent holes on each earphone housing. As usual, just refer to the photos to know more about its outlook.
Fit, Comfort & Isolation
Mi In-Ear Headphones Pro HD fits well thanks to small and lightweight housing. And won't fell off even not wearing over the ear style. Yes, it is pleasant to wear for long hours – much better and comfort than Piston 2.0. As for isolation, average is what I can say. The bundled ear tips do not give the best seal here by the way (at least for me). You can always change and use 3rd party ear tips. For my case, SpinFit Ear Tip (CP100) does a better job here.
Performance Result
Let's talk phone call audio quality first. Mi In-Ear Headphones Pro HD performs well in this department thanks to closer to mouth wired remote design. Yup, others can hear my voice loud and clear. And I can hear others' voice clearly too. As for wired remote, everything is working properly on Android devices – volume control, play, pause and next / previous track all are working great. However, iOS devices like iPhone, iPad and iPod are limited to play/back button only. Volume control is not working here. Do take note…
For me, Mi Hybrid Pro HD has bright sound signature. Totally different from the last earphone that I had review. In short, it is focusing more on treble than bass here unlike the Piston 2.0 V-shape sound which emphasize both bass and treble. By the way, it is easy to drive with 32 Ohm impedance. No need external amp to get the full potential out of it. And will performs just fine on your smartphone and tablet for MP3, YouTube MV, games and movies. And of course, it surely sound better on dedicated DAP like Lotoo PAW 5000 and Zorloo ZuperDAC USB DAC with those high resolution FLAC.
Overall, crisp and bright is what you will get from highs. You might feel some Harshness on certain track (but not much for me). Mids perform well. Vocals are on the brighter side too. Bass is there but on polite way. As for soundstage, it is decent (much wider than Piston 2.0) and instruments placement separation is clear thanks to that. And that's make Hybrid Pro HD a very nice earphones to own at this price point. Bigger soundstage is always a plus as it makes everything sound better.
Advantages
Crisp & clear sound with polite bass
Decent soundstage
Excellent build quality
Comfortable for long hour wear
Nice accessories
Limitations
Average isolation
Microphonic (when worn down)
Conclusion
Love bright and clear sound earphones? Give Xiaomi Hybrid Pro HD a try. You will like it as I do. With price around US$23, you can't go wrong with it. As usual, more information can be found at Xiaomi Website. And get yours at GearBest with this discount code – XIAMIKGH. Enjoy…