Introduction
I love listen music. Playing it all day long while writing my articles on this blog. And will put on earphone when I am on the go. Playing mobile games with it. I received NoiseHush NX26 HD Stereo Headphones from WirelessGround.com last week. How does NoiseHush NX26 HD Stereo Headphones perform? Let's find out…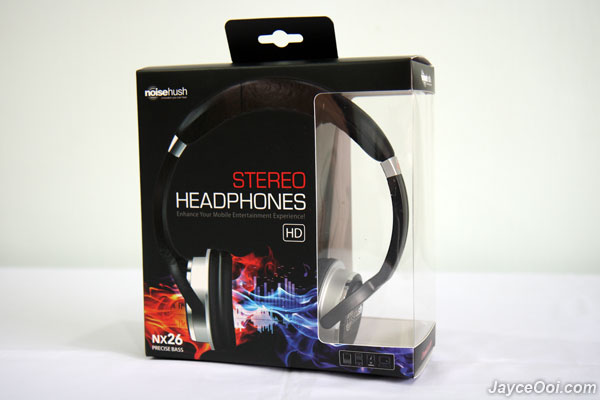 NoiseHush NX26 HD Stereo Headphones Specifications
Driver Unit: 40 mm
Output Power: 30mw RMS
Speaker Frequency Response: 20HZ-20kHz
Sensitivity: -42 ± 3dB
Mic Frequency Response: 100-20kHz
Cable Length: 5.7 feet
Audio Connection: 3.5mm Stereo Jack Socket
Weight: 175g
Design
NoiseHush NX26 HD Stereo Headphones build quality is okay. The headband is adjustable to fit your head. And the ear cushions are soft to provide comfort. They do isolate some of the external noise by the passive way. NoiseHush NX26 has a microphone and a function button. Therefore, you can make phone call with it. And the function button acts as play / stop button during music playback and answering call button. The tangle-free cable is long enough to let me play games, listen music and watch movie on my PC. Okay, one downside that I don't like. The headphones are too tight to wear it at the very first time. The pushing force makes my ears hurt a bit. It took some time to make the headphones' headband to become loosen. No issue after that.
Performance Result
I tested NoiseHush NX26 HD Stereo Headphones on several devices like PC, Samsung Galaxy S II, Android HTC HD2 with Beats Audio and Kindle Fire. NoiseHush NX26 sound quality is good. Treble is clear and bass is strong and deep. Thanks to its 40 mm neodymium magnet drivers. It is a pleasure to play Tap Sonic with it. The bass is much stronger compare to normal 13.5 mm earphones. I also enjoy listening MP3 with it while lying on the bed. Listen Michael Jackson songs like Beat It, Billie Jean… It really makes a clear different between earphones and headphones.
Conclusion
NoiseHush NX26 HD Stereo Headphones is nice companion to add on. Enjoy clear treble and louder bass with NoiseHush NX26 on your PC, smartphone, tablet and portable gaming device like latest PS Vita. Interested? You can get one here.